I spent the better part of February in the port city of Tamatave, Madagascar. It was there that I had the pleasure of meeting Florian and Ambre, two pediatric patients currently receiving free treatment on the Mercy Ships hospital, Africa Mercy, the world's largest civilian hospital ship.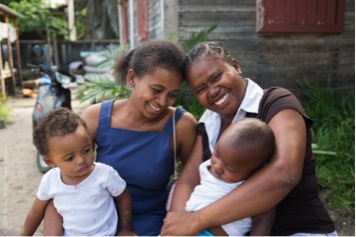 From left to right: Ambre and her mother, Raso; Florentine and her son, Florian.
Florian is a friendly toddler who wears a constant smile and has never met a stranger. His mother, Florentine, brags that he is well-behaved and "sure to grow up to be wise and kind." While that may be true, he also has a mischievous smile that emerges when his mother isn't watching -- it's the kind of look that prompts you to move breakable objects to the highest shelf.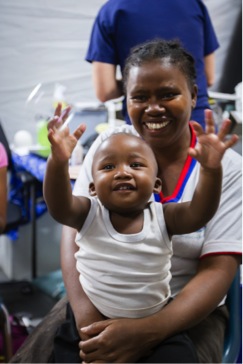 The crew onboard the Africa Mercy entertains Florian while he waits to see Mercy Ships' orthopedic team.
Ambre is the bashful one who takes her time to warm up to you. She is quiet and observant -- the type of peer you need to balance out a Florian. Her mother, Raso, is talkative and laughs in a way that makes you laugh along, even though she is speaking a language you can't understand.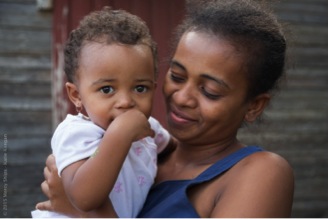 Ambre, 20 months, and her mother, Raso, in Tamatave, Madagascar. February 2015.
The friendship and easy smiles these mothers share are recent. Florentine and Raso met in the waiting room the day their toddlers were scheduled to see Mercy Ships' orthopedic team. Their children suffer from the same congenital deformity called clubfoot, which causes the feet to twist at the ankle and curve inward. Both children are about 20 months old, but neither has taken a first step.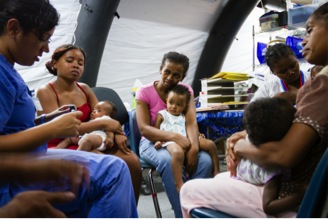 Raso and Ambre wait to be seen by Mercy Ships physiotherapist Kalinda Ramsaran.
"On the day Ambre was born, I was crying, my husband was crying -- my entire family was crying." Raso says. "This child was our dream, but they said she would never walk normally... we were determined to find help, but we were unable to do anything. We heard there are doctors in the world that can treat clubfoot, but there was no treatment for us here. It was so difficult that I could do nothing. That was the hardest part."
Even though they felt helpless, these two women never gave up hope.
"What a task for a mother to have a child who hurts," Florentine says.
When a hospital ship arrived with an orthopedic team capable of treating clubfoot, Florentine and Raso found treatment for their children, and a sisterhood in their struggles. "We are closer because our children had the same problem," Raso says. "We shared our pain."
Now they will also share their joy. With some casting, braces and time, Florian and Ambre will be able to take their first steps. They are the lucky ones. The World Health Organization estimates that there are 100,000 new cases of clubfoot annually, and 80 percent of untreated cases are in the developing world.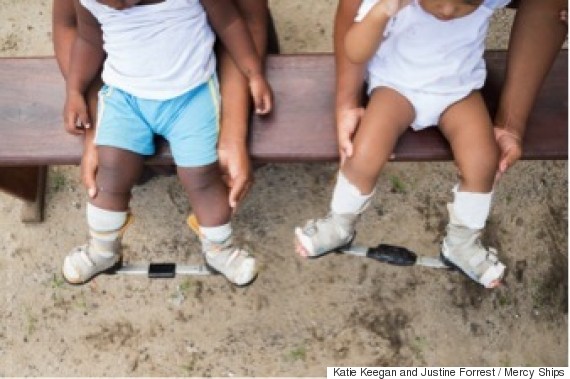 With casting, braces, and time, Florian and Ambre will be able to take their first steps.
Our waiting room isn't big enough for all of those untreated clubfoot patients, so Mercy Ships prioritizes training, mentorship and infrastructure support in every country it visits. Recently the crew onboard provided training and mentorship to 12 clubfoot therapists, 22 local health care professionals, and educated more than 235 in courses like the WHO's Safe Surgery Checklist.
While there remain many more surgeries to perform, watching patients like Florian and Ambre take their first steps reminds us that this wild idea -- this hospital on a ship -- is an efficient way to treat and teach in the developing world. Thanks to our volunteers, donors and partners like Johnson & Johnson, it's working.
Today Florentine and Raso are planning a party for their families to come together and celebrate healing. They are already the type of friends who laugh about the possibility of their children getting married one day -- but there will be no pressure, they insist. And then they exchange a sideways glance and break into laughter all over again.
In a few months, I suspect that Florian will be mobile and keeping up (read: getting into trouble) with other kids, while Ambre will be toddling in her mother's shadow. Wherever life leads them, these two will have a solid footing to take on the future.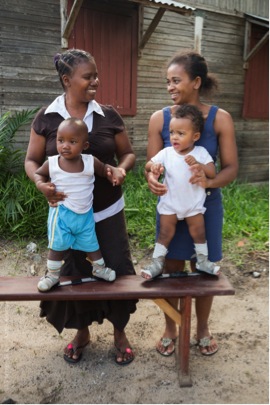 Florentine and Florian, Raso and Ambre.
Photos by Katie Keegan and Justine Forrest for Mercy Ships.
Editor's Note: Johnson & Johnson is a sponsor of The Huffington Post's Global Motherhood section.
Calling all HuffPost superfans!
Sign up for membership to become a founding member and help shape HuffPost's next chapter