For many young people in the United States, summertime signals months of playing outdoors—swimming at the pool or lake, chasing fireflies, or devouring a melting popsicle before the heat steals all the sticky goodness. But frozen treats aren't the only things that melt during the summer.
The knowledge and skills our children learn during the school year are at risk of melting away over the summer months. As a result, many young people enter a new school year in September further behind than when they left in June, and teachers must spend the early weeks helping them catch up.
Summer learning loss—also referred to as the "summer melt" or "summer slide"—is one of the most significant causes of the achievement gap between lower and higher income youth. Every summer, students are at risk of losing two to three months in reading and about two months of math skills. For low-income youth, this risk often becomes the reality - a significant loss of reading and math skills during the summer. According to the National Summer Learning Association, this slide is also one of the strongest contributors to the high school dropout rate for low-income students.
Fortunately, a number of organizations are working to combat this, including a grantee of the Bill & Melinda Gates Foundation's Pacific Northwest program, School's Out Washington (SOWA). The organization—through an array of services—works to strengthen afterschool and summer programs to ensure that all young people have equitable access to quality, expanded learning opportunities.
Their work centers around partnerships, and as SOWA staff will tell you, we all have a role to play in addressing summer learning loss.
Educating Parents and Making Learning Engaging
According to Scholastic's Kids & Family Reading Report, only 48 percent of parents have heard about the summer slide. Most who knew about the concept got the information from teachers and schools. It's important for schools to inform parents about these critical summer months and give them the tools, tips, and opportunities to spark their children's learning in July and August.
This can include anything from tackling board games that encourage problem-solving, to spending time reading, to playing video games that help develop math skills. Children can even be tasked with tallying up expenses while shopping, or following a recipe to explore measurements.
As SOWA's policy and advocacy director David Beard said, these summer learning activities "still have to be fun and engaging. This is about a different approach to how we engage kids over the summer."
That's why SOWA helps coordinate Zero Robotics in Washington state, a national robotics programming competition created by MIT and NASA. The program is designed to allow low-income youth, youth of color, and girls to see themselves in STEM careers and experience a summer "space camp" free of charge. The competition is taking place right now, and Washington state middle-schools can tell you that they aren't just learning – they are having fun doing it.
"Being in Zero Robotics inspires me a lot because I realized how many job opportunities the world has out there," Nancy, one of the students participating, shared after a Zero Robotics Field Day. "Especially with our generation, there are more jobs that include science, technology, engineering, and math. I believe that Zero Robotics STEM camp got me into the right direction."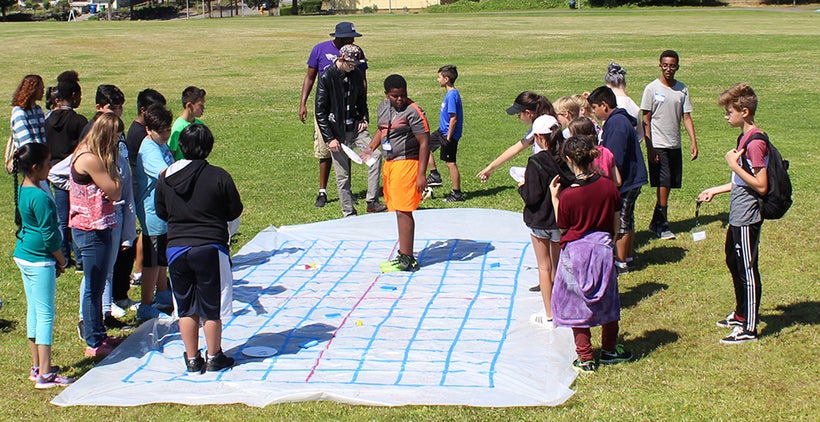 According to a report by the RAND Corporation, students who attend high-quality summer learning programs have positive academic and behavioral outcomes. The focus on quality is an important one, as not all programs are alike in their efforts to spark ongoing learning over the summer.
That's why SOWA uses a quality assessment tool called the Summer Learning Program Quality Assessment, which was developed by the David P. Weikart Center for Youth Program Quality and the National Summer Learning Association. Using this tool, SOWA supports more than 100 programs with assessments as well as coaching and feedback to help their programs improve.
One such program is Seattle Public Schools' Summer Staircase, a six-week program for students in kindergarten through fourth grade that works to stave off the summer slide. The Summer Staircase emphasizes a mix of play and classroom time, with a student-to-teacher ratio close to 7:1—ensuring students get extra help in areas where they're struggling.
SOWA has worked with Seattle Public Schools over the last two years to measure the quality of the Summer Staircase program and its impact on student academic performance throughout the year. The result? Not only does it help quell the learning loss that happens during the summer, but most youth who participated in the program showed improved math and literacy skills.
"Quite frankly, even we were surprised by the growth in reading and the exponential growth in math," Beard said. "To show growth in academics over just two short months highlights the impact that summer can have."
Summer is first and foremost about allowing kids to explore, have fun, and explore their passions. But as SOWA and other organizations show us, there's no reason we can't combine play and learning. Students are better for it in the end.
This focus also shouldn't stop the moment a child walks through the schoolhouse door this fall. Children and youth spend only 20 percent of their waking hours in school. How they spend the remaining 80 percent of their time has a profound impact on their health and well-being. That's why, in addition to supporting quality summer programs, SOWA works with organizations throughout the year to build a statewide system to provide quality expanded learning programs for all students.
As Beard concluded, "Our role is to support programs and kids wherever they are, so they get these great experiences that help them build lifelong skills and discover their passions."
Calling all HuffPost superfans!
Sign up for membership to become a founding member and help shape HuffPost's next chapter
This post was published on the now-closed HuffPost Contributor platform. Contributors control their own work and posted freely to our site. If you need to flag this entry as abusive,
send us an email
.