The school year is underway. Parents have gotten through the "first day" milestone and gone to the Back-to-School nights. Teachers and students have their routines down and are settled into the work they'll carry on throughout the year.
At the state policy level, we've also hit another milestone in education. Last month, states across the country* submitted their plans to the U.S. Department of Education laying out their vision for education under the Every Student Succeeds Act (ESSA).
As someone who is passionate about education policy and has been engaged in education for years, one of the challenges I've seen play out time and time again is the struggle to help key stakeholders – parents, local school boards, business and community leaders – make the connection between policy and the day-to-day work that happens in our schools and classrooms. Too often, policy conversations feel disconnected from the issues parents and teachers discuss during drop-off or during parent-teacher conferences.
Both types of conversations are important, and they are undoubtedly interconnected. Smart education policy needs to reflect not only the evidence about what has been proven to work, but also the input and experience of parents, teachers, and school leaders.
One way I think we could better connect the two conversations is by looking at high-performing schools and asking ourselves "what are the essential ingredients to this school's success, and how can we make sure that other schools can apply those ingredients in their own context?" Let me give an example:
During the Gates Foundation's Back-to-School campaign last month, we highlighted a school in Southern California that's getting great results for its students, Santiago High School.
Located in Garden Grove, California, Santiago serves a large population of students who come from low-income families. Roughly 80 percent of students qualify for free or reduced-price lunch, and more than half of the students enter the school as English Language Learners—meaning they come from a home where English isn't their first spoken language.
So how did Santiago High School go from having fewer than 30 percent of its students ready for college in 2005 to over 50 percent today?
I had a chance to hear more from Santiago's principal, Mike Kennedy, and his administrative team** about the approaches that have been critical to their success.
A school-wide focus on continuous improvement. "We continually celebrate the success of our students and own our failures," says Principal Kennedy. "The faculty and staff are not satisfied with being just really good. We keep the focus on ensuring every student is successful and has a plan for their own success after high school. When we identify a gap or an area for improvement we take the time study it, discuss it, find a solution, then make a plan, and put it into action."
A great example of this is the continuous improvement cycle Principal Kennedy describes that focuses on four key stages: teachers come together to plan new strategies, teach and try them out in the classroom, evaluate the results, and then share and reevaluate with their colleagues. The goal is to learn and adapt over time to find out what works best for students.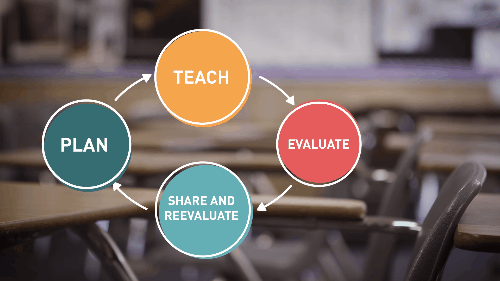 Access to and focus on good data. "Having data is extremely important in what we do. At Santiago, the administration team runs a live gradebook check every three weeks. This allows us to meet with struggling students, counsel them, and help them to get assistance with challenging classes. Data helps us to focus and strategize on areas of need, in order to target interventions that assist students in achieving academic success. When we meet with students we can point them to the intervention that best suits their individual needs. The administration and staff identify those students, assign intervention, and follow up with parents/guardians in order to ensure success."
"Data also helps us as we look at course offerings and transcript audits to see again where we need more focused intervention, or additional courses. Teachers are provided with easy to use data that is specific to their students. This creates an opportunity for teachers to use this information to guide their instructional practices to benefit all students."
Connections between students, staff, and the community. "Our school really focuses on open communication between staff, students, and parents. Having open communication between all parties ensures that everyone is equally invested in the progress of the students and the school in general. This year we have implemented the use of Parent Square to communicate to parents and the staff of important dates and programs at our school. The use of Parent Square, which has text messaging features, has increased the participation of all invested parties. Additionally, we partner with the Boys and Girls Club, who play an active role in providing focused tutoring and interventions for our students."
Looked at in isolation, these common-sense strategies may not stand out as game-changers. But what impresses me about schools like Santiago is how they're able to bring approaches together and form a school-wide culture centered on student success. Santiago's culture is built on using clear, actionable information about student progress and engaging everyone – students, teachers, parents, and community partners – in the work of improvement.
As states finalize their ESSA plans, and as districts and schools figure out what changes mean for classrooms and communities, there is a real opportunity to build on the progress we're seeing at schools like Santiago. We have an opportunity to ask whether state and local plans will make it easier or harder for schools to drive student success as Santiago has. Will teachers and school leaders have the support and information they need to act quickly and adjust their approaches to be more effective for students? Will communities be able to clearly understand how schools are performing and engage if there's a problem? We would be wise to keep questions like these front-and-center as we move from policy to practice.
Ultimately, we all have a shared responsibility if we want our education system to mirror what's happening at Santiago High School—if we want education to better connect our next generation to opportunity and propel them toward social and economic mobility. I encourage you to explore your state's ESSA plan and learn what you can do locally to help ensure all students in your state receive the high-quality education they deserve.
*Thirteen states and the District of Columbia submitted their plans for review and approval in the spring of 2017. The remaining states submitted their plans before the September 18th deadline, with the exceptions of Alabama and Texas, which were given an extension due to the devastation from Hurricane Harvey.
**Santiago's administrative team also includes Holly Jefferson, Judie Kirksey, and Juan Alvarez
Calling all HuffPost superfans!
Sign up for membership to become a founding member and help shape HuffPost's next chapter
This post was published on the now-closed HuffPost Contributor platform. Contributors control their own work and posted freely to our site. If you need to flag this entry as abusive,
send us an email
.