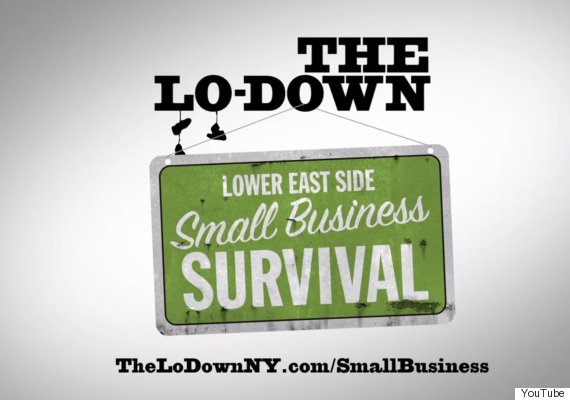 The community news organization The Lo-Down has launched a crowdfund campaign to raise money to support small businesses on New York City's Lower East Side. It's actually a brilliant example of solutions-based journalism. Here's why.
The Lo-Down, a web site and monthly print magazine, is committed to reporting on and highlighting the work of residents, businesses and community efforts in the neighborhood. But lately, co-founders Traven Rice and Ed Litvak say they've watched those businesses struggle to survive -- many of them have been forced to shut down -- with the result that the unique, authentic vibe of LES is slipping away. Through the campaign, the organization aims to "launch a year-long reporting initiative to find solutions for their long-term survival."
In just a few days, the Lo-Down's fundraising efforts have raised nearly $14,000, more than 50 percent of their goal. The news outlet promises to continue to make its stories available to readers completely free of charge, with hopes that their support for the campaign will allow them to create a strong, in-depth exploration of ways to revive the neighborhood.
Rather than just reporting on the failing businesses or evolving community, the Lo-Down is doing something about it, seeking a real-life solution to the problem by building a foundation for their ongoing solutions-based coverage.
"Your contribution will make sure our coverage remains free and that it can be strengthened now and in the future," the crowdfunding site reads. "We don't just want to tell you about problems. We want to identify solutions. During the next year, we will probe the issue from every angle, asking the critical questions, searching for innovative approaches and holding our local leaders accountable."
The What's Working Honor Roll highlights some of the best reporting and analysis, from a range of media outlets, on all the ways people are working toward solutions to some of our greatest challenges. If you know a story you think should be on our Honor Roll, please send an email to our editor Catherine Taibi via catherine.taibi@huffingtonpost.com with the subject line "WHAT'S WORKING."
REAL LIFE. REAL NEWS. REAL VOICES.
Help us tell more of the stories that matter from voices that too often remain unheard.