As journalists, we dutifully report on what's going wrong, from scandals and corruption to natural disasters and social problems. But far too often the media fails to show the whole picture, neglecting to tell the stories of what is working. From scientific breakthroughs to successful crime-reduction initiatives, the What's Working Honor Roll highlights some of the best reporting and analysis, from a range of media outlets, on all the ways people are working toward solutions to some of our greatest challenges.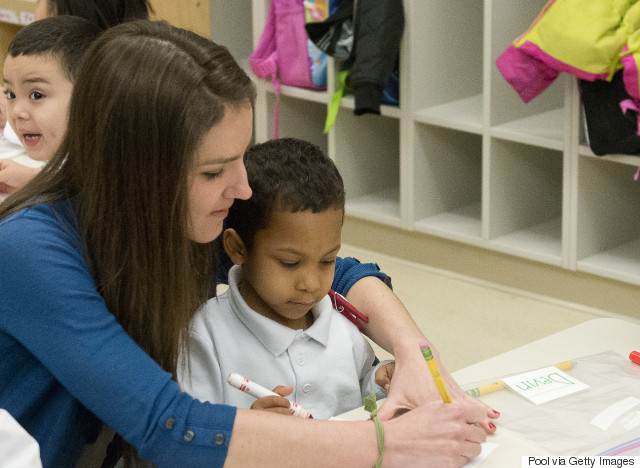 Teacher Laura Steinmetz helps student Devin in her classroom of 4 and 5 year olds at Powell Elementary School in Washington, D.C. (Photo by Ron Sachs-Pool/Getty Images)
With schools across the country experiencing massive budget cuts and decreased spending opportunities, we need to get smart about how we train our teachers. Right now, many school systems take a broad approach to teacher development programs, where teachers meet with the principal for generic staff trainings that aren't always relevant for every teacher in the room.
"Busy principals rarely have time to create individualized plans to meet the needs of each staff member. Consequently, schools default to an awkward one-size-fits-all approach to staff development," Bright's Ryen Borden wrote. "It doesn't have to be this way."
That's why several school districts across the United States have begun transitioning to the idea of personalized learning for teachers. That is, teach our teachers like we teach our students, with training specifically tailored to their skills, interests and needs.
District of Columbia Public Schools, for example, have completely redesigned their teacher professional development programs. Teachers can choose from several different learning models, including online training, one-on-one training with a coach or group-based training. At the Arizona State University's Mary Lou Fulton Teachers College, a team of "teacher educators" has created very specific online lessons that the teachers can choose from based on their needs and desires. The Teacher Retention Project in Phoenix has teachers decide on their own goals for learning and then matches them with trained coaches who work with them throughout the year to reach those goals.
By giving teachers a targeted development program that fits their needs, they aren't constantly sitting through lessons about things they already know or that don't pertain to them. And school administrations have found that by giving teachers a choice, their desire to learn skyrockets.
If you know a story you think should be on our Honor Roll, please send an email to our editor Catherine Taibi via catherine.taibi@huffingtonpost.com with the subject line "WHAT'S WORKING."
REAL LIFE. REAL NEWS. REAL VOICES.
Help us tell more of the stories that matter from voices that too often remain unheard.