As a sustainability communications contractor, I have the distinct pleasure of working for not just one, but multiple #BCorps. I've purposefully chosen to work only for organizations which are practicing what they preach -- leaving their mark to make the world a better place.
Certified B Corps are redefining how business can change the world, but all stakeholders reap the benefits. The standard for accountability is comparable to what the USGBC's LEED certification is for the green building movement, or the Fair Trade validation is for coffee roasters. It helps consumers distinguish a better, transparent, business model while shedding light on the private sector's ability to create drastic impacts in sustainability. To become a Certified B Corp, the organization must outperform the industry average in five sets of performance standards: governance, workers, community, customers and environment. (Note: Certified B Corps are separate from the legal structure of state-defined benefit corporations.)
I choose to work with Certified B Corps because I believe in the very purpose for which they each were founded: An upright business can disrupt the ordinary way in which goods and services impact our world, leaving net positive impacts. B Corps are focused on improving their impacts over time, while generating a profit. But, just as the benefits of becoming a "B" are tangible and powerful, the benefits of working for one are, too.
The B Corp Difference for Employees
The Worker section of the Impact Assessment survey evaluates the company's relationship with its workforce and focuses on the overall work environment, including managerial relationships, job creation and flexibility, and health and safety. Three examples of discriminating metrics for B Corps (vs. other sustainable businesses, or other businesses) are:
Provide >50 percent of employees paid professional development opportunities
Have >5 percent of company owned by non-executive employees, and pay bonuses to non-executives
Extend health benefits to part time and flex time employees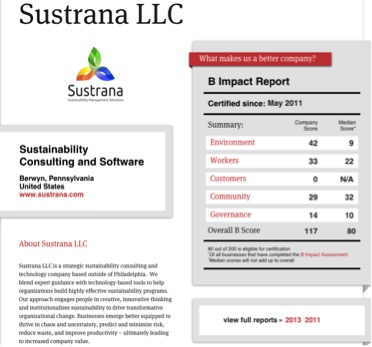 Sustrana LLC's report shows strong metrics for Worker impacts
The Individual B Corp Worker Benefits
As a consultant based in the Midwest with clients on both coasts, it is of mutual benefit that I work for B Corps. My working hours and physical location are 100 percent flexible -- I can literally work 24/7 from anywhere with Wi-Fi -- and all else remains the same. As we like to say at TriplePundit, Skype is our water cooler. Between that, Google Hangouts, conference calls, and conferences, I am able to meet all responsibilities without working in the same physical office as my colleagues.
The Social Benefits for the Certified Company
Not only are employees of B Corps most likely satisfied employees, the social benefits of certification inevitably extend to the entire business, too. According to the Harvard Business Review, millennials (roughly 50 percent of the global workforce) want work that connects to a larger purpose. Naturally, B Corps will be able to attract and engage top workforce talent, as well as investors and peer partners.

The Benefit of Augmented Development Opportunities
Certified B Corporations have access to a distinct network of thousands of likeminded people.
The "B Hive" social media network, which resembles Facebook, brings together B Corp members to share best practices, job openings, stories and jokes.
Through service partnerships, B Corps provide monetary savings for one another.
"Certified B-2-Certified B" local meet-ups and events provide a sense of camaraderie for organizations within the same city. San Francisco and New York are prime examples.
Members may attend the annual Champions Retreat to celebrate the collective success and growth of the "B" movement.
The B Corp Store is a niche marketplace to sell and purchase products made by B Corps. A percentage of each purchase goes to the certifying nonprofit B Lab.
Today, over 1,200 Certified B Corps from more than 30 countries and 60 industries are working together to redefine success in business. The B Impact Assessment is a free, confidential tool powered by the nonprofit B Lab, by which 20,000 businesses have already benchmarked themselves against thousands of others.
I'm certainly proud to display the B Corp logo on the work I do for my clients. How might you engage with the movement?
This page contains materials from The Huffington Post and/or other third party writers. PricewaterhouseCoopers LLP ("PwC") has not selected or reviewed such third party content and it does not necessarily reflect the views of PwC. PwC does not endorse and is not affiliated with any such third party. The materials are provided for general information purposes only, should not be used as a substitute for consultation with professional advisors, and PwC shall have no liability or responsibility in connection therewith.