The road through college can be daunting, especially if you're the first in your family to go to college or hail from a historically underrepresented group. While I wasn't the first in my family to go to college, I found it sometimes daunting. I made it through, but my passion for improving education in this country is fueled by the knowledge that many of my classmates weren't so fortunate.
That's why I'm pleased to see a growing number of colleges and universities making smarter use of data to help students ̶ and themselves ̶ chart navigable paths to graduation and pinpoint where additional help is needed. Just as the GPS in our cars and on our phones can help us plot routes, identify trouble spots, and calculate alternatives, the data dashboards that leading institutions and their partners are creating help students, advisors, and campus leaders make real-time decisions that lead to better outcomes.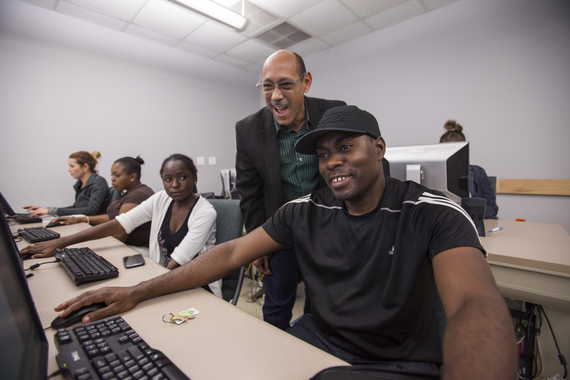 We can see the difference this can make in students like John Carter, who arrived at Sinclair Community College in Ohio with a GED and a dream to be a paramedic and firefighter. He's moving closer to that goal, thanks in part to Sinclair's My Academic Plan (MAP), which allows John to track his progress and communicate with his instructors and advisors in real time if he needs help. Students like John who use MAP are twice as likely to graduate as those who don't.
We also see this working for students like Bonnie Boggs, who is studying communications at Austin Peay State University in Tennessee. Bonnie started out thinking that she would be a science teacher, but the university's Degree Compass app, which uses enrollment and grade data to recommend courses, helped her to figure out a career in marketing was a better fit for her skills and interests. Since the introduction of the Degree Compass app, retention and graduation rates have increased significantly at Austin Peay, in part because students now receive the guidance they need before they get discouraged and drop out.

Perhaps most impressively, we see how smart use of data can improve outcomes at Georgia State University, which has eliminated gaps in attainment rates across racial and ethnic groups. Not reduced, eliminated. They achieved this by starting with careful data analysis to pinpoint where, and among which groups, retention was fragile. Then, they used the data to redesign their advising programs to help more students successfully navigate the registration process and implement courseware that could address their specific learning needs. They also used the data to design an emergency aid program that prevents students from being forced to choose between paying for a car repair, or paying tuition and staying in college.
Having and using better data won't fix all of the challenges facing our postsecondary system. But there's also no longer any need to let students fend for themselves on the critical journey to and through college. A high quality, broadly accessible public education is not only central to the American Dream; it is key to increasing promise and prosperity in this country.
Today, there is so much data at our fingertips that can tell us how to help students succeed as individuals, while also helping our educational institutions fulfill their mission. From the perspective of this first generation student, it's our responsibility to take advantage of this wealth of information to make sure it benefits every student on their journey through education.
REAL LIFE. REAL NEWS. REAL VOICES.
Help us tell more of the stories that matter from voices that too often remain unheard.