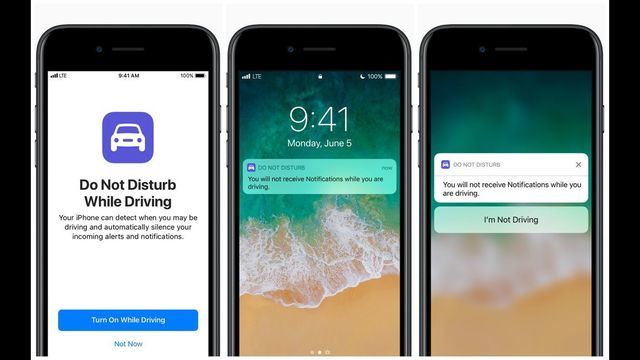 Contrary to what has recently been reported in the media, Apple's "Do Not Disturb While Driving" (DNDWD) feature, which will be available in the fall of 2017 as part of the iOS 11operating system update, will not drastically reduce iPhone distracted driving crashes. Despite all the hype surrounding DNDWD, it falls short of providing real protection from distracted drivers because it is only an optional feature, dependent on the driver's willingness to accept it and, even if accepted, is easily bypassed. What is really unfortunate is that Apple presently has the technology to make DNDWD much more effective and elected not to do so. As a result, crashes, injuries and deaths involving drivers who are using iPhones will continue to occur.
Crashes caused by distracted driving are increasing.
Highway fatalities increased in 2015 and 2016, reversing a near decade long trend of decreasing fatalities. The National Highway Traffic Safety Administration (NHTSA) statistics for 2015 revealed that fatalities attributable to distracted driving increased on a percentage basis faster than those for speeding, drunk driving and failing to wear seat belts.
According to a AAA Foundation for Traffic Safety Study a greater percentage of us feel threatened by drivers texting and e-mailing than by drunk drivers. According to that same study, more than 80% of those surveyed believe texting or e-mailing is a very serious threat to their safety, yet more than 40% reported having sent texts or e-mails and more than 30% reported reading texts or e-mails while driving. A number of distracted driving prevention apps already exist, but since they are optional, requiring drivers to specifically choose to use them, they have not seen wide-spread acceptance.
Given the public's reluctance to give up iPhone use while driving, making DNDWD's use optional, is nonsensical.
Apple knows that drivers using iPhones are causing fatal crashes and has been sued several times by families tragically affected by drivers' dangerous use of iPhones. Apple cannot legitimately believe that when given a choice to engage DNDWD, or to opt out, that drivers will choose to engage DNDWD. Apple will make it easy for iPhone users to bypass DNDWD by providing an option to select "I am not driving." From a technological approach, what is needed is to make it impossible for drivers to opt out of the protection afforded by DNDWD. Given that Apple has already patented that technology, and that technology exists which has the ability to distinguish smartphone use by drivers from passengers, Apple's failure to utilize those technologies in DNDWD is very disappointing.
Users will be able to program in a number of contacts whose notifications will not be blocked by DNDWD. If drivers allow notifications from family members, friends and co-workers to bypass DNDWD, its effectiveness will be drastically diminished. DNDWD also permits any sender who receives an initial notification that the recipient is driving to simply reply "urgent" to bypass the system. How long will it take before routine texts are marked as "urgent?"
The hype surrounding announcement of DNDWD as a feature that will end distracted driving is unjustified.
Apple's announcement of the DNDWD feature was greeted by misleading and inaccurate media accounts of how dangerous texting activities while driving will be prevented. For example, a June 6, 2017 CNN Money's Tech Report headline reads "Soon, iPhones will block texts while driving." To have been accurate that headline should have read "Apple launches iPhone text blocking feature that can easily be ignored or bypassed by drivers." CNN's article highlights yet another way that the blocking feature would be rendered ineffective, permitting drivers to engage in dangerous iPhone use:
Drivers will still be able to use Apple CarPlay, of course, in cars that are equipped with it. Apple CarPlay is a car interface specifically designed to allow drivers to hear and respond to text messages using voice commands and to safely use other iPhone features while driving (emphasis added).
With all due respect to the CNN reporters, to suggest that it is safe for drivers to hear and respond to texts using voice commands is ludicrous as is Apple's design of DNDWD to permit drivers who have cars equipped with Apple CarPlay to engage in those activities. These exceptions suggest that customer convenience, and not safety, was Apple's paramount concern in designing DNDWD. As presently designed DNDWD is like a band aid being used to treat what has properly been called an "epidemic" of distracted driving.
Smartphones must be designed so that when we start driving we cannot tweet, text and use apps that are not necessary for safe driving. Those protections must be automatic and not left to the choice of each driver. Product manufacturers should never make safety an option. It is incumbent upon Apple, and other Smartphone manufacturers like Nokia and Samsung, to design their Smartphones to protect us from drivers who are focused on their phones and not on the roads.
Joel Feldman is an attorney in Philadelphia with the law firm of Anapol Weiss. After his daughter Casey was killed by a distracted driver he founded EndDD.org (End Distracted Driving). EndDD.org has a network of speakers across the country and provides distracted driving presentations to schools, communities and businesses. For more information about scheduling presentations or learning what you can do to end distracted driving e-mail Joel at info@EndDD.org.
Related
Popular in the Community