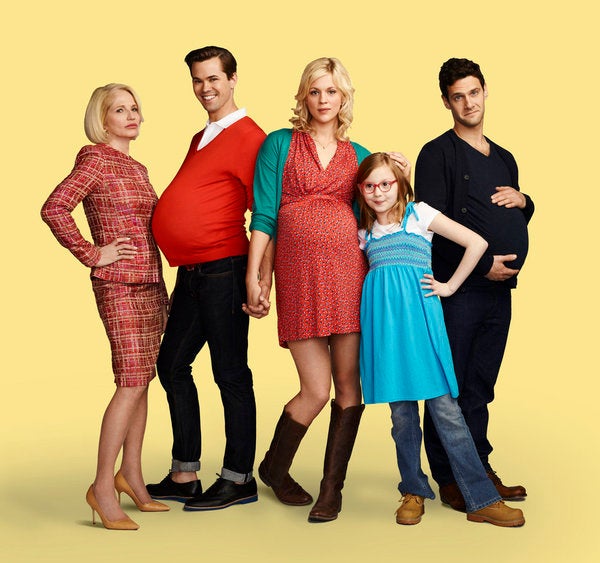 Like many gay parents, I was eagerly looking forward to The New Normal. After Modern Family so effectively assimilated gay families into prime time -- with the gay family just another part of society's dynamic -- I had high hopes. Heck, coming from Ryan Murphy, the maestro behind Glee and a man who himself may one day become a gay father, I was downright giddy with anticipation. Watching the first two episodes, however, left me with a level of disappointment I last felt when Bill Clinton signed the Defense of Marriage Act.
Watching The New Normal is like watching a cookie-cutter cartoon; there's nothing new, and over-the-top stereotypes make it difficult to differentiate between camp and just really bad taste. Worse still, many of the show's generalizations are likely more damaging than entertaining: Gays are wealthy, materialistic effetes with crazy disposable income. Gay men randomly wake up and decide that they want a child as the latest must-have accessory. Prospective parents look through a catalog of egg donors like they are recruiting for the HJ. A gay couple? One part effeminate man-boy, the other part a football-watching handsome dude. And that's to say nothing of the Little Miss Sunshine clone, the blurring of the role of a surrogate, or the grandmother so racist that she would make Archie Bunker blush.
This looks nothing like my life, or the lives of dozens of gay parents whom my partner and I count as friends. We have waited years to create our families, jumped through legal hurdles as if doing so were an Olympic sport, fought our employers for equal childcare leave, and even paid for our surrogate's birth-related insurance because our own health plans refused to cover them. We also considered adoption as an equally viable alternative to surrogacy.
While sitcoms don't need to be designed as vehicles for the betterment of society, they often have become just that. The Mary Tyler Moore Show helped to tear down the glass ceiling for women in the workplace. All in the Family furthered national dialogue about the duplicity of bigotry during a pivotal moment in our nation's history. Will & Grace redefined the role of gay characters on television in the same way that The Cosby Show did for black families in the '80s. The only thing The New Normal is doing is passing the torch of iconic gay cultural references from one generation to the next. A trip to Grey Gardens, anyone? As Seth Meyers might say, "Really?"
Sure, there are a few heartfelt moments, like Bryan explaining his love of his future child to his future child through video, and the lip-kissing scenes are treated with the same nonchalance as they would be with a heterosexual couple. But frankly, I wanted less kitsch and more class. During a time when same-sex marriage is being subjected to popular referenda in Maryland, North Carolina, Washington, and Minnesota, The New Normal presents a new danger. If I were on the fence about the merits of gay marriage before exposure to such reckless stereotypes, after viewing the first two episodes, I'd jump off that fence and start running for Canada. Oh, wait, never mind.
Maybe I'm missing something. I mean, the show was banned in Utah, so it must be doing something right. Right? Perhaps I should just shut up, watch a few more episodes, and laugh a little. Then again, working full-time with 3-and-a-half-year-old twins doesn't leave too much down time. I think I'll skip watching The New Normal and go back to living it instead.
Popular in the Community