Come quickly, I'm tasting the stars!
Dom Perignon
(When he first tasted champagne.)
Champagne. It's the drink of the Gods, the elixir of good times, the gold standard of luxury. No celebration is complete without a toast with the bubbly. But what do you really know about the stuff? Take this test to determine if you really know your bubbly.
1. Champagne can only come from France.
True. Unlike a rose, a champagne by any other name is not champagne.
Real champagne is made only in the champagne region of France, with French grapes, using the Methode Champenoise. It is illegal to call any other sparkling wine "champagne."
2. Cava, Prosecco, California Sparkling Wine and Champagne are all the same.

False - and the French are insulted!
They are all sparkling wines, but cava is produced in the Catalonia region of Spain. Prosecco is made in Italy, and is sweeter, simpler and cheaper than both champagne and cava. California sparkling wine is a loose term; there are no specific guidelines or requirements related to production, nor grape varietals or origins.
3. You can tell the quality of the champagne by the size of its bubbles?
The smaller the bubble, the more expensive the champagne. A really good champagne leaves a bubble trail on the side of the glass.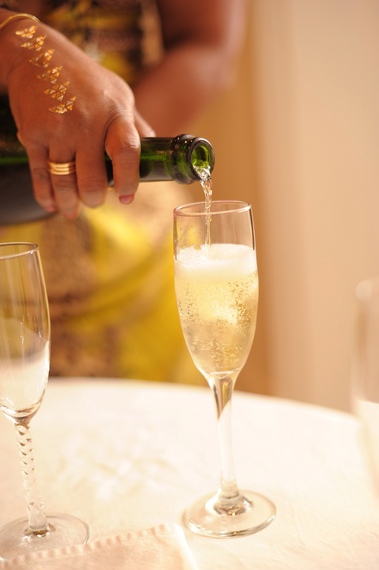 Image source: graciouslivingguide.com
4. A bottle of champagne has about 49 million bubbles?
True. And I love every one of them.
5. The quickest way to chill champagne is by submerging it in an ice bucket.

False. Champagne will chill faster in cold ice water. My personal research shows that this fast chill method takes about 20 minutes.
6. Which is the driest champagne - brut, extra dry or demi-sec?

Brut is the driest, meaning it has the least amount of sugar, then extra dry and finally demi-sec.
7. Champagne is fermented wine.
True. It is fermented twice; once in the barrel and once in the bottle.
8. A magnum is the largest bottle of champagne you can buy.

False: There are several large sized bottles available. They are:
Magnum -2 bottles
Jeroboam - 4 bottles
Rehoboam - 6 bottles
Methuselah -8 bottles
Salmanazar - 12 bottles
Balthazar -16 bottles
Nebuchadnezzar - 20 bottles
You will be popular with all your friends if you pop the cork on a Nebuchadnezzar at your next cocktail party! (For more tips on how to make your cocktail party a success, click here. )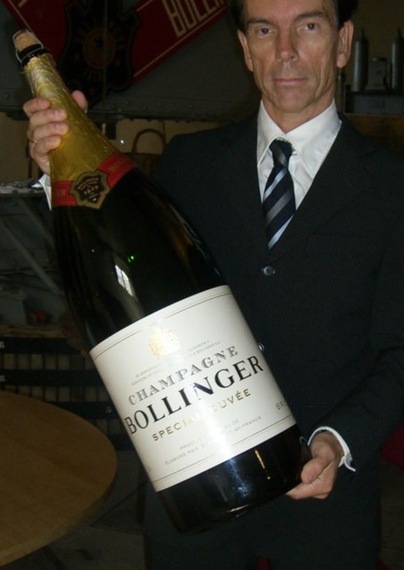 Image source: champagnejournal.com
9. Dom Perignon discovered champagne.
False. Champagne existed long before Dom. Dom Perignon, however is given credit for raising its standards and stature. We are eternally grateful, Dom.
10. Champagnes, like fine wines, get better with age.

False. Only women and fine wines get better with age. Champagne does not, so drink up!
How well did you do?

If you got 8-10 correct, then you are a
Hardcore Champagne bubblehead - You deserve premium champagne and you regularly imbibe in the best of the bubbly.
If you got 5-7 correct, then you are a
Champagne babblehead - You know enough about champagne to talk a good game, but it's subtleties elude you. The solution - DRINK MORE!
If you got 4 or less correct, then you are a
Champagne bobblehead - You confuse champagne and beer. Spend some time learning about champagne and save the good stuff for the rest of us!
Are you a bubblehead, babblehead, or bobblehead?
GraciousLivingGuide.com provides inspiration, tips and support to elevate your life experiences and help you live a life you love. Topics include travel, entertaining, life hacks, product reviews and much more.