What's Your Method? is an Impatient Optimists blog series that offers a window into many of the contraceptive options for women and girls around the world. Each day we'll publish one or more posts on these methods from some of our valued partners working everyday to ensure that these methods truly become options for the millions of women and girls who want and need them.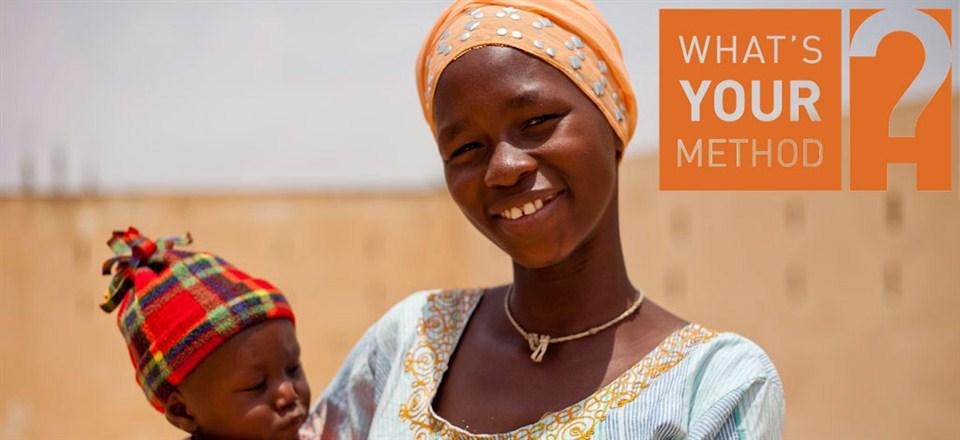 A mother and her newborn child stand outside Beunoba Health Center in Dakar, Senegal. Photo credit: Bill & Melinda Gates Foundation (c) 2013.
In July of 2012, a pledge was made to support the rights of women and girls to decide freely and for themselves whether, when and how many children they have. Today more than 215 million women in the poorest countries in the world want to delay, space or stop childbearing but lack access to contraceptive services . The continuing failure to deliver information, supplies and services leads to over 75 million unintended pregnancies, high maternal and newborn deaths, and a continued cycle of poverty and poor health for millions of pregnant adolescent girls each year that risk their life during childbirth.
At the London Summit on Family Planning, the Gates Foundation, along with the leaders of many developing countries, committed to reaching an additional 120 million women and girls with modern contraceptives by 2020. There were financial pledges made and promises shared by governments, civil society, and private sector.
But what does it really mean to reach millions of women and girls, in the poorest parts of the world, with contraceptive options?
Delivering on this promise will translate into millions of women around the world who are able to freely decide whether, when and how many children to have.
It will mean that women and girls are empowered to make this decision for themselves, free of discrimination or coercion. They will have access to comprehensive information about different methods and will have a variety of contraceptive options from which to choose.
Not every method is right for every woman. A variety of options must be available for each woman to find the best fit for her and her family.
The Impatient Optimists What's Your Method blog series looks in-depth at the various contraceptive methods that are available around the world. Find out why some women prefer implants, while others use the Standard Days Method, and still others choose the permanent method of sterilization. Whatever the decision, the goal of the London Summit on Family Planning (FP2020) is that each woman around the world has access to the best contraceptive method for her - and 120 million more will have these information, supplies and services available to them by 2020.
We want to hear about your experience with planning your family and what contraception has done to help you plan your life. Join a global conversation, share your story, and pledge your support for women and girls around the world. You can also get involved by supporting projects through Catapult.
This post was written by Dr. Gary Darmstadt and Monica Kerrigan. Dr. Darmstadt leads the Family Health Division of the Bill & Melinda Gates Foundation, comprising the Maternal, Neonatal, and Child Health (MNCH), Family Planning, and Nutrition strategic project teams. Follow him @gdarmsta. Monica Kerrigan is Deputy Director, Family Planning at the Bill & Melinda Gates Foundation. She has over twenty five years of international experience in family planning, reproductive and maternal health in Africa and Asia. Her expertise is in training, service delivery, and quality of care.
 
REAL LIFE. REAL NEWS. REAL VOICES.
Help us tell more of the stories that matter from voices that too often remain unheard.