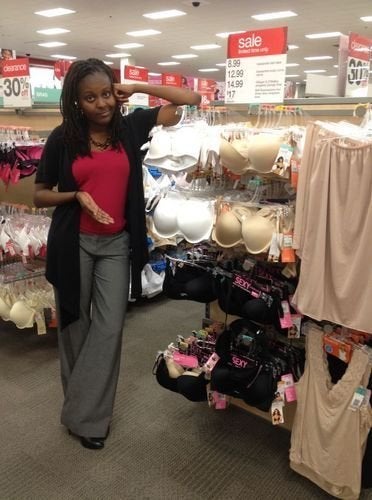 Black women can pretty much expect that anything labeled "nude" from cosmetics to undergarments isn't going to match our skin tone.
The blushes, buffs, off-whites, fleshes and "barely there" colors offered don't represent the millions of brown-skinned women ready and willing to spend some cash.
Tara Raines, a 31-year-old psychologist in Los Angeles, is one of those women and she's fed up, especially when it comes to finding bras.
When she learned that for more than 30 years, her mother, family members and friends had been dyeing their bras brown to match their skin color, Raines decided to issue a call to action titled "What's Your Nude?"
She maintains that there would be no need for DIY bra dyeing projects if bra manufacturers understood the demand for more color options -- and the amount of money that could be made.

"Women of color have tremendous spending power in the U.S. and it's absurd to think that in 2012 we are essentially disenfranchised when we shop for lingerie. It's my hope that this campaign will drive not only awareness, but swift action by bra makers,"Raines told WWD.

Black women in general have a wide spectrum of skin tones, so it would be nearly impossible for most bra companies to create shades that represented every shade of "nude." But simply offering one brown option would be a great start.
"I don't think it's too much to ask that bra makers include darker hues when manufacturing their collections," said Raines. "Women of color deserve to look and feel sexy, and a big part of that is looking like ourselves."
So in celebration of Black History month, Raines is asking that on February 1 women click the "like" tab at Facebook.com/morebrownbras and contact their favorite bra manufacturer or retailer by mail, phone, email or social media (Twitter hashtag #whatsyournude)
Raines is drumming up support slowly but surely. WWD reports that more than 260 women have signed up thus far, and Raines has even gained a few high-profile fans.
Actress Holly Robinson Peete clicked the campaign's "like" button on Facebook and singer Chrisette Michele tweeted her support. Raines reached out to the "Epiphany" star via Twitter to call her attention to the problem and yesterday Michele tweeted back:
Popular in the Community