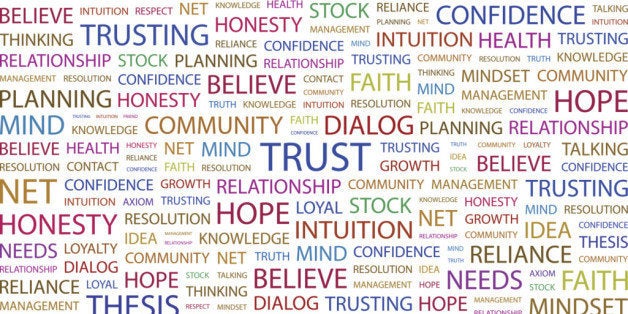 Last year, right after 2014 began, I was listening to Dr. Robert Holden on Hay House radio. He shared an idea he'd been doing for awhile of choosing one word for his new year. Then he would meditate on it, delve into it, and explore it for the next 365 days. Inspired, I decided to do the same, choose one word for the year.
My word for 2014 was trust. Over the past 12 months, I allowed myself to simply be with this word and see what happened. At one point, around March, I had a serious crisis with trust. I became super afraid of the future, and about what might happen. That experience invited me to go deeper with trust and prompted me to create a visual representation to both remind and inspire me to open up more to trust.
As part of my pictorial representation, I have a few quotes from Rumi. Here's one of them: "Knock, and He'll open the door. Vanish, and He'll make you shine like the sun. Fall, and He'll raise you to the heavens. Become nothing and He'll turn you into everything." When I see this, it helps remind me to let go and... trust.
2014 has come to a close and as I reflect on my relationship with trust, I am pleasantly surprised to realize that I've embraced trust at a deeper level than ever and am experiencing it in a new way. In fact, I don't even think about trust (or lack of it) in the same way. The constant uncertainty or questioning I always had before has slowly fallen away. Now trust is a given, it just exists. It's my divine right. I know the outcome is assured and I trust that my life will unfold in the right and perfect way.
But over the past 12 months that wasn't always the case. I've felt insecure and scared, uncertain and fearful.
To me, trusting in life is trusting in the unknown. Often when I have those hiccups of faith, those moments of anxiety or lack in trust, they occur right before some kind of transition or change. Maybe it's me moving into doing something new, taking a risk or challenging myself. Each time, it's like I have to jump into the void. I see myself standing on a cliff having to leap off into the unknown. So of course my visual representation depicts a cliff with the word 'trust' spanning it.
Over a decade ago, I had an astrologer tell me that I was so taken care of, I could relax back into the hammock of God's love, that this energetic web would completely support me no matter what. At the time, there was no way I was doing that -- relaxing, trusting. The world was too unsafe and uncertain. I couldn't trust any living person, how could I trust something I couldn't even see?
Yet it was almost like my astrologer planted a seed, a reminder of what was there for me. Over the years, I've allowed myself to try it out, to lie back into that energetic hammock and feel supported.
Fifteen or so years later, I'm capable of doing this more and more, especially after this year, my year of exploring trust. And you guessed it. I can look at my picture of trust, hanging over my desk, and see the golden hammock.
Today I do feel that trust. I know that I am being held and supported, that only good lies before me, that I am loved and guided. My only job is to show up, be present and loving.
Now I have to choose a word for 2015. I have so enjoyed my exploration into trust. It has opened up a new way of being for me and I can honestly say that trust is a permanent part of me. I carry it with me always, like I own it.
Since I more fully understand the power of choosing a word and its significance in my life, I have to find THE word for 2015. Simultaneously, I know I don't really have to go in search of it, because just as trust showed up loud and clear as my word for 2014, I know the right and perfect word will appear any day now.
This new word will invite me to contemplate it for the New Year with thoughtfulness, intention and insight. And I'm looking forward to it!
Do you know what your word for 2015 is? If so, share it with me! If not, sit with this idea and ask, "What's my word for 2015?" Invite your word to come to you. How will you then spend your year exploring and delving into it?
Shakti Sutriasa is the Founder of DecideDifferently.com, a personal development company committed to empowering people to live more connected and fulfilled lives through coaching, counseling and workshops. Her unique approach combines modern psychology and spirituality to support people seeking positive change and self-transformation. Shakti is a Licensed Clinical Social Worker, and has an MA in Education. Learn more at DecideDifferently.com