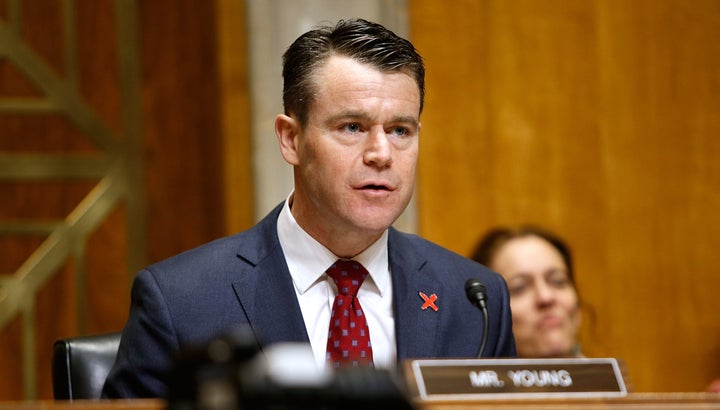 Indiana's newest United States senator, Todd Young, returned home last week for his first recess visit without holding a single public event or forum in our state to hear directly from voters. Since he won't listen to us directly, I hope he'll read the paper, because I have one important question.
Sen. Young: What's your plan to make sure Hoosiers get to keep their health care?
A lot rides on his answer. President Trump, Sen. Young and other Republican elected leaders in Washington are furiously plotting to repeal the ACA, which has made health care accessible and affordable for millions of people – including many of my patients. I work as both a home health aide and as nursing home staff in Indianapolis. I help people with MS, Parkinsons, cancer, and more function with independence and dignity.
I love my job, and I love my patients. But right now I'm worried about them.
Republicans – including President Trump and Sen. Young – say they want to "repeal and replace" the Affordable Care Act. But they don't seem to have any agreement on what to replace it with. We don't know whether everyone who has coverage today will have coverage under whatever new law they eventually come up with. We don't know whether any replacement would continue to protect people with pre-existing conditions. We don't know even know whether insurance companies in Indiana will still be required to cover check-ups for our kids or mammograms, as they are under the current law. 
I love my job, and I love my patients. But right now I'm worried about them.
For Indiana seniors and families who have come to rely on the ACA for health care coverage, this lack of basic clarity is terrifying. In the worst-case scenario, repealing the ACA without any sort of replacement would cost 567,000 Indiana residents the health care coverage they need to survive. It would also weaken our health care system and hurt our economy. Community hospitals would have to cut staff, eliminate services, or just close. Indiana alone would lose 21,000 jobs if the ACA were repealed without an adequate replacement. 6,700 of those jobs would be in my own field of health care.
For me, this is personal. Many of my clients – even seniors – rely on Medicaid funding for their health care. Many of the Republican proposals floated so far would slash funding for Medicaid and eliminate protections for people like my clients, who receive care in their home. President Trump, Sen. Young and Congressional Republicans are playing politics with my clients' lives by threatening to repeal the Affordable Care Act without proposing a replacement that guarantees people get to keep their care.
That's why I recently took my activism around health care to the next level. I traveled with dozens of other health care workers, faith leaders, and community members from states around the country to Capitol Hill. We visited the offices of our senators, trying to track them down one by one to ask them a simple question: What's your plan for making sure your constituents get to keep their health care?
When we didn't get the answers we wanted, we sat down in the middle of the Capitol building until the police came and hauled us off in handcuffs. It was a powerful moment, and it sent a signal to Sen. Young  and his colleagues that their constituents understand the stakes and won't be ignored. We're even prepared to risk arrest to get the answers we need.
As Sen. Young returns to Washington, DC, he should bear in mind that he holds their lives in his hands – and he owes them some concrete answers about how exactly he plans to keep Indiana's residents covered and cared for.
Emily Hernandez is a home health aide and nursing home aide from Indianapolis.
Have you or your family benefited from the Affordable Care Act? If you'd like to share your story on HuffPost, email us at ACAstories@huffingtonpost.com.
REAL LIFE. REAL NEWS. REAL VOICES.
Help us tell more of the stories that matter from voices that too often remain unheard.
BEFORE YOU GO