Devon Sproule is a world-traveling, world-class musician. She hails from Charottesville, Virginia. This weekend, on Sunday October 11, she was to perform at The Festy Experience, a music festival hosted by The Infamous Stringdusters on the grounds of Devil's Backbone Brewing Company, near Roseland, Virginia, nestled up to the Blue Ridge Mountains in Nelson County. These are Devon's thoughts on some things: playing festivals, Virginia in the fall, music...
What is your favorite thing about playing festivals?
Regular shows are special but they only last one night. Festivals are extended magic. It's like living in a little town full of happy people for a weekend.
You've played The Festy before with Paul...what are you looking forward to most about playing The Festy 6?
That feeling above, but it will be even more special because unlike other festivals, I will already know some of the people. Also, I love the philosophy of The Festy: that it's not just a lump of shows, but an experience, both curated and spontaneous.
What do you love about Virginia in the fall?
It's been a while since I've experienced a full fall in Virginia. I like that we call it "the fall," not just "autumn." My English friends think that's funny. The little pagan in me likes any seasonal change, which is why I'm just happy to back in a place that has all four. Fall and spring are both such active seasons. This will be my first real fall spent living in the country (20min north of C'ville) since I was a kid at Twin Oaks. We moved home in April and the spring was astonishing. Colors and changes, I guess. And apples. My other mother Ira's Heritage Harvest Festival at Monticello!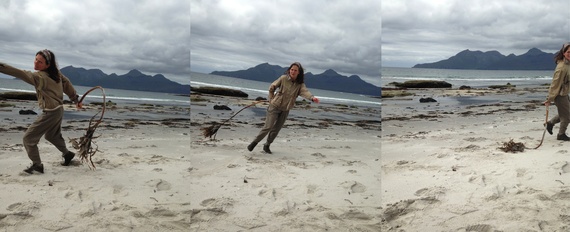 Who are you listening to these days? And in what format? I used to ask "what's in your cd player...?" But now it could be anything, except maybe 8-tracks...I love Spotify. And records. And cds. I like it all.
Either because of my phone plan, or my packrat nature (even with digital stuff), I'm still collecting mp3s in my itunes library, mostly, instead of using streaming services. We also have a nice old receiver and turntable and small vinyl collection. Paul discovers more new music than I do, and really good stuff...most recently, I can think of a wonderful record from Den Sorte Skole called Lektion III. I was just touring with a band from Toronto called Bernice. Getting to see them play every night was incredible. A write-up we got called them a "liquid dream crew," which I think is just right. If people wanted to look them up, I would recommend a couple live recordings they did on a radio show called Spinning on Air. Also, I've been listening to awesome instrumental tracks by New Boss, trying to write words to them, Paul helping me with the melodies.
Tell me a good story from the road, please...
I thought I was going to be able to do laundry in Moncton, New Brunswick but then -- oh no! -- they didn't have a dryer. I did my underwear and undershirts anyway, and miraculously, they dried on a rack overnight. Then, last night in Riverport, Nova Scotia, at a beautiful recording studio called The Confidence Lodge, I put in the rest of my clothes, only to realize that their dryer wasn't exhausting properly and was only heating the clothes, not drying them. I put them out on the banister overnight but no such luck this time. They're currently packed, damply, in my suitcase, awaiting their next chapter. Maybe it will be Arkansas for the win!
So...if you find yourself in central Virginia on Sunday, October 11, head down to the Festy and check out some great local beer (I love the Devil's Backbone Vienna Lager) and hear some great music from Devon.
REAL LIFE. REAL NEWS. REAL VOICES.
Help us tell more of the stories that matter from voices that too often remain unheard.