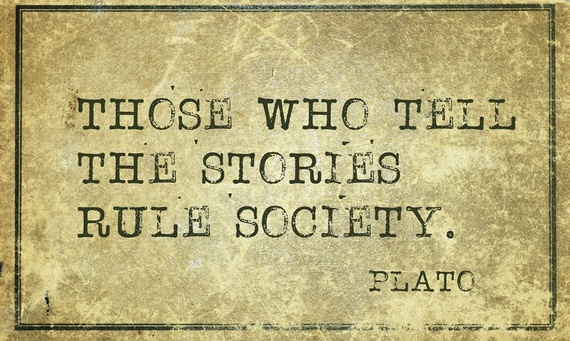 I have always related to myself as a storyteller. Even as a child. I used to dream about being Dr. Seuss and that dream became a reality when I won awards for early childhood curriculum I wrote: puppet plays, songs and activities that stimulated the brains and lives of children under the age of six. Today, I make a living as a publicist and to me, a publicist is nothing more than a storyteller to the media. As Plato aptly observed, "Those who tell the stories, rule the world." Among these rulers are the media. What story are you helping them tell?
When I call the media, they often say about a client, "What's her/his story?" Or, "What's his/her claim to fame?" It's best to summarize the most compelling part of your story succinctly. Can you pierce through another's heart and emotions with a story so deeply moving, the listener is left crying, laughing or in action? I always recommend to speakers to tell such a story when addressing a crowd. The audience may only remember that one story.
Here's an example of telling a story so poignantly in a few minutes, the listener will be forever touched:
Human the movie posts on YouTube:
When you craft your stories, include all the senses like this story:
Taste (don't you want to eat a piece of chocolate after this story?
Touch (the visuals of a skinny pregnant woman in this story is haunting)
Hearing (the baby's lack of crying and then liberating crying is very memorable)
Smell (again, the smell of chocolate -- hard to deny)
Sight (the sweet gift, wrapped and saved by a loved one for a child is something we all relate to)
Also, be sure you have a beginning, middle and an end. Loop your end to details in the beginning. In this case, the ending of the story wow's the audience into tears as the baby - now an adult - gifts the chocolate back to Francine, then a child, now a senior.
Even with news stories, do they delight the senses and impact our emotional center: the heart? As the Pope completes his United States tour, this choir boy wows us with the "Festival of Families" performance. This is now part of his story. His fifteen minutes of fame. If you're human, you'll most likely cry, like I did too. Darlene Pedersen uploaded her video on her YouTube channel. Pedersen writes:
Angelic and amazing considering he just got up and performed impromptu. I would not only be excited about meeting the Pope, though, I would also enjoy hugging actor Mark Wahlberg, the host of the event. Wahlberg got his own story in as he hosted joking about how he hopes the 'Good Lord has a sense of humor' about his movies.
We are all human and delight in the stories that make us human. How can you share stories today with your media contacts and other friends that uplift, move and leave people with a morsel of who you are, the lessons you've learned and the future you inspire? What's your story? Be sure your stories lead us into a society we'd all want to share.
Related