This Tuesday was an important day in the agriculture and anti-hunger communities. Not only was it National Agriculture Day, but it would have been Dr. Norman Borlaug's 100th birthday. Celebrations took place around the world in his honor, including the installation of a statue in his likeness in the U.S. Capitol.

Considered the "Father of the Green Revolution," Dr. Borlaug dedicated his life to breeding better, heartier varieties of wheat and other crops. His efforts doubled the world's food production and helped to prevent famine around the globe, and his work with farmers and lawmakers led to effective, lasting solutions to hunger and malnutrition worldwide.
His achievements changed the course of global food production, earning him a Nobel Peace Prize, the Presidential Medal of Freedom, the National Medal of Science, and the Congressional Gold Medal--America's highest civilian honor, a trio of honors shared only by Dr. Martin Luther King Jr., and Elie Wiesel. Dr. Borlaug's unmatched agricultural and humanitarian achievements have had a lasting influence on nutrition around the globe.
It was said that Dr. Borlaug "saved more lives than any other person who has ever lived." Once a member of Bread for the World's board, he helped to shape our advocacy approach to ending hunger. Dr. Borlaug's legacy goes deep into the practices and programs of fighting hunger and poverty.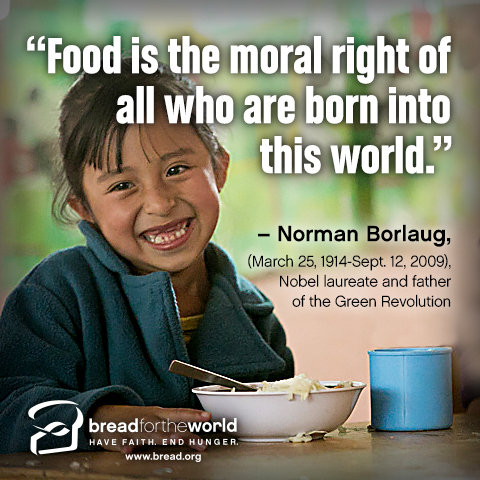 Dr. Borlaug was a life-long advocate of the inextricable connection between agriculture and nutrition. His work taught us that agriculture is a long-term solution to many immediate nutrition problems. Investments in agriculture address both hunger and poverty by increasing the food supply while stimulating economic growth. This results in higher incomes for families, enabling them to purchase more diverse foods for a better mix of nutrients in their diets.
Imagine a world where emergency food aid is no longer required because of investments in agriculture on the local level that render communities self-sufficient. Imagine a time when famine and malnutrition are problems of the past because local farmers have the resources and education to sustain their families, communities, and countries through effective agriculture. Not only is it possible; it's happening.
Development experts now know, for example, that educating women in poor, rural villages on the importance of proper nutrition for themselves and their children is futile without the resources to grow and harvest their crops. They also know that, while drought may not be preventable in certain parts of the world, subsequent malnutrition and widespread famine are.
Effective development programs like Feed the Future promote a combination of agricultural investment and nutrition initiatives. Local farmers across the globe are leading the charge, learning more about the practice of farming and finding innovative ways to grow and harvest their crops and sell their products.
Local farmers are also getting support from well-resourced nations. The United States and other developed countries are investing in resources for farmers in poorer countries to successfully grow enough for their families and their communities to eat, sell, and thrive.
While the world has the ability to produce enough food to feed everyone, ironically, those who suffer most are the people growing food for a living on small plots of land. But with the proper resources and support, we can reverse this trend and, eventually, live in a world free from hunger.
I'm struck by the contrasts of Dr. Borlaug's life. A man who was based in farming, a humble profession, had an outsized influence in the policy of whole nations, both wealthy and poor, and in feeding the multitudes. A man who considered the molecular biology of a tiny wheat seed had an enormous influence over entire fields of wheat and farms the world over. The new statue of Dr. Borlaug that stands watch over our lawmakers in our nation's Capitol building is now a permanent reminder of the man and his legacy. I only hope that the problem he addressed--hunger in our time--becomes something temporary that we bring to an end thanks to his contributions.
Bread for the World is a collective Christian voice urging our nation's decision makers to end hunger at home and abroad. Rev. David Beckmann, president of Bread for the World, is a Lutheran minister and economist. In addition, Beckmann was a 2010 recipient of The World Food Prize, an award established by Dr. Norman Borlaug.
REAL LIFE. REAL NEWS. REAL VOICES.
Help us tell more of the stories that matter from voices that too often remain unheard.