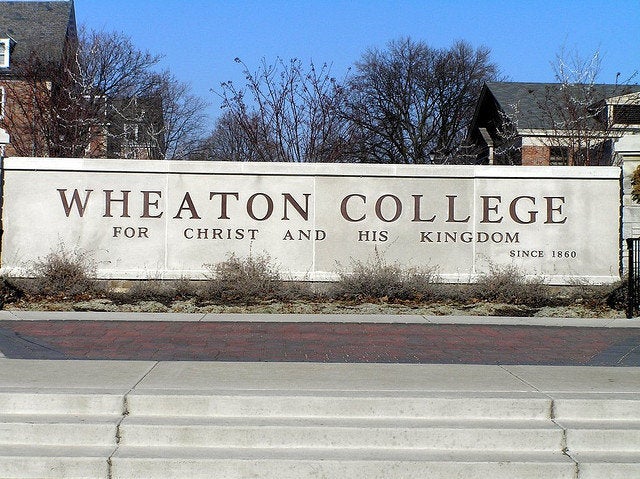 Wheaton College, a religious Christian school in Chicago's west suburbs, has for the second time in three years ranked as the least LGBT-friendly college in the nation, according to a new report released by the Princeton Review.
ChicagoPride.com reports that the Princeton Review bases its annual rankings -- which measure a number of environmental factors at college campuses throughout the country, including its widely-publicized "party school" ranking -- on questionnaires distributed to 122,000 students throughout the country. The private campus also took top honors in the category in 2009 and ranked fifth most LGBT-unfriendly last year.
The news arrives in spite of an increased presence of LGBT activism on the Wheaton, Illinois campus in the last year, including the formation of an advocacy group called OneWheaton.
In May, some 400 gay, lesbian and supportive alumni of the Christian school signed onto an open letter, which OneWheaton organized, addressed to the student body urging them to resist "feeling alienated, ashamed and afraid" despite the campus's reputation as not being particularly open when it comes to LGBT issues. The letter was issued in response to the school sponsoring a speaker who encouraged those who "experience same-sex attraction" to choose a life of celibacy instead.
The Chicago Tribune reports that, in response to the ranking, the college issued the following statement: "Our goal is to follow God's truth, including what the Bible says about sexual ethics. … While some may interpret this stance as hostility to the LGBTQ community, our aim is to stand respectfully and graciously for biblical truth."
Jessica Friesen, a 2008 graduate of the school, said the ranking was both "sad" and surprising, given the mostly positive response she said OneWheaton received after the group formed in April, according to Wheaton Patch.
In addition to leading the way in LGBT-unfriendliness, the college can also reportedly boast the best campus food in the country, as well as the honor of ranking as the nation's second-most "stone-cold sober school," Princeton Review adds in other rankings.
Other Midwestern schools listed among the most LGBT-unfriendly in the Princeton Review's ranking include College of the Ozarks (fifth, in Point Lookout, Mo.), University of Notre Dame (sixth, in Notre Dame, Ind.) and Calvin College (sixteenth, in Grand Rapids, Mich.).
Among the most LGBT-friendly, no Illinois campuses were listed, though the University Of Wisconsin-Madison ranked sixth. Macalester College (St. Paul, Minn.) and Grinnell College (Grinnell, Iowa) were the only other Midwestern campuses to make the top twenty.
Related
Popular in the Community