Wheaton College, an evangelical Christian university outside of Chicago, said on Tuesday it was taking steps to fire a tenured political science professor after she wrote in a Facebook post that Muslims and Christians worship the same God.
Dr. Larycia Hawkins wrote on the social media site on Dec. 10 that she was donning the hijab head scarf during the period of advent before Christmas as a sign of solidarity with Muslims. In her post she said "we worship the same God."
Hawkins was placed on administrative leave after the comment drew criticism, and on Tuesday the school said in a statement Wheaton's provost had delivered a notice to President Philip Ryken recommending her employment be terminated.
"This Notice follows the impasse reached by the parties," the statement said. "Dr. Hawkins declined to participate in further dialogue about the theological implications of her public statements," it said.
The school has said that Hawkins was not placed on leave because she wore a hijab, but because her "theological statements seem inconsistent with Wheaton College's doctrinal convictions."
After a hearing with a faculty committee and other reviews, The Wheaton College Board of Trustees will make a final decision regarding Hawkins' employment.
Hawkins could not immediately be reached for comment about the notice to recommend her termination.
On her website, Hawkins said she received an emailed notification on Jan. 4 that her employment was up for review and she planned to address the issue at a Chicago-area church on Wednesday.
"Dr. Hawkins maintains Christian support for the Muslim community amidst the ongoing anti-Muslim climate," the site said.
On her Facebook page on Dec. 10, Hawkins said she would wear the hijab in solidarity with Muslim neighbors. "I stand in religious solidarity with Muslims because they, like me, a Christian, are people of the book."
The solidarity gesture comes as Muslims around the United States report worries of a backlash and growing Islamophobia after a couple who had pledged allegiance to the extremist group Islamic State killed 14 people in California in early December.
Hawkins, who has written on race, religion and American politics, said she had consulted with the local chapter of the Council on American Islamic Relations, an advocacy group, to make sure that it would not be seen as offensive for a non-Muslim woman to wear the headscarf.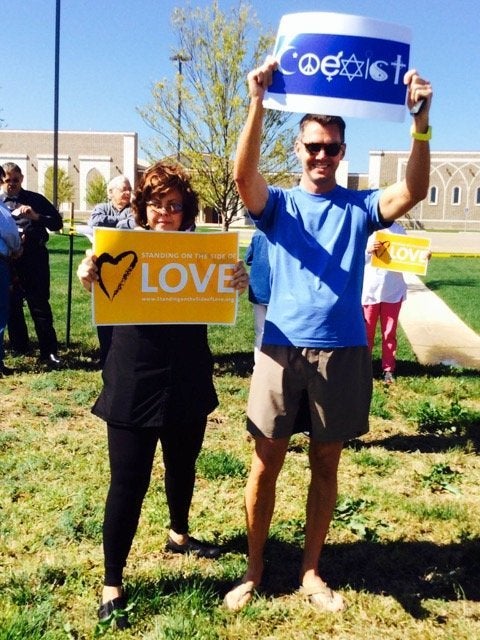 Interfaith Community Stands In Solidarity With American Muslims
Related
Popular in the Community