Autumn Ernhard, a 30-year-old animal pharmaceuticals sales representative from California who is preparing to get married, picked up the coveted $1 million wedge on a spin and never landed a bankrupt wedge throughout the three-person portion of the competition.
Then came the hard part (check it out in the video above). In the bonus round, Ernhard spun a mini-wheel, hoping to land on the million-dollar prize, which was just one wedge out of 24 on the wheel. "Wheel of Fortune" host Pat Sajak picked up the unopened envelope containing Ernhard's possible prize so when it came to the final puzzle, she had no idea what she was playing for.
The final puzzle category was the painfully vague "Thing" and of the letters she chose (M, P, G, A, C) and the ones given to her (R, S, T, L, N, E) Ernhard only had four letters on the board.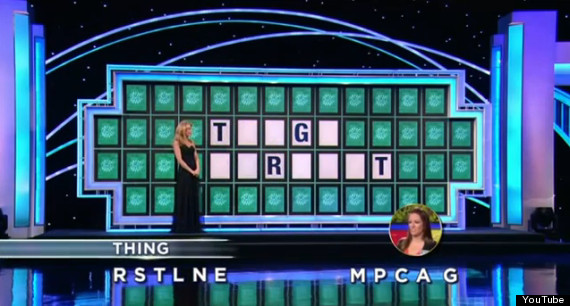 "This looks challenging to me ... You have 10 seconds. Talk it out. You're a good player. You never know," Sajak told Ernhard as her dad Harold, mom Francine and fiance Joey watched on, holding the $1 million wedge. In about a second, Ernhard guessed, "Tough workout."
And lo and behold, she was right. "What?!" a shocked Sajak said.
Ernhard jumped around the stage with her face in her hands, and then Sajak opened the mini-wheel envelope, which read: "$1 MILLION."
After celebrating with her parents and fiance, Sajak asked Ernhard, "How did you solve that puzzle?" "I don't know. 'Cause I work out?" Ernhard replied. "It just popped into my head. I have no idea."
Having won an additional $30,000 in cash and prizes during the show's regular rounds, Ernhard's total came to $1,030,340, which makes her the biggest winner in "Wheel of Fortune's" history. On October 14, 2008, Michelle Loewenstein became the first million dollar winner on "Wheel of Fortune," taking home a total of $1,026,080 in cash and prizes.
Related
Popular in the Community