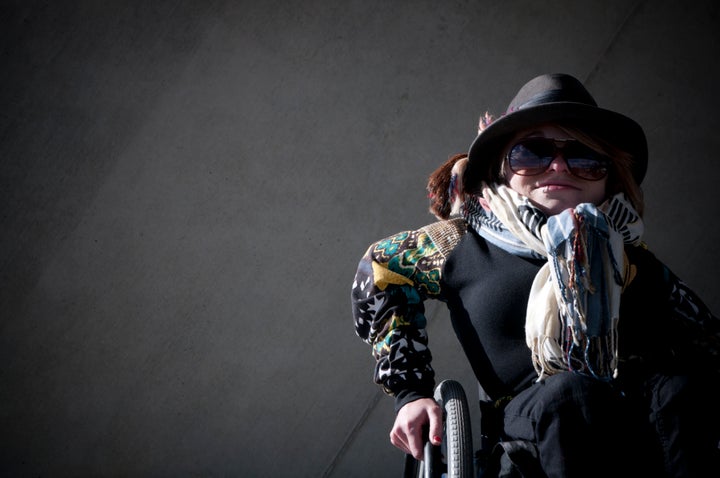 Kalyn Heffernan is emcee of one of Denver's hottest rising hip-hop groups, Wheelchair Sports Camp. She deftly writes politically charged raps as well as fun party jams over cool, jazzy beats filled with piano keys and horn blasts with a flow and wordplay that is all her own.
Heffernan is a female rapper and a lesbian in a genre that has been historically dominated by males. She is bringing a fresh voice to modern hip-hop as she raps frankly about social change, politics and having a disability as part of the band Wheelchair Sports Camp with sax player Abi Miller and drummer Isaac Miller.
Heffernan recently chatted with The Huffington Post to talk about her path to arriving at hip-hop, involvement with Occupy Denver and life in Mile High City.
How long have you been in Denver?
I was born here in Denver, but my dad is a union ironworker. So there was more work for him in Los Angeles at the time, and my mom is originally from L.A. so we moved when I was only 6 months old. We lived in Burbank until we came back to Denver when I was about 9 years old. Denver was always home, and the L.A. lifestyle was getting the best of my mom, so we had to change it up.
(SCROLL DOWN FOR SLIDESHOW, STREAMING MUSIC)
What got you into hip-hop?
The only thing I'm good at is hip-hop, but luckily I have a pair of siblings in my band [Abi and Isaac] who know a whole lot more about musicianship across the board. I started performing [when I was] around 7 years old when I did a talent show and played TLC's "Waterfalls." I didn't start writing my own rhymes until I was 12; it was for another talent show at school. From there I messed around until I started making my own beats in high school and then finally got to college with a much better view on things, switched my mainstream gears and started digging in the classics.
What inspired the name Wheelchair Sports Camp?
Well, after moving back from Burbank, I was invited to attend a free, weeklong Rocky Mountain Junior Wheelchair Sports Camp for kids ages 6 to 18. I went for years and would always bring a big group of my able-bodied friends to "volunteer." We were always too cool for school and would just run amok with all the rebels of the camp. Instead of going to get in trouble, I decided I would stop being a camper and just volunteer as soon as I could drive.
I've been volunteering as a peer counselor on the tennis courts since. I don't think I've missed a year. It's a really great camp that's all nonprofit and is celebrating its 29th anniversary in 2012. They bus in kids from all across the city, provide lunch and have medical staff and volunteers galore. There's usually a good few hundred wheelchair kids in attendance and so many of them look forward to it all year starting the day after camp ends.
The name was perfect and we ran, rolled with it.
What got you first turned on to hip-hop?
Well, I was scanning through my Walkman radio stations as a kid and came across Los Angeles hip-hop station Power 106 -- equivalent to KS 1075 in Denver. I asked my dad to turn it up on the car stereo because it was so good, and he immediately said, "Turn that shit off and put your headphones back on!" I've been in love ever since. If it wasn't hip-hop, I wanted nothing to do with it!
Growing up, my mom also listened to En Vogue who I always dug on for their hip-hop flavor. Same goes for my parents taste in the Talking Heads and their experiments with electronic instruments and samples. My first CD ever was Michael Jackson Dangerous, which is super hip-hop heavy! My first real love was for TLC who I was so obsessed with, and Salt-n-Pepa came close after that. I was super young so I got what I could and never had a vast knowledge of hip-hop. I just had the few things I could beg one of my parents to get my hands on and kept them close to my heart.
There was always something about hip-hop that I just couldn't shy away from, I guess it had to be the rhythm and the rebel in me.
How does the songwriting process work for Wheelchair Sports Camp?
First of all we don't really practice. We've played enough shows to serve as practice but don't rehearse. Never have, as of now, but will most likely have to start soon.
I usually make a beat or get a beat, write a verse or two, get an idea, send it to Abi who will come in a lay down sax or vocals if need be. Isaac drums over my already-sampled drums and we only have a few recordings with his live drums on.
Eventually, that will have to change, but for now it's kinda cool to have a different live sound than our recordings. We're working on an EP right this second and for the first time we're working on collaborating ideas and concepts together, which is super exciting. Isaac's an amazing writer, and Abi is in an incredible songwriter so it's really exciting to bring all of our talents together. It never helps that I wait till the very last minute to get shit done, so we're always super pressed for time. But somehow, some way, it works.
And my sound comes from my short stature and super high vocals that's beyond my control. I have a ton of influences who I've always looked up to for their lyrical abilities. So I guess, when I put all my experiences and favorites together, I get me. It's never come overnight for me. I was pretty terrible as a kid but always wanted to be better and still do. It's important for me that I'm competing on the same level as my influences. So I have to come with it since I have really good taste and high standards in hip-hop.

Are you guys sampling jazz or is that your band playing?
I do sample jazz, but the sax is all Abi. She does have an amazing sound and amazing voice. She's probably the most talented musician that I know and can play most instruments in almost any genre out there. She's really incredible. Just recently, too, we recorded a track with Joshua Trinidad, who is an excellent trumpet player. He's sat in with us at shows before and so has Joe Ferrone, the trumpet player from Bop Skizzum. The more horns the better!

Have you faced any adversity, or straight-up bigotry, being a female, disabled and queer artist?
I've been pretty lucky. No question, I see all these things happen constantly around me and have had to deal with [them] in some way. Ignorance is everywhere, but I can honestly say I'm treated with respect for the most part. Because if I'm not, I'm out, and it's how I treat others, so I can demand to be treated equally.
I've never been good at keeping my mouth shut and have always surrounded myself with really supportive people.
I remember my mom making a stink about handicapped entrances in schools and accessibility issues. She'd never allow me to enter a school differently than the rest of kids.
I had to go to a different Denver Public School elementary because of the entrance issue. So she then had to write letters to the city to make sure our walk to school had ramps, which North Denver didn't have most of the time. She always made sure I wasn't treated differently, which was a bigger fight when I was a kid.
How have the lesbian, gay, bisexual and transgender and disabled community at-large responded to your music?
I just did my first interview for a gay publication, Out Front, so maybe they'll jump on the bandwagon. I've been embraced by the gays since I can remember, though. I personally did a Krip-hop/Homo-hop event at NYU a couple years ago, but the band hasn't ever played any big events or festivals.
We do have this song "Madd," where at the end I say, "Everyone here is mad / Everyone here is queer and perfectly glad" and repeat [it] as an outro. That always gets my gays on board for sure, and I like pointing to straight people and say[ing], "especially you," just to create some fun uncomfortable smiles.
An insider at Twist & Shout just let me in on the secret that we do have a small gay following, which I was unaware of. But there's always at least a few gays in the audience -- my girlfriend, and usually a gay friend or two.
What kind of reaction do you get from people seeing you rap for the first time?
People always seem to be really thrown off by me rapping at least for a couple songs. People always compliment me for getting on stage and doing it in general, which is always very humbling. But it's something that I don't really have a choice in. I do my music because I'm passionate about it enough that it's all I can see myself doing. Not because I need or want to turn heads. We always get a lot of good feedback after shows, though, which is important and makes it easier to keep at it.
What got you involved with Occupy Denver?
I got involved with Occupy Denver when I read an article somewhere online that Denver was one of the first cities to branch out from the Occupy Wall Street protests, which I was already in support of. I came to my first general assembly at around Day 5 of our Denver occupation.
I was part of the same "revolution" that got the first black president elected with a huge sense of victory that our movement was finally going to be heard.
It wasn't long after that, that I became extremely discouraged in Obama's policies and felt so let down.
The Occupy movement is by far the most exciting cause of my life. I've never felt so passionate about advocacy in my life. I think it's a great movement that for once isn't just focused on one task. As history proves, there isn't just one problem to fight. However, most of the world's problems have some things in common: money, power and greed. So it's picture perfect that Occupy Wall Street would start at Wall Street and start by attacking the excessive amounts corporate money playing into our future.
There are so many fights to fight that it's unfair to put one cause higher than the other, like so many critics want Occupy Wall Street to do. It's so great having the Occupy movement support for all good fights, such as immigration laws, gay rights, environmental protection, America's prison complex, education priorities, police militarization, and the list goes on and on. It's so inspiring to see this huge support lend itself to global equality.
What's next for Wheelchair Sports Camp?
We're working real hard on an EP which we're really hoping will be out by the time we return to South by Southwest in March.
Also working on getting out to cities we haven't been. We would really like to do a West Coast tour in the future and can't wait to get back to the East Coast. Until then -- no sleep until Austin!
Calling all HuffPost superfans!
Sign up for membership to become a founding member and help shape HuffPost's next chapter
BEFORE YOU GO