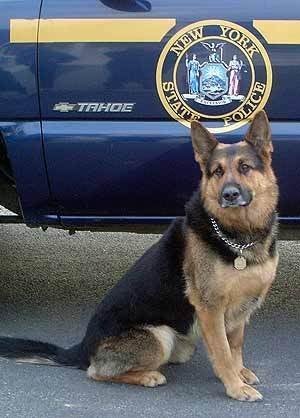 In one case, Wheeler helped discover the body of a four-year-old boy that police say they might not have found on their own, according to the dog's longtime partner and handler, New York State Police Trooper Michael Boburka. Four-year-old Marc Bookal had been missing for months when Wheeler found his body in the city of Newburgh.
"He also found a rapist who'd been hiding in the woods after being charged with raping his 14-year-old stepdaughter," Boburka told The Huffington Post.
But the 10-year-old dog could very easily have been euthanized long ago after being found on the streets of Brooklyn and taken to a city shelter. Luckily, Wheeler crossed paths with a rescue worker from a shelter upstate. Impressed by his alertness and protective nature, she recommended him to the New York State Police, who enrolled him in their 20-week canine training program and paired him with Boburka.
"He's been such a good partner," Boburka told HuffPost. "It's hard being a canine handler but Wheeler made it easy," he said.
The dogs were such an asset that police decided to expand the program, and now it has 66 canine units including 31 explosives detection teams, 32 narcotics detection teams and three teams of bloodhounds.
Steve Peterson, deputy superintendent for the Chicago Police Department, said getting police dogs from shelters is an ideal situation for rescue organizations, officers, and the canines. Last year, Chicago officers found a valuable new member for their narcotics division in the form of a black lab named Pantera who had been waiting for a home at Chicago Ridge Rescue.
One complication for police dogs, however, is what will happen after they are retired from the force. In many cases the dogs are adopted out, but they may face expensive medical care after years of duty.
The Ramapo Police Department has since agreed to foot the bill for all of Shea's medical care, according to the station.
Read more about Wheeler over at the New York Daily News, and watch WABC-TV's report on Shea below:
Related
Popular in the Community