A few weeks ago, while walking my dog to her preferred corner -- strategically located next to my favorite enocteca L'Angolo Divino -- I noticed a brand new Segway tour company had set up shop across the alley. Inside were two happy-go-lucky guys. Since I can't resist a random conversation, I chatted up the Brothers Marroni to find out what they were doing with Segways in my corner of Rome.
Here I must note that my rule of thumb up until this point was to turn my nose up at Segway tourism. Segways have been slowly infiltrating Rome and a bi-wheel tour seemed lazy, cumbersome and slightly ridiculous -- the latter most likely colored by the fact the Segway CEO fell to his death while on a tricked-up Segway off-roading in England.
Once Leopoldo, Massimiliano and I got past the standard preliminary questions of "Where are you from? Do you live in the neighborhood? Why are you always smiling?" we quickly became friends for three simple reasons: We each were Roman by way of one parent (my mom, their dad), as children all three of us grew up outside of Italy and we all spent a significant part of the 1990s in the same palazzo near the Vatican, my cousins' old apartment building and present residence of the Marroni family.
When my new best friend Leo offered a Segway tour of Rome, I shrugged condescendingly then found a friend for a three-hour adventure around the city. Leo, an experienced Segway guide, customized a tour taking us through Rome's historic center and to the heights of the Capitoline and Aventine hills. After a 20-minute lesson in balance and focus, we were ready to roll. Our objective was less history tour and more Segway lesson as we learned functionality and rules--in other words, Segways are mechanical pedestrians with a 8 kmph speed limit, whose most important rule is to pay attention.
What did I think? To be honest, I loved the view--on a Segway I was at least 1 foot taller than the tourists crowding at my feet. I enjoyed the airy feeling of the wind in my face as I traveled the streets of Rome and ascended hills. And I made a lot of friends. I only wish the Segway came with a bell. Of course, I felt guilty liking it so much. Do I think Segway tourism is the new thing? Not exactly--Segways have been criss-crossing Rome, and other cities, for quite some time, and although I don't think anything can replace your two feet, a Segway tour is an excellent introduction to the neighborhoods of any city.
Would I do it again? Of course. Leo, whose past also includes years as a professional chef at Rome's Gambero Rosso: Città del Gusto, has promised me one of his coveted Chef tours with Rex Tours where Segways riders traverse the city in search of eats, perhaps the next trend in gastrotours. My only concern is that I won't be able to balance properly towards the end.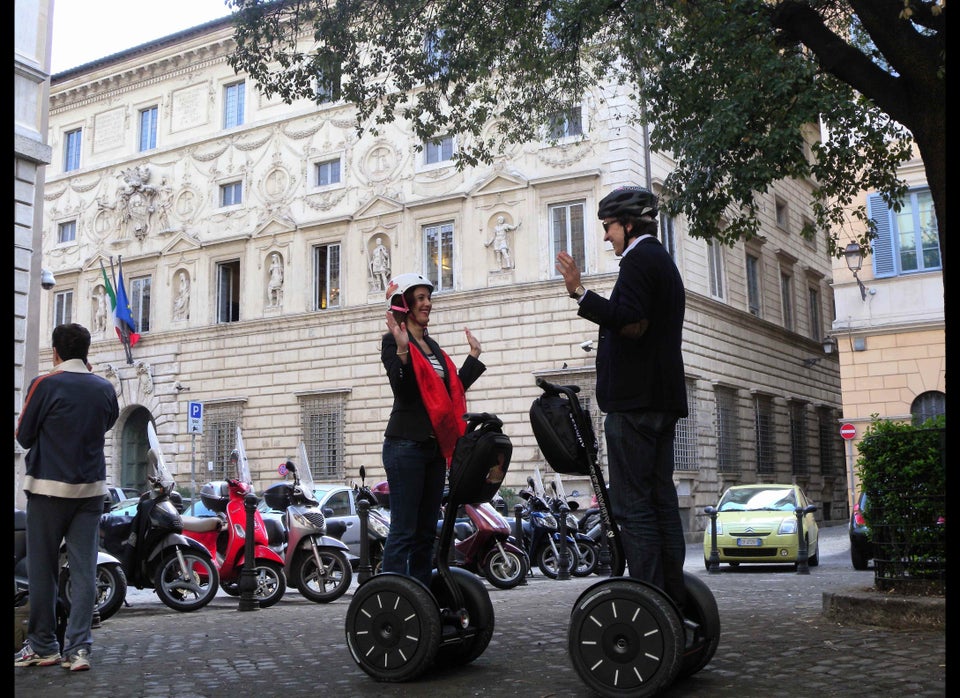 Segway Touring Rome