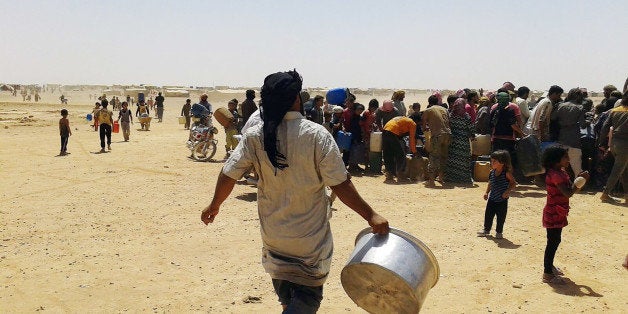 They'll kill us and they'll rob us in taxes.
The Congressman was describing to us that this is why constituents in his district have been telling him they do not want refugees allowed in the U.S. - particularly Muslims from war-torn nations such as Syria.
As he spoke at the local library to a group of us the photo of Omran Daqneesh was circulating around the world. The five-year-old was the latest victim of the continued carnage in Syria - this time a bombing attack in Aleppo.
The photo has revived questions about why the Obama Administration will only allow 10,000 refugees this year into the country. At the time we were not aware of the photo of Omran - who did survive - but we had many of the same questions.
The Congressman - a Democrat - earlier in the year had voted with House Republicans to actually stiffen the already formidable vetting requirements that refugees must undergo before they allowed entry. The State Department says that process normally takes a minimum of 18 months and about 20 percent are rejected or delayed.
Since then the Congressman has done more research and regretted his vote on the bill did not prevail. Now he is supporting Obama's efforts. "I'd like to get above the 10,000 refugees a year," he exclaimed.
Let's put that in perspective. The United Nations reports that 65 million have been forced from their home by violence. The number of refugees, a more legal definition of someone who cannot return home, is 21.3 million. Half of these are under 18. Millions are stuck in refugee camps and millions have attempted to flee to safety in Europe. An estimated 3,000 of those refugees have died so far this year in the Mediterranean.
We wanted to tell the Congressman our experience with the one refugee family that has joined our community a month ago.
This family of four spent 30 months in a Jordanian refugee camp. The dad was once a taxi driver, the mom a hairdresser; the children are 8 and 9. The girl has a mischievous laugh that I discovered one day while I was fixing their bunk bed and she popped her head up from underneath the upper mattress. The boy I met during a community concert that the family attended designed to raise money for the refugee effort. He handed me and others chunks of fruit, displaying a grace and level of politeness that belied his young age.
None of them know English yet but they do know and often, often say thank you. Their gratitude is palpable. These are not terrorists and any investment we make through our taxes will likely be repaid many times.
When I got a chance to speak I asked the Congressman if he was willing to go above 10,000 refugees a year and how high would he go.
He was not willing to offer a number. "You can only do what is practical," he said.
By now we had been engaged in a wide-ranging discussion that extended from refugees to the Palestinian-Israel conflict (where by the way millions of Palestinians remain mired in refugee camps).
But the 10,000 quota number had struck a nerve among several of the three dozen in the room, many of whom had also met or worked in behalf of our local refugee family.
Leslie, who helped me moved furniture into the family's new house, said we had to find a better job of telling people the dangers these refugees faced and the need to bring more to America.
"Security is impossible to guarantee," he said. "We have to take a chance, because this is a battle for people's hearts and minds." This also offered a way to overcome the extremists, the terrorists in the Middle East, who had painted the U.S. as the uncaring enemy, he said.
Another speaker, who said he had worked internationally with refugees, was even more strident. "We need to be willing to accept people who are literally drowning to get out of there," he said. "Ten thousand is nothing, absolutely nothing."
Germany had committed to taking one million refugees, he said. America was three times the size of Germany, meaning we should take three million.
The Obama administration has indicated it would be willing to take 100,000 next year. Oxfam has said that number should be at least 200,000.
I don't know what the right number is but here's what I told the Congressman. I know that Russia is trying to make its mark in the world by aiding Syrian President Bashar al-Assad by endless bombing runs that are destroying the remaining fabric of a nation.
At the very minimum we can offer an alternative.
It is also the right thing to do.
Calling all HuffPost superfans!
Sign up for membership to become a founding member and help shape HuffPost's next chapter