My husband, who drove us through the night on our way from Nashville to North Dakota, woke me up to look at the gorgeous Wisconsin sunrise.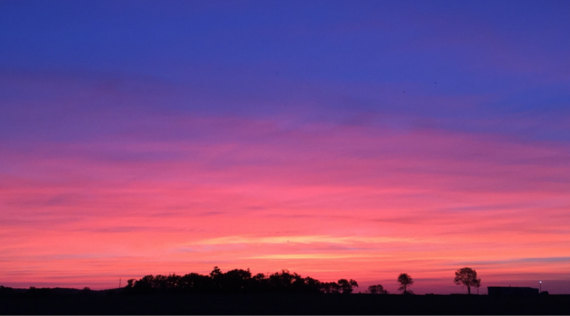 We had done this a thousand times during our 15 years of touring with my concerts. But this morning was different -- as was our trip.

Instead of seeing the predictable and comforting sunrise-sunset cycle, I was looking at a dawn of limitless possibilities.

I had just launched my first online coaching course, and instead of performing my usual music at the concert, I spoke and sang about hard stuff my audience doesn't usually get to hear. I spoke about abuse, broken relationships, depression and anxiety. I felt something shifting -- I no longer felt stuck and afraid.

The words of Scott Wilcox, a recent guest on my TV show Waking Up in America, rang in my mind:

"I had this weird glass ceiling above my head, like always kind of reminding me, 'This is as far as you'll ever go. This is all you'll ever be.'"
I was fully awake now, metaphorically and physically -- thanks to my husband, various teachers and coaches in my life -- and people like Scott, whose stories of awakening and shattering those limiting beliefs I sought to tell.

I met Scott on his visit to Nashville. He talked about what was it like to grow up under this Wisconsin sky and how he dreamed of becoming a rock star.

Although he had a beautiful childhood (yes, it included polkas and cheese heads) and was from a musical family, he was told that music was a hobby, that there weren't as many opportunities to make a living as a musician as there were for other careers. He knew he had the talent, but also grew to believe he didn't have a chance. Scott got married, had children, earned two degrees and built two careers -- in advertising and special education -- before he was challenged to find the courage to follow his dream.

As we drove by big beautiful farms and small, quiet Wisconsin towns, I thought about how this wasn't just Scott's story. Here were the immigrant stories of people leaving their countries to live a dream of finding a better life; and their children leaving the security and comfort of the family farms to follow their own dreams. Some returning with success stories, and some, too ashamed of their failure, never coming back.

Universal stories that so many of us have lived.

The different outcomes depend greatly on our ability and willingness to know who we really are and what our authentic dream is, and then our ability to let go of other people's ideas of who we are supposed to be.

Then it doesn't matter whether we go or stay, because the 'leaving behind' is not about physical change. It's always a shift within.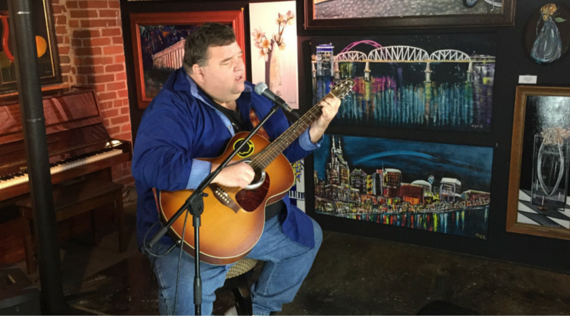 "Mr. Wilcox, I love you to death but I think you're a hypocrite."

Scott loved his job as a special-needs teacher, and used his music and creativity in teaching. Until one day a middle-schooler called him out, challenging him to face his dream:

"[Mr. Wilcox], every single day you come into the classroom and you tell me and all the other kids that we need to find our calling--that one thing that makes us special and unique. And when we find it, pursue it with all our heart and passion and soul... And then here you are with all this musical talent and all these songs and you're doing nothing with it... Doesn't that make you a hypocrite?"
Scott admitted he had to swallow his pride first, but then he listened and accepted the challenge. He knew that his student was right.

It wasn't a drastic change -- he didn't pick up his guitar, leave his wife and their three daughters and go to live in a place with better music opportunities. He simply began to make his own.

After a summer of 'testing out' his songs and gaining the confidence to perform them, Scott started getting more and more requests. With his background in advertising and marketing he founded a couple of music festivals to promote not only his own music, but also to help create a music scene in Wisconsin.

When watching Oprah's Lifeclass with his wife, he was inspired by the many valuable lessons he had learned from the show and expressed it in a song based on Oprah's favorite Maya Angelou quote: "When We Know Better, We Do Better." Oprah loved it and had him perform it live on the show for 25 million viewers.

Watch the interview with Scott for more inspiration and great advice.


"I think a lot of people try to say that, 'Oh I can't do this because I'm too old,' or 'I can't do this because I'm too overweight,' or 'I can't do this because I am female,' or 'I can't do this because of...' all the excuses that we give ourselves. Oprah told me in person that you have to stop listening to the outside voices of the people telling you who you are and who you are supposed to be. And start listening to your inner voice that you know who you are and you know where you can go."
I loved spending time with Scott, listening to his songs and stories, and feeling both calm and excited in his presence -- as if taking up a quest is the most natural and safe thing to do.

I know it's because Scott is not pressured by someone else's definition of 'success.'
"I realized, life isn't all about being a big rock star. It's about making a big difference in our backyard. And so now it doesn't matter whether I play for three people or will I play for 300 or 45 million. The point is that I'm not playing that song because I want to get famous. I'm playing because somebody out there needs it..."
The Wisconsin sky is now pale blue in an "I can see forever" hue, and I think how ironic it is that during my biggest fame as a teenage superstar is when I felt the most limited and the least free. As my three sons began to wake up in the seats of our road-weary van, I start to play the song Locally Famous (Widely Unknown) Scott sings in our episode.

"WENT TO THE VA TO VISIT MY GRANDPA
MET A MAN WHO LOST HIS LEGS IN THE PERSIAN GULF WAR
SANG HIM A LITTLE SONG CALLED 'AMAZING GRACE'
YOU WOULD HAVE THOUGHT I WAS WILLIE NELSON
BY THE SMILE ON HIS FACE.

WHEN I WAS A YOUNG BOY, I DREAMT TO BE A STAR
NOW I KNOW THAT TO CHANGE THE WORLD YOU DON'T HAVE TO GO THAT FAR"
Scott Wilcox is a singer / songwriter and a music influencer from Tomah, Wisconsin who has appeared on Oprah and in a Super Bowl 2016 ad. Follow him on Twitter @SongwriterScott.
Related