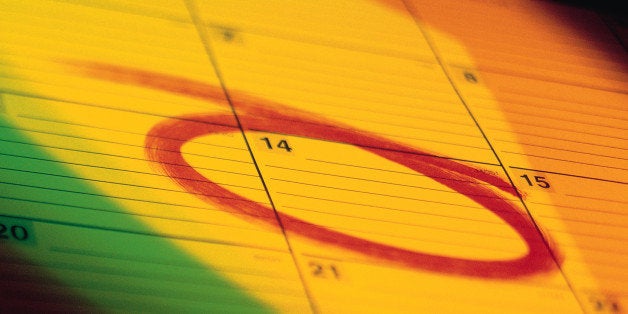 What's the date? What day is it? In its longest form, the date is written out as a series of letters followed by a number, while in its shortest version it consists of two or three numbers separated by a slash or a dash. In Europe, the number that corresponds with the date comes before the month accompanying it, while in the U.S. the month comes first. Across the world and throughout time, we have recognized the importance of tracking dates. We believe that even in ancient times, humans were able to track a series of dates using hieroglyphics. While there are various ways to denote it, a date, in all of its forms and faces, remains the same.

Some dates mark a holiday, patriotic or religious. Other dates are more personal, acknowledging an anniversary or celebration. Dates fill our heads, our calendars and our actions. A date is set and a series of actions move us towards that mark, until it is met. Then we move onto the next date representing a dinner party, a work deadline, or a school project. As the sun rises and the sun sets, we progress through a life that moves in and out of dates.

But every so often, a date stops you in your tracks. I think most of us have a date that sticks with us. For me the world briefly stops spinning on a date in mid-February. Noted as February 14th, 2/14, 14 February, 2-14, the 14th of February, or even Valentine's Day, this is a date that forever gives me pause. Just the mention of this date, this series of numbers and letters, can send a punch to my gut and knock the wind out of me and make me truly work to steady and regain focus.

February 14th is the day I found out that the baby who had been growing inside of me for the previous 38 and a half weeks no longer had a heartbeat. On February 14th, my daughter was full term in what was a seemingly normal pregnancy with no complications. Yet on February 14th, without a medical reason or explanation, her heart stopped beating, while at the same time, the hearts of her parents broke into a million tiny pieces.

Having lost our beautiful daughter at the same time that we were about to meet her causes a disorder to the grieving process. Without memories to draw upon, our loss is one of expectation, anticipation, and hope -- yet as cuttingly deep and complete as the sorrow any parent feels when their child dies. Years later, we are acutely aware of what we are missing without our daughter.

As her mother, I know exactly what other children her age are doing. I note the void in the household schedule and where her activities would fit in. What date would we have her school conference? What date would she take her first steps? What date would she graduate high school, or what date would she have her first soccer game, learn to ride a bike, need her field trip permission form signed, or have a swim lesson?

Every single date for our daughter was stolen on the day she died, except for one: February 14th. This date holds the most sacred significance for us, because it is all we will ever have of her. This date represents so much to us. It reminds us of a depth of sorrow and a reserve of strength that we would not otherwise recognize.

Yet we make a point of using this date as a celebration of our daughter and a celebration of our family. We didn't want February 14th to always be associated with sadness, so we mark it as an occasion to defend our happiness. We spend time together intentionally doing something focused on one another and in memory of her.

Feburary 14th is mostly a date that reminds us of love. A steadfast love for our daughter, a resilient love for each other, and the warm love of friends. On this date, neighbors and friends continue to support us and lift us up. One friend dutifully makes a donation to a charity every year on February 14th, while another sends us flowers, others cards, text messages and emails.

Those who remember are the sealant that mends our hearts, and those who forget not only fail us, but also fail the ghost of our daughter and break our hearts all over again. Without a memory of our child, we have so little. We need proof from those whose lives she would have impacted that her life mattered, her presence is missed, and her soul has purpose.

By simply acknowledging a date, they let us know that they love us and love our daughter -- and they help lead us back to a place we would otherwise have to fight to reach if doing it alone. There are no words to describe the warmth I feel for these friends and the space they maintain in my mending heart as a result.

We each have a different trigger, but there are many of us out here suffering through single significant dates. It might be the anniversary of the death of a loved one, a baby's due date, a lost loved one's birthday, the date that someone was diagnosed with a disease, or a particularly lonely holiday.
The best thing you can do as a friend is to be tuned in to those whom you care about. If you love someone whose heart is broken wide open all over again every year on a particular date, find a way to reach out and take their hand. Even the smallest gesture or most simple note can let them know that they don't have to trudge through this period alone. We might not always have the energy to acknowledge your kindness, but we feel it and it lifts us up.
To the friends who have helped me find my way, you have taught me that Valentine's Day can be filled with sad reminders and overwhelming love, all at the same time. Thank you.