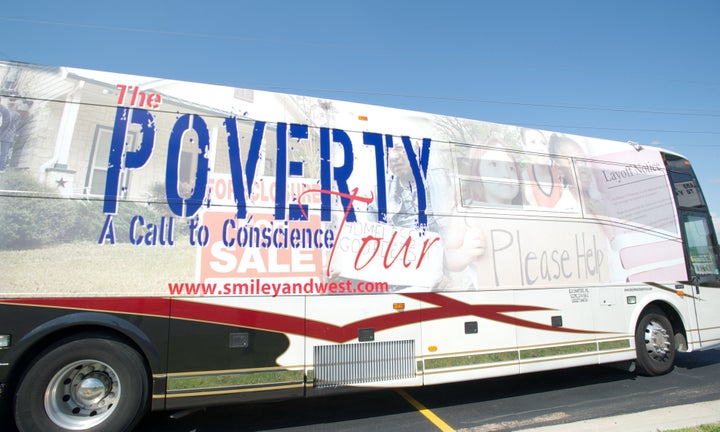 One in four young children under age 6 in the U.S. lives in poverty. But this fact, from today's U.S. Census report on income, poverty, and health insurance coverage in 2011, is not breaking news. In fact, perhaps one of the most troubling things about today's report is just how predictable these statistics are.
The poverty rate for young children remained unchanged at 24.5 percent. In 2011, there were 5.8 million children under age 6 living in poor families. Of them, 2.8 million children live in what's considered deep poverty--in households living under 50 percent of the federal poverty level.
Our youngest children have the highest rates of poverty of any age group in the country. Children have higher poverty rates as compared to adults and among all children, infants and toddlers, are the most likely to live in poverty.
Child poverty is linked to a host of negative outcomes. Poverty is a strong predictor of children's success in school and adult employment and earnings. Poor children have less access to preventive health services and early education. The prevalence of poverty among the very youngest children means that during the first three years of life--a fundamental period of rapid brain growth and development--babies are deprived of the very resources they need to thrive.
Just as the data are not revolutionary, solutions to child poverty are not ground-breaking. Children are poor because their parents work in low-wage jobs. Jobs don't pay enough to cover household expenses of health insurance, child care, and housing. Income data from today's report show median household income declining. The working poor are falling further behind. Tax credits, such as the Earned Income Tax Credit (EITC) and Child Tax Credit, can bolster the incomes of low-wage workers. Work supports, including child care assistance, nutrition assistance, and health insurance can help workers who struggle to meet basic needs. In fact, today's data confirm the critical role of government programs as evidenced by the success of public health insurance in covering children. Medicaid and the State Children's Health Insurance Program (SCHIP) provide coverage for 45 percent of young children, resulting in many fewer uninsured children today. High-quality child care, comprehensive Head Start and Early Head Start services, and home visiting for vulnerable families can all improve the odds for poor children and ensure that they get off to a healthier start in life.
As is tradition on "poverty day," journalists, advocates, and politicians alike will express outrage for the dismal poverty statistics. In the midst of a presidential campaign that has left the needs of the very poor largely unspoken, both candidates may make reference to the need to do more for those at the bottom of the income scale.
But by week's end, it's far too likely that the poor among us will have fallen out of consciousness. And what's worse, government policies are on the verge of making things much harder for the poorest families--rather than ameliorating a persistent problem. Beginning January 1, harmful, automatic spending cuts are set to hit many programs that provide critical supports for children and families, exacerbating the negative impacts of living in poverty. Child care assistance and Head Start will both be cut, as will early intervention services for young children, Title I funding for disadvantaged students and funding for maternal and child health services.
If policymakers are sincere, rather than bemoaning current poverty rates, they will take action to make things better for poor families. To start, Congress could take a balanced approach to dealing with the country's long-term federal deficit by increasing revenues to a sustainable level and making thoughtful choices about spending cuts, avoiding cuts to programs that are critical to get children off to a strong start in life. What's more, they should invest in anti-poverty programs, including quality child care and Head Start, not only because they support young children, but also because these children's outcomes are important to our nation's future productivity and economic health. In policy conversations where deficit reduction trumps all issues of importance, the value of investing in early childhood education should be front and center.
Policymakers have a choice. We can tell more than 5 million children: you are on your own. Or, we can offer them a hand and open up doors of opportunity for them.
Popular in the Community