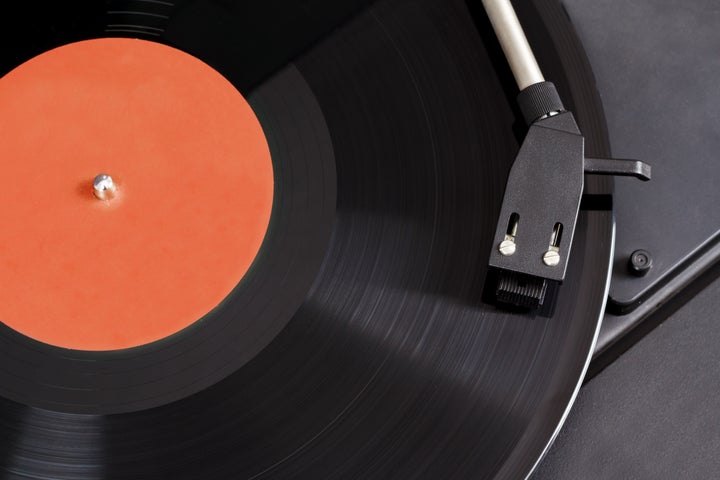 When I was a teenager, my life was defined by music and words. And those two forces culminated in a special sort of youthful ecstasy every time I bought a new record album.
Each step of that ritual is still as engrained in my memory as the grooves are in the dusty and warped vinyl disks which now lay boxed up in a corner of my basement.
I would nearly run the eight blocks home from the shopping center and shut the door to the bedroom I shared with my older sister. I'd cradle my new record between both hands and gently place it on the turntable. Dropping the needle, I would rush to sprawl across my twin bed and pick up the stiff cardboard album jacket.
Only then, once the music began, did I allow myself the magic of studying the album's back cover and -- if I was particularly fortunate-- the lyrics printed on the inside liner. A song never hits its mark, never fully transported me from my parochial world, until I read the lyrics.
My friends and I listened to all the popular artists. Most of us preferred classic rock; a few had a taste for new "punk" or for country. We all had our favorite party music and later, our favorite cruising music, enjoyed by the lucky few with a cassette deck in their car. We saved our babysitting money and occasionally convinced our parents to let us attend a concert at the local arena. We'd stand and flick our lighters, singing along, when the band played our favorite song.
But at 15, I envisioned myself a poet. And, especially when I was home -- alone in my bedroom -- I gravitated most toward the musical poets: the brooding deep-thinkers, the songwriters who wrote of soul-searching, of lost love and of loneliness.
Not that I personally knew much of those emotions, except the seemingly universal discontent and rebellion of youth. I'd been enveloped within a safe harbor all my life, with two loving parents and a secure neighborhood. I was never abused nor terribly socially maligned. The worst horrors I'd experienced were a locker room fight and the betrayal of a teenage boyfriend.
So, what drew me to these melancholy types of songs? Did I simply want to open my arms to the shower of all possible human emotions? Was I under the adolescent power of hormonal overdrive? Was I suppressing some buried sadness I wasn't willing to acknowledge or admit?
It wasn't clear then. And I guess it isn't still.
All I know is that even at those occasional moments in which I did feel burdened by some teenage angst or weepiness, I immersed myself within it. I listened to my favorites, to old classics recorded years before I was truly old enough to appreciate them: to The Beatles, Bob Dylan and Neil Young. I'd hear Cat Stevens' "Father and Son" and nod, knowing my feelings weren't just my own. I'd read the lyrics to "The Needle and the Damage Done," hug myself, and hold out hope that my life would end much later and far less tragically.
I would drop the needle on the stereo a second time, a third.
I'd listen and sing along with each sad song, over and over, until feeling worse somehow made me feel... better.
Hours later, after the stereo fell silent, I'd find myself writing my own words. I configured pieces of my leftover emotions into rough lines of poetry which I might get brave enough to submit to my high school paper. More often than not, I would just hide the spiral notebook under my mattress.
I wonder, still, whatever became of those notebooks.
I haven't written a poem since I was in high school. My writing has changed, as have my reading tastes. Yet nothing touches me more, even now, than a melancholy melody or an introspective tune.
Oh, how I still love a sad song.
It's not the same now, of course. I haven't bought a vinyl record in decades. I seldom even buy a CD anymore. When I do, I don't sprawl across my bed, pull out the paper insert and attempt to memorize every tiny printed word. Most of the music I buy these days is downloaded, the lyrics accessed only by searching the Internet.
I still love music, but it doesn't move me, doesn't possess me, quite like it did when I was 15. Maybe it's the digital age. Or maybe it's my age.
If my favorite songs still came embedded in scratchy 33-and-a-1/3 rpm disks, with full-size graphics and lyrics, I wonder how music might affect me now. Would it still encourage me to dig deeper within myself? To try to connect with others through their musical autobiographies? To live fully -- for a few hours or even a few minutes -- within someone else's soul-searching musical story?
Or perhaps it's not the format at all. Maybe we simply view the world in an entirely different way when we're young.
All I know is, I never felt so sad, so often, as when I listened to music at fifteen.
Man, did it make me happy.
Popular in the Community