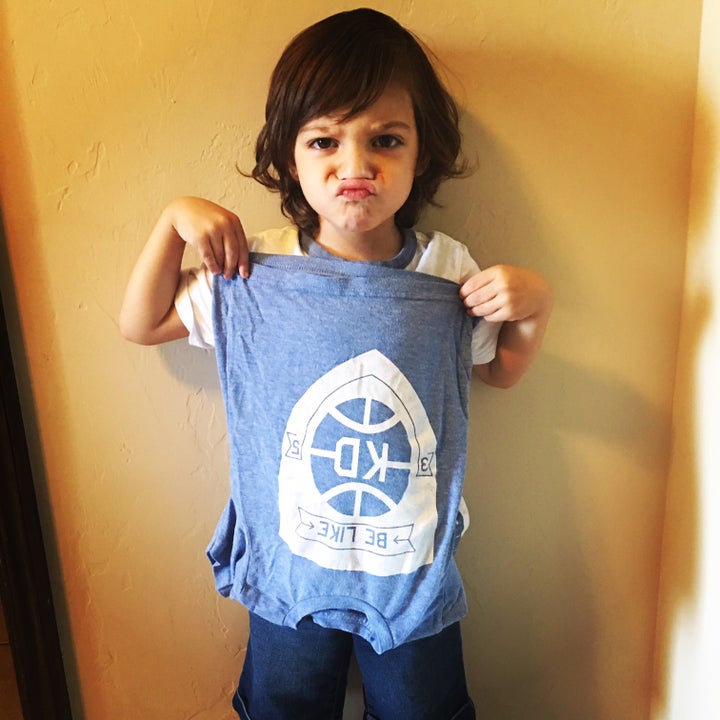 It really happened. He's gone. The once unthinkable has become our reality, Kevin Durant leaving the team that has been his home for the past nine years. His parting put a dagger through the heart of Thunder nation. I should know. Here I am, an Oklahoma girl with an inspirational blog that is the furthest thing from sports, writing a piece on his leaving. Yet that just shows how transcendent this thing called sports can be.
Here in Oklahoma, College Football reigns supreme. We are a state divided by Sooners and Cowboys respectively. Football stadiums are our cathedrals, Saturday's in the fall, our holy days. Yet a decade ago there was a shift.
Hurricane Katrina left an NBA team displaced and our state jumped at the chance to take them in. For two seasons we loved the Hornets like they were our own, knowing full well the union would be short lived. They were gone almost as quickly as they arrived, but in their short tenure everything changed. Oklahomans went from thinking an NBA basketball team was merely a pipe dream to believing we had a shot to make our dream a reality.
Months later, in a controversial move, a group of Oklahoma City business men purchased a team from Seattle eventually moving the team here. All our fans had ever wanted was their own NBA team and now that dream was coming true.
The bad taste the deal had left in my mouth faded quickly once the team made their move. The past was the past. This team was now ours and we greeted them with open arms.
Kevin Durant quickly became the face of the franchise. For as much as Charles Barkley once proclaimed he was "not a role model" Kevin seemed to believe the opposite. From being involved with local charities and surprise visits to low-income children at elementary schools, Kevin was everywhere.
A new love affair had begun, this one with an unlikely Texas Longhorn we affectionately called KD.
With the success of the now Oklahoma City Thunder the nations perception of our state began to change. Oklahoma, once known for catastrophic F5 tornados and a large-scale domestic terrorist attack, was on everybody's lips for a different reason.
We were now seen as a successful NBA franchise, our fans referred to as some of the best in the nation. The Sooners/Cowboys heated division existing during football season? We put down our pride and our Crimson and Orange, to unite under the banner of blue. Only one thing could seal us as one and the NBA was the magic that made it happen.
For a long while life was good, but as we know in sports it can't always stay that way forever.
The questions began over a year ago. Kevin Durant would be a free agent at the season's end. In the words of The Clash, would he stay or would he go? All year long our local sports writers talked about his free agency with passion, often foregoing statistics and facts for words like "loyalty" and "solidarity".
Would he stay loyal to the city who was so loyal to him? Durant was no longer the face of Oklahoma City, he WAS Oklahoma City. His leaving felt impossible. My 3-year-old son has a favorite t-shirt "Be Like KD," it says. The slogan didn't mean dribble like Kevin Durant, or even dunk the ball like Kevin Durant. It meant be as he was.
Be the guy who spent a day hugging victims in 2013 after their homes were leveled by a tornado. Be the guy who quietly slipped into a local hospital to spend time with children infected with cancer. Be the guy who valued relationships, above all.
Being like KD had nothing to do with what he did on the court and everything to do with what he did off it. That's why we fell in love with Him.
The free-agency talks began in earnest last week in the Hamptons, a place about as un-Oklahoma like as you can get. As a state early on we wrestled with our feelings of inadequacy. Like an insecure girlfriend we fretted about Kevin's faithfulness as we watched Golden State trot in their super stars and Boston march in Tom Brady. As each city tried to lure him away with their brightest shinning stars Thunder representatives sat face to face with our states biggest star, trying to convince him to remain. Oh the irony.
As the days wore on Oklahomans were desperate for news. Marquees around the city begged KD not to leave. Tribute videos and plea filled graphics floated around social media, as did a simple but earnest hash-tag #stayKD. Yet as time wore on it was clear Kevin was wrestling with which way he would go. We now know he chose the path we all feared he would take. We are now a franchise left with only memories and the soul crushing reality of what will never be.
What hurts the most is Kevin knew what was at stake. He knew his leaving would devastate this city and his most faithful fans. For in OKC, it's about so much more than basketball. Kevin knows this better than anyone.
His Thunder was on the receiving end of a massive standing ovation when they lost to the Lakers in their first playoff appearance. The players were so touched they stayed on the floor for the longest time, in tears feeling the embrace of a city that loved them despite their failures. That same spirit continued up until their most recent loss to Golden State in the playoffs. They arrived home to hundreds of fans waiting in the late night darkness, outside the airport gates, cheering for them even though they came up short.
You see Oklahoman's never could've dreamed we would've been on this national stage to begin with, so we had nothing but love for those who represented us well.
The cold hard reality is that athletes can break your heart. They forget about words like "loyalty" and "legacy" to chase after rings and dynasty's. But the grass isn't always greener. Look no further for that truth than LeBron James.
He decided to forgo his loyalty to his home team of Cleveland to "take his talents" elsewhere. Was he successful in Miami? Sure. He has two championship rings to prove it. Yet he soon felt an itching for more than just winning, he wanted to come "home". We all know where the story goes from there. LeBron and his Cavs are currently the reigning NBA champions. As I watched LeBron on television, sobbing in his victory, I realized just how powerful the concept of home can truly be.
Sports have this uncanny way of mirroring our very souls. Of this I am sure, OKC you should be very proud of yours. You loved without boundaries and cheered without limits. You embraced, honored and gave all you had in supporting a young player named Kevin Durant.
In the end, he chose a different path, but that's no reflection of you. I know this one hurts and it will for a while, but you should be proud. If sports are a reflection of the soul may the record state yours is a thing of beauty.
*To hear more from Sarah, and follow along on her journey, visit HERE.
Related
Popular in the Community