There was little reason to consider having a threesome when I was single. It was hard enough to find one guy who made me want to shave my legs. If two reasonable men materialized, I would pass one along to a girlfriend. I recycled men before I recycled garbage though it didn't appear to help the environment.
Threesomes would only introduce added issues. None of us had king-sized beds, so we would be crowded. How would we deal with so many body parts clamoring to get in on the action? I'm not good at multi-tasking, and I didn't understand the rules. This was before we had the Internet and For Dummies books. I worried about etiquette. Do you synchronize the activities, or does someone work on a crossword puzzle while the other two connect? Who pays for dinner? Could it end with not one, but two guys, promising, "I'll call you during the week," and then disappearing?
To my surprise, I had a change of heart. It was shortly after the turn of the millennium, the year my husband and I were celebrating our 25th anniversary. It wasn't that I'd grown tired of Martin and was looking for a new man to join us in the bedroom. It just happened. I'm not sure which tip of the hat, wag of the finger won me over, but this was the start of my regularly going to bed with my husband and Stephen Colbert. If one of us drops off, it's never Stephen, who is younger and has more staying power than the two of us do.

After so many years of being entertained by Colbert, it seemed right to reciprocate. The Sage Bump may not have the impact of the Colbert Bump, but I gave him a mosaic vase I designed with photos of his characters and shtick embedded in a mix of red, white and blue shards I'd nipped from plates with American flag images. I called it Truthiness.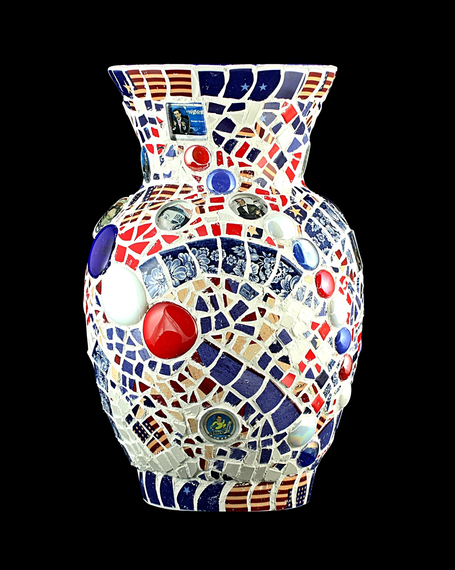 Calling all HuffPost superfans!
Sign up for membership to become a founding member and help shape HuffPost's next chapter