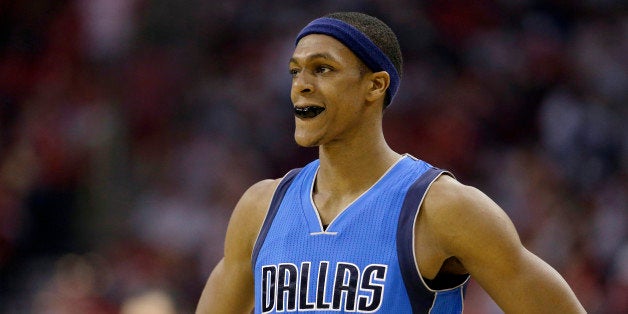 At some basic level, team sports are stupid. Fans throw money at a team and conveniently ignore that no one making decisions cares much. We root for a jersey and by extension the guys who happen to be wearing it. Some pieces of laundry are special: when a team retires a jersey, the player in question is universally acknowledged as special. But sometimes the relationship between a player and a fan is deeper than that. Sometimes, you know a player's number won't be retired but in your head, it is anyway.
For me, the number 9 in Boston will always belong to Rajon Rondo.
He exemplifies the other part of why we watch: we have our teams, yes, but we also connect with players. Everyone has a sentimental favorite because even the most rational, analytics-savvy fan lets their heart overrule their head once in a while. I write this now because the Rondo bandwagon is emptier than it has been in a long time, but I think he's still worth the headaches and frustration.
Just three years removed from leading the Boston Celtics into an astonishing seven-game postseason battle with the Miami Heat, the Dallas Mavericks have given up on him. Every knock on him--he clogs teams' spacing because he can't shoot, he strangles offenses because of his obsessive need to hang onto the ball, he turns the ball over by attempting spectacular passes instead of logical ones, he can be a moody contrarian--was given life in his time struggling in Dallas.
In a sublime profile on ESPN, Baxter Holmes characterizes Rondo as "good at math, bad at people." Rondo's weakness has never been the game. He sees and processes it at incredible speed. His weakness has been his mind, because he struggles to slow it down. He overthinks. He gets upset when teammates fail to grasp concepts he considers basic. Because he can see three moves ahead, he gambles. He can't bring himself to listen to a coach who isn't as smart as he is.
In today's NBA, the game is faster than it has ever been. Look no further than the Golden State Warriors to find the NBA team of the mid-2010s: young, athletic, wildly talented. Theirs is an offense of heady passing and unprecedented marksmanship. And the man who makes them go is the point guard of the future: Stephen Curry. Curry is one of the best three-point shooters alive, and his entire game flows from the respect opponents pay to his jump shot. He plays with joy because he's living every scrawny kid's NBA dream: a marksman serving as the best player on the best team in the league.
Fans don't connect with Rondo. He plays with what almost seems like anguish sometimes, because where Curry's jump shot is fluid and effortless, Rondo's is broken. To see shots, angles and lanes the way Rondo does, and yet be offensively one-dimensional, means he relies on his teammates and his system. He can't shoot, so he does everything else well: heady passing, dogged defense, elite rebounding.
But Dallas didn't work, and I suspect it's largely because Rondo is "bad at people." He's idiosyncratic, bored unless challenged. But the people around him in Dallas hadn't watched him grow up the way they did in Boston. He was with a coach who called plays himself, who ran an offensive system based on fluidity and spacing, who also fancied himself the smartest guy in the room (often correctly). Rondo tried to fit, ultimately, into a superbly constructed and contemporary NBA offense, and largely failed. The train wreck that was his two-game 2015 postseason campaign is classic, head-in-hands Rondo.
And I love that about him. I love that in a league obsessed with pace, he walks the ball down the floor and that you can see him thinking as he does. I love that the notion of a "Playoff Rondo" who elevates his game when the lights are brightest exists. I love that he's gruff and prickly and will never, ever back down from anyone. I love that he's 6'1" in a league of giants. I love that in 2011, after Dwyane Wade dislocated Rondo's elbow, Rondo went back in and finished the game playing with one good arm. I love that in 2012, suddenly forced to carry the injured and aging Big Three, Rondo deliberately talked trash about the Miami Heat on national television--and then led the Celtics to a series-tying win.
I love that the game very rarely looks easy for him, and I especially love that at his best, he manufactures his own kind of joy. It's not like Curry's theatrics. When Rondo is flying, firing bullet passes and contorting his body for layups, there's a powerful rhythm to his movements. He's stern, businesslike, but ballsy as all hell. At his best, he can outsmart his own flaws.
And then there are those times he makes the game look the way it must look in his head all the time, commanding the floor like a chessboard. When Rondo is playing well, it's always because his team is playing well. And because Rondo is playing well, the team plays better. With the term "score-first point guard" becoming increasingly relevant, Rondo is stubbornly, outmodedly a "floor general." And I think he'll be elite again, although that's probably just homerism mixed with gut feeling.
He doesn't try to beat defenses. He tries to solve them. He moves his four pieces, watches how the defense reacts, and acts accordingly. He needs his teammates, possession after possession. That's why I love watching him. Rajon Rondo, even though he's standing with the ball in his hands, somehow always makes me feel like he's seated at the edge of a forest, bravely directing the trees. All that's left now is hoping he follows his own advice.
"Play unselfishly and believe. Good things will happen." - Rondo
Calling all HuffPost superfans!
Sign up for membership to become a founding member and help shape HuffPost's next chapter