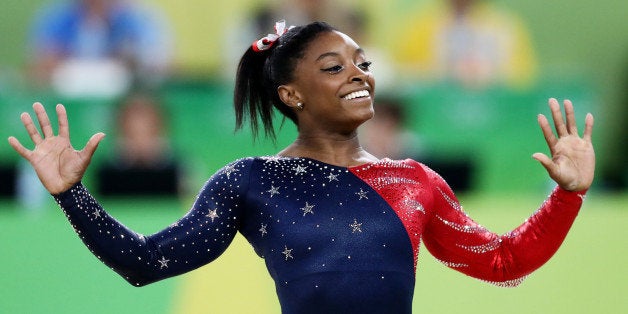 I've been a fan of gymnastics since I was nine years old. Me and my family witnessed the amazing performance of Dominique Dawes at the 96' Olympics, and I've been stuck ever since. In more recent years, I've followed your career, and have been amazed by your consistent dominance over the past few years. In my opinion, you are the greatest gymnast of all-time. Your talent, discipline and perseverance are unparalleled. You're young, extremely talented, and are experiencing success at the sport's highest level. Unfortunately, America is waiting on you to fail.
I feel compelled to write this to you, Simone. You see, as amazing as you are, you're still human, and to a greater extent imperfect. At some point you will make a decision that others, specifically media outlets, fellow athletes, your family, friends, coaches and fans will not agree with. You will be judged for your choices. They will drag you, ridicule you, harass you and troll you. Yes, the same people that praised you, congratulated you, and told you they loved you, are going to hurt you. The same ones who supported you, and encouraged you. The same ones who said they would always be there for you, will abandon you in your darkest moments. They will say the most hurtful and downright disrespectful things that you have ever heard of.
Remember when Michael Phelps got caught smoking weed out of a bong? Remember the way Good Morning America and other mainstream media outlets, like Fox News, made Phelps out to be a drug addict? Yes, Michael Phelps, the the most decorated Olympic athlete of all-time, was being portrayed as an irresponsible drug addict, who was an embarrassment to the sport of swimming.
Or what about your current teammate, and former all around champion, Gabrielle Douglas. The media, and world of gymnastics as a whole, has been portraying her as selfish. Twitter is constantly harassing her about primitive and irrelevant issues like her hair. They've even gone on to suggest that she's been a poor teammate, and disrespected her country because she didn't place her hand on her heart during the national anthem. But just a few summers ago, the world loved their sweet little Gabby Douglas.
Right now you're on top of the world. Most people like you and support your choices. Eventually the pendulum swings, Simone. When it does, handle the shifting current like you did the individual all around. Love yourself and your choices, good or bad, independently of what anyone thinks of them. This is your life, and you don't need to fit into other people's expectations for yourself. You don't need to make anyone feel comfortable or happy, except the person you see in the mirror everyday.
You're amazing Simone, and the world is JUST getting a glimpse of how great you are. Continue to make progress, and enjoy your life. America will turn it's back on you. And when it does, do exactly what you've always done...win.
REAL LIFE. REAL NEWS. REAL VOICES.
Help us tell more of the stories that matter from voices that too often remain unheard.