Co-written by Christian Bason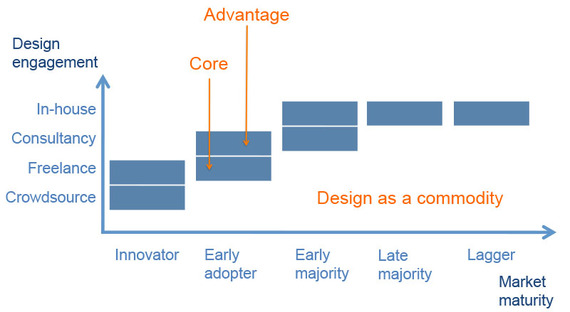 Organizations have a range of core competencies and a handful of competitive advantages in their quiver to aid them in their quest for sustainable progress. So, when does it make good business sense to invest in design capabilities and at what level on the design ladder?
Would their unique skill set be best suited as a differentiator, in development of procedures, coordination of stakeholder activities or as strategies? How might organizations develop these skills into core competencies or even into a competitive advantage?
Corporations apply design in their business since their success depends on offerings that have a close relationship with their users. The extent to which they do this depends on the competitive landscape and the maturity of the product.
The stronger the competition and the more mature the offering, the more important it becomes to advance design from a core competency into a competitive advantage. In turn, this influences the timing of when best to establish design as an in-house capability or perhaps to partner with a design consultancy, hire freelance designers or even crowdsource one's design needs.
Government organizations have similar challenges since public organizations need to embrace design to shape better and more effective services for their citizens. However, even as design is becoming a recognized competency in governmental organizations, it remains to be seen how it might it be best positioned for the public good as a capability. Currently, three strategies are emerging:
First, In-house - political leaders, ranging from Germany's Angela Merkel to Chile's Michelle Bachellet are publicly announcing the need for embedding innovation capability within their governments, and are setting up internal innovation teams and design labs.
Second, Mediator - independent design bodies such as France's La 27e Region, an NGO, function as hybrids, sitting outside the system but creating new connections between government and not for profit sectors.
Third, Consultancy - public organizations such as Denmark's Ministry of Taxation are contracting external service design agencies to run discrete projects.
As in corporations, governments usually gain experience with the use of design at the design ladder's lowest rung enabling them to move up. Typically, this involves first gaining early experience with front-end design of user experience and services (differentiation and process), before recognizing how design affects the broader organization and business processes.
For government organizations, the next step is to recognize how governance and funding models - that cut across different policy domains - need to be redesigned if citizen's needs are truly to be addressed (coordination and strategy.)
Think of ways in which early childcare prevention might be run by city agencies but ultimately benefit the state as the number of welfare recipients is reduced. That calls for a funding strategy, which allows investments in one sector in order to drive benefits in another. The use of design capabilities hereby shifts from service interactions to strategic "whole system" redesign."
Business and government could be well positioned to learn from each other, maybe even collaborate, as both sectors leverage design to help them reframe problems into opportunities. Analytical models (Design Quantification) and heuristics (based on empirical studies) for when and how to apply design, and at what level, are continuously being improved, augmenting traditional gut feelings. Here are some general heuristics prescriptions for managing the innovation level:
When & How - Breakthrough Innovation
In early technology adoption phases, with high market and technology risk, apply out-side services and bring projects in-house when proof of market and scalability exist. Focus the business plan on establishing the innovation level and communicate this to the design team in a brief focusing on contextual criteria, especially social/human.
When & How - Incremental Innovation
In later phases, manage projects in-house, perhaps supplemented with partners for user research and implementation. Focus the business plan on value structure/value chain (external and internal) and communicate this to the design team in a brief focusing on performance and expression of the offering.
Studies at Stanford show that including design in business formulation, can increase an established corporations' value by as much as thirty percent, while simulations suggest that startups can increase their valuation by as much as thirteen percent by focusing on design. Well-managed design thus constitutes a strong competitive advantage, no matter how and when it is being applied.
Special thanks to Christian Bason for researching and co-writing this article
Calling all HuffPost superfans!
Sign up for membership to become a founding member and help shape HuffPost's next chapter