"How are you going to commemorate the Great War?"
As the head of a history museum, this is the sort of question I'm used to hearing -- and given the fact that 2014 marks the centennial of the outbreak of World War I, it's not unexpected that people should ask about that terrible anniversary.
But the answer I've been giving has caused some surprise and confusion. The New-York Historical Society has already begun its commemoration, I explain. We've been presenting an exhibition about the 1913 Armory Show.
What does avant-garde art in New York City have to do with the eruption of fighting across Europe? The answer is that the cultural shocks of the Armory Show were in effect a message from the future: a pre-echo of the bombs of 1914.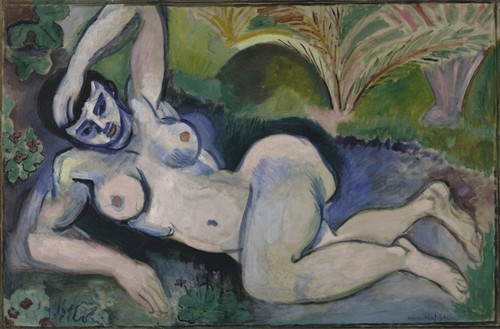 Henri Matisse (French, 1869-1954), Blue Nude, 1907. Oil on canvas. The Baltimore Museum of Art: The Cone Collection, formed by Dr. Claribel Cone and Miss Etta Cone of Baltimore, Maryland, BMA 1950.228. © 2013 Succession H. Matisse / Artists Rights Society (ARS), New York.

To historians, the military eruption of July and August 1914 was preceded by more than a decade of other convulsions and upheavals, social, economic, intellectual and cultural. There were radical new theories, such as Freud's psychoanalysis and Einstein's relativity; massive movements of population and accelerated international trade; new technologies such as the telephone, radio, and electric light; the tumult of the labor movement and the campaign for women's suffrage. The shock of modern art, and its excitement, was a part of this mix.
Paintings such as Marcel Duchamp's Nude Descending a Staircase (No. 2) reflected the merger of human experience with mechanisms that characterized the Machine Age. The bold forms and colors in Matisse's and Gauguin's paintings suggested a radical return to instinct and spontaneity, not entirely unlike the unconscious drives theorized by Freud. The abstraction of works such as Kandinsky's Improvisation 27 seemed to shatter objective reality itself, in an artistic counterpart to Einstein's revolution in physics.
On another level, the Armory Show was emblematic of the intensified interconnections that were both enriching the world and drawing it into fatal conflict. The show's official title stressed internationalism -- The International Exhibition of Modern Art--as had its European model, Cologne's 1912 International Exhibition of the Federation of West German Art-Lovers and Artists. The exhibition's American organizers, highly aware of international tendencies in culture, traveled to cities including Cologne, Düsseldorf, The Hague, Amsterdam, Paris and London in pursuit of dealers, art and ideas. On display when the show opened in New York were more than 1,000 artworks, American as well as European.
Americans responded to the art in the Armory Show with excitement, confusion, and dismay. Some members of the press called the exhibition's Gallery I, with its European modernist works, a "Chamber of Horrors." Theodore Roosevelt defended the exhibitors' right to show "art forces which of late have been at work in Europe" but distanced himself from these aesthetic "extremists." Paradoxically, as the historian Margaret MacMillan has written, interconnectedness encouraged nativism and localism, as European landowners and small business owners saw their livelihoods challenged by the import of cheaper goods. The rapid transmission of ideas and beliefs meant that radical and destructive ideologies could more easily be shared, and fanatics who might otherwise have been dispersed were brought together for dangerous aims. It is no wonder that the modern art in the 1913 Armory Show lit a fuse when on view in New York. These works framed a dizzying and frightening historical moment; a period of shifts and disruptions that would build toward the outbreak of war.
My grandfather was a seventeen-year-old New Yorker in 1913. I do not know whether he was among the approximately 87,000 people who visited the Armory Show during the month when it was on view. I do know that in 1917, he embarked for Europe to fight in World War I. During his two years of service he dutifully sent postcards home to my great-grandmother, each depicting a charming French tableau. "Types Landais," one is captioned, showing a picturesque couple -- man in beret, woman in bonnet -- in front of a thatched fisherman's cabin in the Landes region of France. Another card shows a quiet scene in Nantes, with a man driving a horse-and-buggy in the foreground. Not one of the postcards hints at modernist ferment. But I continue to wonder about something else my grandfather brought home from World War I, something that suggests hidden depths. It is a necklace that he eventually bequeathed to me, on which hangs a silver locket in the shape of a book. A smaller book is nestled inside. "Andenken," reads its German inscription: "Think about it."
REAL LIFE. REAL NEWS. REAL VOICES.
Help us tell more of the stories that matter from voices that too often remain unheard.