In 2013, we saw the first decrease in the official poverty rate since 2006. This is a clear sign of progress, right?
I thought that same thing until I was struck recently by a little known and relatively new measure that the U.S. Census Bureau also uses to assess the state of poverty in America, called the Supplemental Poverty Measure (SPM). This particular measure, which usually takes a back seat to the official poverty rate in the news and media reports, paints a far more realistic portrait of what seniors in America are really experiencing.
Through this new measure of poverty, we gain a deeper understanding of the economic well-being of individuals and families, as well as the effectiveness of policies and programs designed to support our most vulnerable citizens. That's because it takes into account what it actually costs to live--like the cost of medicine and copays, housing, food and utilities, and how those costs affect disposable income. It also accounts for income provided through safety-net programs that helps to offset some of these costs, such as Social Security and the Supplemental Nutrition Assistance Program (SNAP, formally Food Stamps).
Last week, the Census Bureau released its SPM report for 2013. For almost every segment of our population, the news was positive and in alignment with 2013's official poverty rate. However, when you take a closer look, there's another story to be told--a story that proves increasing hardship on a population that is already extremely vulnerable: older adults.
According to the SPM for 2013, 6.5 million older adults 65+ faced poverty, compared to 4.2 million of the same demographic under the official poverty measure. This number is enormous and, for perspective, is greater than the combined populations of Los Angeles and Chicago--or the entire state of Indiana. The Census Bureau indicates that the key drivers of poverty for these older adults are the out-of-pocket medical expenses that enable a senior to live a healthier life.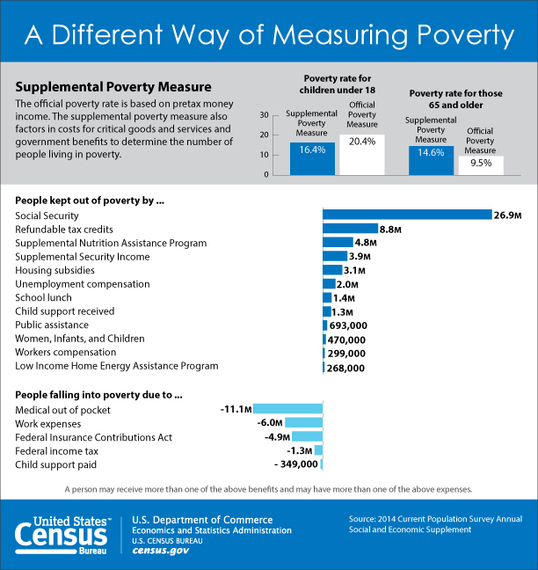 As our senior population grows by the tens of thousands every day, healthcare expenditures will grow by multiples of that. And, it's not just a problem for those who are aging. It's a problem for every taxpayer in this country. Keeping our seniors out of hospitals and long-term care facilities can save us all billions of dollars in Medicare and Medicaid.
How can we stem this tide? Through our national network of 5,000+ Meals on Wheels programs, the infrastructure and systems are in place to tackle the escalating problems of senior hunger, poverty and isolation in this country. The more than a million nutritious meals, friendly visits and safety checks delivered daily enable seniors in every community to live independently in their own homes longer, and out of hospitals and nursing homes.
This cost-effective solution helps our seniors prevent and manage chronic illnesses worsened by hunger and, ultimately, reduce out-of-pocket medical costs that are driving seniors into poverty. With support from Meals on Wheels, millions of seniors don't have to make tradeoffs between food and medication.
It's clear that those hit hardest by out-of-pocket medical expenses should not be out of sight and out of mind. Ethically, helping our nation's most at-risk seniors is the right thing to do. Practically, it is good economics. For more information on how you can help Meals on Wheels programs across the country, visit mowaa.org/takeaction.
Popular in the Community