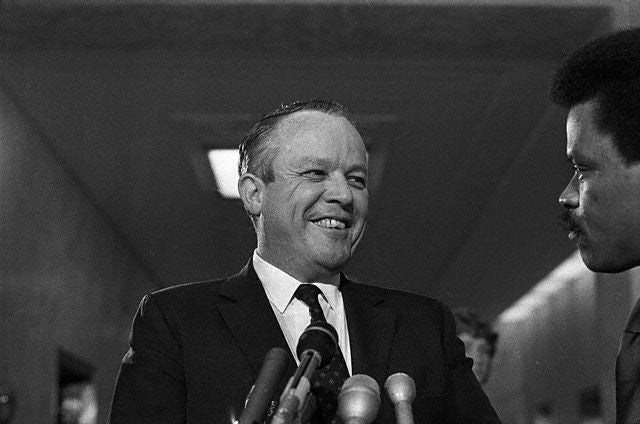 Former Nixon Attorney General John Mitchell famously threatened Washington Post reporter Carl Bernstein that his publisher, Katharine Graham, would "get her tit in a wringer" if she published breaking news about a secret campaign fund during the early months of the Watergate scandal.
We all know what happened: Carl Bernstein and Bob Woodward went on to win the Pulitzer and John Mitchell went to prison, charged with conspiracy, perjury and obstruction of justice. It was the first time in U. S. history that an Attorney General had been convicted of criminal activities.
At the time Mitchell made his threat he was no longer the Attorney General; he had moved over to run the campaign to re-elect the president. But Mitchell left his successor, a man named Richard Kleindienst, in a very precarious position. He, too, risked getting his tit in a wringer as the Watergate scandal widened in 1973.
The essential problem any Attorney General faces is this: how can someone who was appointed by the President, and who serves at the pleasure of the President, impartially investigate charges against the President? There is a built-in conflict of interest. And it is made worse when the charges are of a political nature—relating to how campaigns are run. There is an easy tendency to say "politics is politics" and that criminal activity requires a certain state of mind or intent to commit a crime. The lines start to blur.
"The essential problem any Attorney General faces is this: how can someone who was appointed by the President, and who serves at the pleasure of the President, impartially investigate charges against the President?"
Richard Kleindienst faced this problem in spades when matters started to fall apart in April 1973. He was not only Mitchell's successor as Attorney General, he was a friend who owed his career in government to Mitchell. Loyalty was of high concern for Kleindienst.
Kleindienst had trouble all along. When Watergate burglar G. Gordon Liddy talked to Mitchell and Jeb Magruder, the deputy chairman of the re-election committee, the day after his men had been arrested in the Watergate, either Magruder or Mitchell suggested that Liddy track down Kleindienst to ask him to intervene to get the burglars out of jail. Liddy found Kleindienst at the Burning Tree Country Club and asked for help. "Get away from me Satan," was essentially Kleindienst's response. Liddy left empty-handed.
Kleindienst knew this was serious and he wanted to distance himself—but his problem was that now he knew who had been behind the break-in and he did nothing to report it.
Fast-forward to April 1973. The lid was blowing on the cover-up. John Dean had gone to see Richard Nixon on March 21, 1973, to warn him that the cover-up was unlikely to succeed. He told Nixon there was a "cancer growing on his presidency" and that if it was not excised, it would kill his presidency. Dean admitted he had become involved in paying people to keep them quiet and that he would have to go to jail for obstructing justice.
When President Nixon chose not to come clean, things turned ugly. On one fateful weekend, April 14-15, 1973, Magruder and Dean broke with the White House and began cooperating with prosecutors.
"When President Nixon chose not to come clean, things turned ugly."
Though the Department of Justice prosecutors pledged to the attorneys for Dean and Magruder that their cooperation would remain secret (knowing full well if a report was made to the Attorney General, he would report to the President), once it became clear that John Mitchell was about to be indicted for his part in approving the Watergate break-in, the Assistant United States Attorneys working the case felt they had no choice but to report to Kleindienst.
So late on a Saturday night, April 14, after of all things the Annual Dinner of the White House Correspondents where Woodward and Bernstein were given an award for their reporting, Kleindienst returned home to find prosecutors waiting for him. He stayed up most of the night listening to a detailed briefing on what Dean and Magruder had revealed.
The next morning, Palm Sunday, Kleindienst asked to meet with President Nixon at the White House. After worship services, he told the President what was going on and that John Mitchell was sure to be indicted. He also said that he would have to recuse himself because the investigation centered on his friend and predecessor, John Mitchell. A man named Henry Petersen was to take over the investigation.
Petersen was a holdover from earlier administrations and a skilled criminal lawyer. But even he had baggage—he knew about the skeletons in the closet.
Ultimately when Nixon fired Haldeman, Ehrlichman and Dean, he included Kleindienst in the purge.
Senators who were asked to approve Kleindienst's successor, Elliot Richardson, demanded that he agree to appoint a special prosecutor to investigate the President and his campaign activities. Richardson kept his promise and appointed his former Harvard professor Archibald Cox.
But six months later when Cox was demanding that Nixon turn over his White House tapes, Nixon instructed Richardson to fire Cox. Richardson refused and resigned; so did his Deputy Attorney General, William Ruckelshaus, so Nixon ordered the Solicitor General, Robert Bork, to pull the lever. Bork did so, relieving Cox and mortally wounding his future aspirations to sit on the Supreme Court. The "Saturday Night Massacre" in October 1973 was a huge spark for the drive to impeach Nixon.
Does any of this sound vaguely familiar?
Kleindienst was untouched in the criminal trials following Watergate, though he did plead guilty to failing to testify fully during his confirmation hearings before the Senate involving alleged favoritism shown the International Telephone & Telegraph Corp.
It seems to have been a career hazard to be Attorney General of the United States in the Nixon Administration. One wonders if the same might be true in the Trump Administration.
James D. Robenalt is the author of January 1973, Watergate, Roe v. Wade, Vietnam, and The Month That Changed America Forever. www.january1973.com He also lectures nationally with John Dean on Watergate. www.watergatecle.com