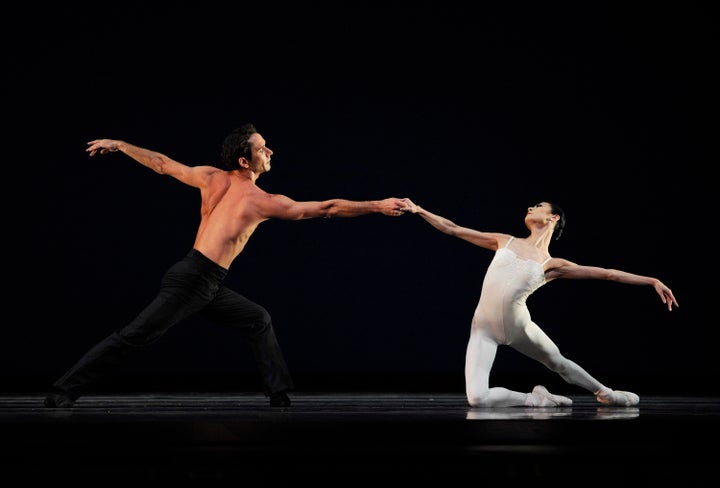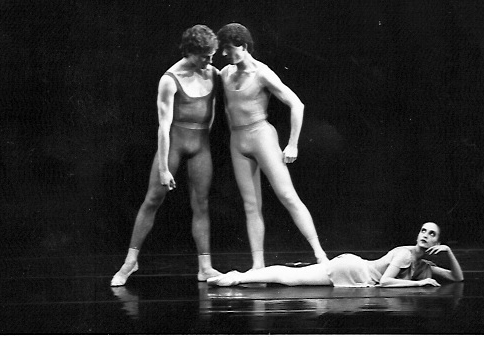 Lee Bell, Paolo Porcino, and Risa Kaplowitz from 2002 Easy Lessons, Choreography by Stuart Sebastion, Dayton Ballet, 1987
Last month, I attended a week-long training session for the American Ballet Theatre National Training Curriculum in Orlando. The sessions are akin to being in a ballet nunnery, with attendees concentrating hard on learning, thinking about, and discussing the logical progression of technique. So when, on the last day, our instructor Raymond Lukens, director of the NTC, went off on a tangent about ballet bloopers, or what I like to call "bal-loopers," we were ripe for hilarity.
In an instant, we transformed from nail-biting, head-scratching teachers-turned-students into guffawing former professionals who had each survived a major on-stage mishap or two. One woman recounted her awful experience of having her skirt fall off mid-performance. Another in the class -- a former male principal with a thick French accent -- told us about a time when a faulty lift left him holding his female partner between his legs "like a piece of dental floss." We were rolling.
Ballet is perfect; dancers are not. And thank goodness! A blunder now and then is just enough to remind the audience that what looks easy is actually brutally difficult, and it reminds us that we are not the gods and goddesses we sometimes think we are.
My most embarrassing stage moment came unexpectedly during a performance in Japan. I became disoriented onstage after a lift, and I continued the pas de deux facing the backdrop instead of the audience. It felt like an hour passed before I figured out where I was. My partner laughing at me didn't help, and the fact that that the Prince of Japan was in the audience made it all the more humiliating.
But my encounter with a backdrop was nothing compared to what I saw a dancer from a major company do. During a guest performance for a ballet competition of which he was a former winner, he did a circle of gorgeous split leaps directly into the scrim. The impact sent him flying backwards. Ever the warrior, he went on to do a final double tour en'lair to his knee and toppled. No doubt, a performance he'll never forget.
Thanks to YouTube, bloopers like the above are no longer left to memory alone. Hundreds if not thousands of people can view what's embarrassing to the fallen. A student has graciously allowed me to show this clip, which occurred during a performance of The Nutcracker, which Susan Jaffe choreographed for DanceVision, a company she and I founded and of which I am artistic director. The repeats in slow motion -- courtesy of videographer Jamie Watson -- could be overkill, but oh my, they are funny. Thankfully, the dancer survived to tell the tale, and now when she sees it, she laughs almost as hard as the rest of us.
But not everyone tries to pretend a fall didn't happen. Ever the noble himself, Edward Villela, chose to bow after a crash to the tush. According to my friend Anne Levin, who was the dance critic for Trenton Times, the former New York City Ballet principal and Miami City Ballet Artistic Director, got up from his fall, bowed to the audience, and took his place upstage to start again.
On a more serious note, in the vast majority of cases, a slippery Marley, the vinyl floor covering that every ballet studio and company uses, is the culprit of bal-loopers. At Youth America Grand Prix gala a few years ago, nearly every ballet dancer, some of who are major stars, took a spill or two on the ice-like floor. This weekend I witnessed similar problems with performances of my ballet, The Secret Garden. After watching one of my company members take a nasty fall during dress rehearsal, I'm convinced that, as wonderful as Marley is for dancers, there has to be something better for ballet.
Have a favorite bal-looper of your own? Share the fun!
Have an idea for a better floor? Please make it!
Popular in the Community