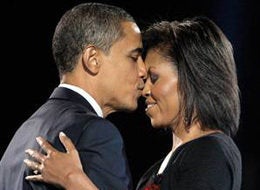 Jan Hoffman writes glowingly about Barack; if he can find time for a "date night" after 16 years of marriage and a plate overflowing with downright scary issues, why can't any guy?
President Obama is not any guy. The reservation at a trendy restaurant and tickets for a Broadway show were surely obtained by one or more of scores of staffers and personal aides who are at the First Family's beck and call. Air Force One at the ready? Backup planes for security and press? Of course. Helicopters to shuttle them curbside?
And no worry about babysitters; not only is the most famous live-in mother-in-law likely available, but if she's not, someone can fill in. Bo need to be walked? Again, someone can fill in.
After the show (and the plane-ride to DC), there's no stop for milk at the all-night grocery or convenience store, no grubby kitchen to clean, none of the usual kid-caused messes; the inevitable price for an evening out that moms, especially, come to dread but expect.
Will the Obamas worry as they try to fall to sleep about money spent that night on a dinner already consumed and a play already seen? No. Obama is a multimillionaire, he earns a great salary, enjoys an expense account, and his earning potential is many times greater than any president in history. If Bill Clinton got $12 million for his memoir, just imagine how much Obama will command.
The conceit that President Obama is just a guy working to keep the romance in his marriage is ridiculous. He may well be working to keep the romance in his marriage, but he will never again be just a guy.