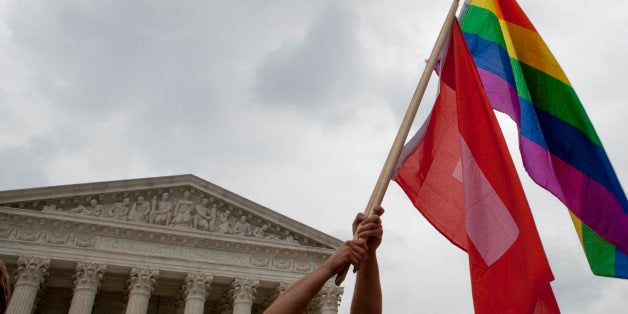 Early last week, a colleague and I were opining how we were having a hard time getting truly excited about the many boycotts going on in states with anti-LGBT legislation.
On the one hand, boycotts from major corporations and artists can be a great showing of solidarity. On the other hand, I questioned how thoughtful some of the boycotts are, and if there's a stronger way the boycotters could show allyship to the LGBT community.
One of the key components of being a strong ally is do no harm to those you are advocating for. Use your voice and speak up for them when that voice is needed, but don't put your own voice and interests ahead of those you are trying to support.
Yet many of these companies and individuals boycotting are showing signs of placing their own self-interests in front of the LGBT community's. I first had this thought when I saw a blog from Shane Windmeyer, the Executive Director of the North Carolina-based LGBT nonprofit organization CampusPride. The organization will continue holding its annual CampPride for youth in North Carolina, as it has for many years. But recently one of CampusPride's donors notified it that, even though funds were budgeted and CampPride would go above and beyond in creating a safe space for these youth, the donor would likely pull critical funding, presumably due to pure optics.
Then later in the week, I was personally asked a question about my own organization, Reaching Out MBA, which has a global scholarship and leadership development program for LGBTs with 30 MBA programs, two of which are based in North Carolina. I was asked whether we would truly encourage LGBT students to take these scholarships and whether we continue to include these NC programs, who I must state are part of this program because they earnestly want to attract LGBT applicants and support them while they are in business school.
Both Shane's blog and my own conversation made me question at what point does a boycott actually become harmful to those you are supposedly advocating on behalf of?
With that in mind, I wanted to offer three ideas to consider before you cut funding, cancel an event, or ban employees' travel to these states:
Rather than Relocate an Event, Build LGBTs Into It
Depending on the venue and timing of an event, for an organization to break a contract and relocate could cost thousands, if not several hundred thousand, dollars. For a LGBT nonprofit organization like my own, such an action would be catastrophic. So don't ask us to relocate for your own comfort or optics.
Instead, consider this: What is a more powerful statement right now -- encouraging all LGBT people to flee these states, or sending an army of our LGBT peers and allies to be present, visible, and interact with the broader community in these states?
I'd frankly much rather see the mayors of cities like San Francisco work together to send their LGBT employees to a country-wide LGBT political retreat in North Carolina than I would instate what are largely superficial bans that might prevent an inspirational LGBT employee from going to speak with the North Carolina LGBT community.
Additionally, if you are a non-LGBT organization or performer, consider how you might incorporate the LGBT community into your event, or take a cue from Cyndi Lauper and Joel McHale by donating some proceeds to local LGBT organizations, such as Equality North Carolina.
Do Not Pull Funding from LGBT Orgs in These States
Is an LGBT organization you support in NC? Then don't cut your support for it!
Hearing another LGBT organization's Executive Director say that he is seriously concerned about budget shortfalls due to donation cuts related solely to his organization's location was heartbreaking. When boycotts start to actually impact critical funding from LGBT organizations, we've collectively lost sight of what we're actually fighting for.
I have no better solution here than to tell you to use your brain and ask yourself whether you are doing more good than harm to those you are fighting for.
Consider Putting LGBTs to Work
Were you planning for job openings in a state that has enacted a religious freedom law? You might consider whether there is an opportunity to do a proactive search and fill those 20+ jobs with LGBT employees before you yank yourself out of that state.
The LGBT community, particularly those who identify as transgender or as a queer person of color, face higher unemployment than their cisgender, heterosexual peers. In fact, a Harvard study recently showed evidence to suggest that being out on a resume, even as a white gay man, means a candidate will face more discrimination in the hiring process.
If your company is considering a boycott, the odds are that you already offer some level of LGBT workplace protection. Why not go a step further and proactively work with LGBT organizations in these states to identify pipelines of LGBT candidates?
These boycotts can be really powerful symbols of support. But before jumping on the bandwagon, take a moment to ask yourself if your actions will actually help more than harm our community -- that's what will get many of us in the LGBT community truly excited.
Calling all HuffPost superfans!
Sign up for membership to become a founding member and help shape HuffPost's next chapter