I dreamed about tandem breastfeeding while I was pregnant with my twins. Before they were even born, I bought a tandem nursing pillow, reached out to La Leche League, and read up on how to build a milk supply for twins. I loved that I would be able to nourish my babies in a way that no one else could. I could not wait to be a breastfeeding mother.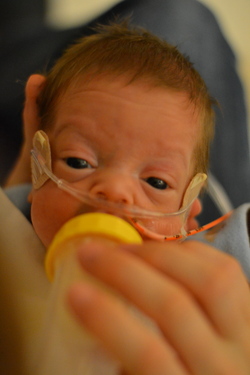 Suddenly, my utopian dream of nursing my twins dissolved. Micah and Zachary were born three months prematurely via an emergency C-section. I no longer cared about breastfeeding. All I wanted was for my babies to live and be healthy. They needed my breast milk, but I couldn't give it to them from my breasts.
Micah and Zachary were too fragile to breastfeed, so I exclusively pumped and they received breast milk through their feeding tubes. I delivered all of my expressed milk to the Neonatal Intensive Care Unit's milk room, where it was measured, mixed with a bovine-based formula fortifier, and delivered back to my twin's room where it was poured into a syringe that slowly pushed the milk through their feeding tubes.
It took six weeks for the boys to become stable enough to try breastfeeding. Zachary took months to coordinate his ability to suck, swallow and breath. He only sucked and swallowed. Zachary stopped breathing and turned blue while feeding more times than I can count. It was terrifying. Three months later, I finally pulled Zachary's feeding tube from his nose. Zachary came home taking breast milk from a bottle, but struggled to breastfeed.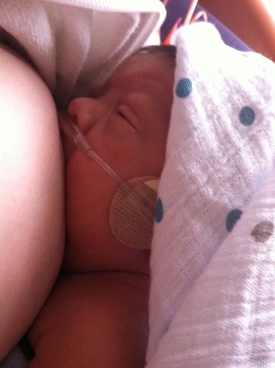 The first time I breastfed Micah was also the last. I snapped a photo, never imagining that Micah would never nurse again. Micah developed necrotizing enterocolitis, an intestinal disease. He became critically ill and was intubated for four months. Severe scarring of his airway prevented him from ever breast or bottle feeding again. Given our situation, I exclusively pumped to give my twins breast milk. I was a little heartbroken that I would never tandem breastfeed, but I found peace knowing that they were getting everything they needed from me: love and milk.
Micah remained hospitalized for 299 days, but he was rarely alone. Zachary and I spent every day with Micah. I always pumped in Micah's room, even though it wasn't the most comfortable place to express milk. Pumping is so different from nursing a baby. Pumping is mechanical, cumbersome and time consuming. The few times I nursed Zachary in front of other people, I felt much more comfortable than the thousands of times I pumped in front of other people. Thankfully, my nursing cover provided me with just enough privacy so I could pump in Micah's busy room.
I never got used to pumping in front of an audience. I just did it. To make enough milk for my babies, I had to stick with my pumping schedule... even during visits with extended family, friends, neighbors, colleagues, 1:1 with male clinicians, and Micah's entire care team.
Attempting to unclog my clogged ducts with other people in Micah's room was always especially awkward. Any mother who's ever had a clogged duct knows that it can take hours of massaging, heating, and pumping to unclog. Try doing this discreetly under a nursing cover in front of other people. It's basically impossible. I just had to make light of it, let everyone in on my insanely painful clogged duct, and laugh about it.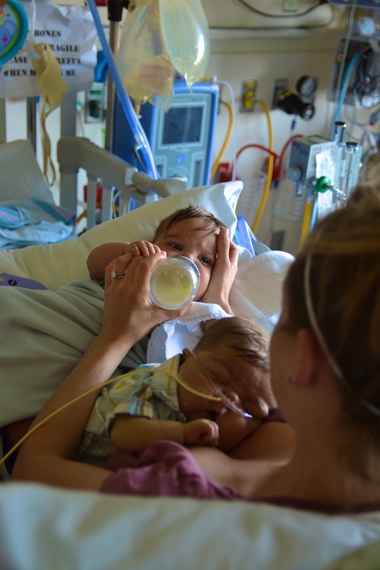 Giving Micah and Zachary breast milk was worth every awkward moment. Every bit of effort. Every annoying question, like, "Why don't you just pump somewhere else?" and "Why don't you just stop pumping when people come in?" It was worth every ounce of everything.
If Micah and Zachary were full-term babies, I would have just assumed that breast milk only came from breasts. I would have been overly zealous about breastfeeding and completely oblivious to the experience of so many babies who receive breast milk from feeding tubes, bottles, g-tubes, and donors. My babies enlightened and inspired me to be more compassionate and less judgemental -- with myself and every mother.
Micah and Zachary needed my milk and my presence. I would not sacrifice either to make anyone, including myself, comfortable. Feeding tubes and bottles are not how I planned to nourish my babies, but the important thing is that they received my milk and all of my love. I tried to breastfeed my babies; it didn't work out. So, I did what any mom would do -- I put my babies first and kissed my inhibitions goodbye.
This article is part of HuffPost Parents' World Breastfeeding Week series. Read more here.