When Breath Becomes Air by Paul Kalanithi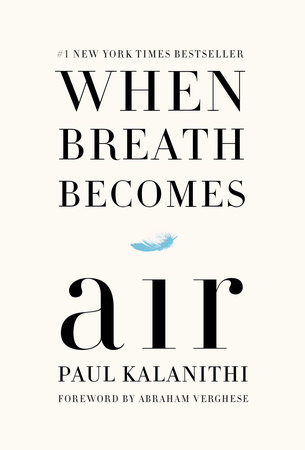 In his short lifetime, Paul Kalanithi earned a BA and an MA in English literature from Stanford; an MPhil in history and philosophy of science and medicine from Cambridge; and an MD from Yale School of Medicine. At Stanford, he was finishing up his residency in neurosurgery and neuroscience, when he learned he was dying. He was 36.
Ann Patchett says: "This is one of a handful of books I consider to be a universal donor--I would recommend it to anyone, everyone." Abraham Verghese says in the Foreword: "...he was writing about time and what it meant to him now, in the context of his illness. Which made it all so incredibly poignant."
Kalanithi's memoir forces readers to ponder difficult questions. What would you do if you found you had two years to live? Or one year? What if during that year you beat the odds and were given ten years? What would take priority in each of those scenarios?

In a discussion with his doctor, Kalanithi says:
"If I had some sense of how much time I have left, it'd be easier. If I had two years, I'd write. If I had ten, I'd get back to surgery and science."
His doctor tells him she cannot give him a number, nor advise him how to proceed. She says, "Many people, once diagnosed, quit work entirely. Others focus on it heavily. Either way is okay."
Kalanithi makes a decision:
"I would push myself to return to the OR. Why? Because I could. Because that's who I was. Because ...even if I'm dying, until I actually die, I am still living."
"A couple of my professors actively discouraged the idea: 'Shouldn't you be spending time with your family?' ('Shouldn't you?' I wondered.)"

You cannot read this memoir without coming to love the author, to miss him, to feel the palpable, tremendous loss that his remarkable life was cut short.
After Paul and his wife have a child, Kalanithi wants to leave this daughter some kind of message.
"There is perhaps only one thing to say to this infant, who is all future, overlapping briefly with me, whose life, barring the impossible, is all but past. 'When you come to one of the many moments in life where you must give an account of yourself, provide a ledger of what you have been, and done, and meant to the world, do not, I pray, discount that you filled a dying man's days with a sated joy, a joy unknown to me in all my prior years, a joy that does not hunger for more and more but rests, satisfied. In this time, right now, that is an enormous thing.'"
I highly recommend this book. It should be mandatory reading. We'd be better humans if we lived our lives as though this week or month or year would be our last. Before you begin, consider Verghese's advice:
"Be ready. Be seated. See what courage sounds like."
This review first appeared in Carmel Magazine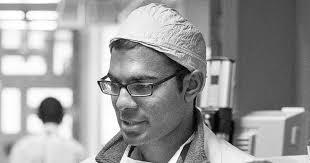 Paul Kalanithi grew up in Kingman, Arizona. A neurosurgeon and writer, he graduated from Stanford with a B.A. and M.A. in English literature and a B.A. in human biology. He earned an M.Phil in the history and philosophy of science and medicine from Cambridge and graduated cum laude from the Yale School of Medicine, where he was inducted into the Alpha Omega Alpha national medical honor society. He returned to Stanford to complete his residency training in neurological surgery and a postdoctoral fellowship in neuroscience, and received the American Academy of Neurological Surgery's highest award for resident research. He died in March 2015. He is survived by his family, including his wife Lucy, and their daughter Elizabeth Acadia.
Calling all HuffPost superfans!
Sign up for membership to become a founding member and help shape HuffPost's next chapter