Initially planned as a greenhouse to supply flowers and plants for commercial building interiors, the Planterra Conservatory has blossomed into an exotic wedding location. Shane Pliska, President of Planterra Corporation, explains how this metamorphosis developed, and shares advice for business owners who are looking to transform their own companies.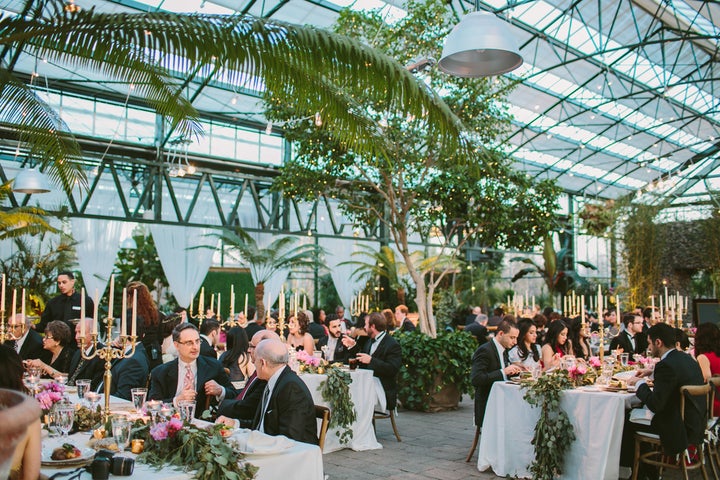 How did you get the idea to revitalize Planterra into a venue for weddings?
When the steel structure was being erected in 2009, we received our first inquiry for a wedding. This came as a surprise. The building wasn't even completed but it was obvious that it would be a beautiful greenhouse and something very special. Imported from Belgium, the Conservatory has classic symmetry, curved trusses and is covered in clear glass.
We decided to do our first wedding as an experiment and see how it worked — and the first one was pure magic.
At the time, we were still in an economic recession, but we were flooded with requests for event dates. Planterra is a family business and as a family we decided to take the event business seriously and focus on creating a world class wedding experience. The venue business has proved to be perfect complement to our 40+ year old interior landscaping business, which supplies flowers and tropical plants to corporate spaces. Initially our greenhouse staff worked events. Today, we have a full-time team of event specialists who work solely on our weddings and events.
How did you develop your staff for this transition? Were there challenges that you overcame?
Brides book weddings at Planterra because of the design and the beautiful environment. Making spaces pretty has historically been one of Planterra's core competencies, particularly in servicing hotel, resort and casino properties throughout North America. It was in our DNA to transform what was originally a facility built for horticulture and adapt it to hospitality usage. I also had some great mentors in the hospitality industry, from my time as a plantscape design consultant working with executives at Las Vegas hotels, such as the MGM Grand and the Bellagio.
The transformation came with growing pains. It required us to develop new policies, forge partnerships with new vendors and develop a staff specifically for events.
What was it like as a plantscape design consultant in Las Vegas, and how does it help you with your current work?
As a vendor to to the hospitality industry, I learned the service culture. Adopting hospitality service into my own organization has proven to be a key element of our current success. I also benefited from being exposed to the science behind the design, functionality and guest experience in hospitality spaces. The design vernacular is delicate and fascinating.
Is there another venue like the Planterra Conservatory in the US?
Planterra is truly a unique place unlike any other venue in the United States. Planterra is among the very few conservatory facilities in the nation where a bride can have a full ceremony, dinner reception and dancing under one glass roof for up to 200 people surrounded by a collection of exotic tropical plants. For other greenhouse venues, locally, there is the Anna Scripps Whitcomb Conservatory on Belle Isle in Detroit but their mission is, understandably, devoted to serving the public and showcasing their collection over providing large open spaces for people. The Palm House at the Brooklyn Botanical Garden, is a beautiful glass facility but the event space does not contain a plant collection (the plants are on their extensive grounds and in adjacent conservatory buildings). There are also nurseries that offer their space for weddings such as Terrain near Philadelphia, these tend to have a more of stylized farm vibe.
More recently, the Aquatopia Conservatory in Ottawa, Canada opened. I built a friendship with the owner, Nicholas Bott, when Planterra was the official interior landscape provider for the renovation of the Palm House at Rideau Hall, Queen Elizabeth's official Canadian residence. Aquatopia was inspired by the Planterra Conservatory.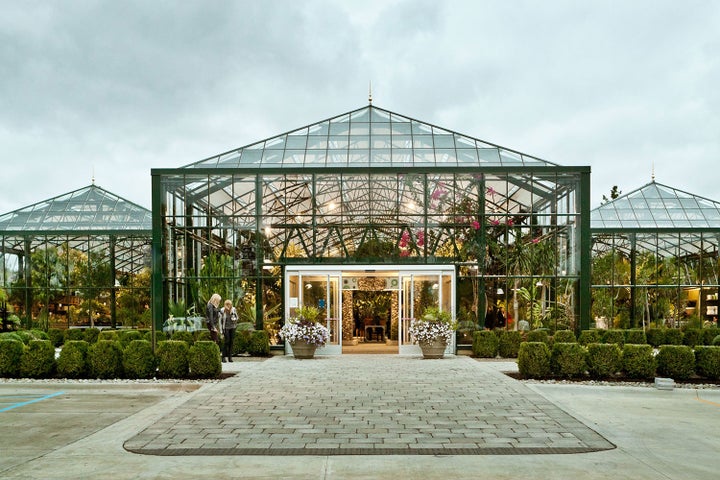 What was it like partnering with Aquatopia Conservatory and Palm House at Rideau Hall? What did you learn from the experience?
I worked with Nicholas Bott before he built the Aquatopia Conservatory. At the time, I contracted his company the Pond Clinic, LLC to build the water features at Rideau Hall. Nicholas has an excellent sense of humor and he did a great job. The Palm House installation was complex, largely due to the rare exotic plant list and the many layers of requirements of doing business with the Canadian government and the Commonwealth realm. I learned the amazing power of developing local partnerships.
What goes into a wedding at the Planterra? Do you manage the weddings and events with your own staff, or work with partners?
Planterra is devoted to a full-service event model, which means we offer planning, design, florals, food, beverage and make recommendations on outside vendors such as entertainers, photographers and wedding cake bakers. We have a full-time in-house staff of planners and designers. We have a culinary partnership with a catering company, which produces menus specifically designed for the Planterra experience.
How do you manage everything?
I went to film school, so we use show business lingo frequently and manage everything through an entertainment production-like structure. Our events director is truly a "director" who customizes each event to fit the vision and tastes of the bride and groom, the stars of the show. The floral and event design is art directed, the schedule is a "run of show" and each movement of the guests from ceremony, to cocktails, to reception is choreographed with intention and care.
Is there anything else you would like people to know?
Embrace nature in your wedding photos. Plants and flowers never go out of style.
Planterra is a great example of a business that pivoted quickly from one industry (horticulture) to another (event location). With a background in film, you personally seem to have gone from one sector to another. What advice would you give to business owners who are considering a similar transition from one sector to another?
This will be our 44th year in business. Our longevity would not be possible without a willingness to adapt to the marketplace and embrace change. A business that is "best in class" does not constrain itself in the boundaries of an industry or a sector. Too often, when businesses look to expand they are attracted to the equivalent of kissing cousins, familiar territory but not much new DNA. I liken it to cross-pollination, when new DNA is introduced it can produce some amazing fruit. So my advice is, stay current with industry trends but keep an eye out for compatibilities in other industries that would be a good fit for your organization's core competency or skillset.
Popular in the Community