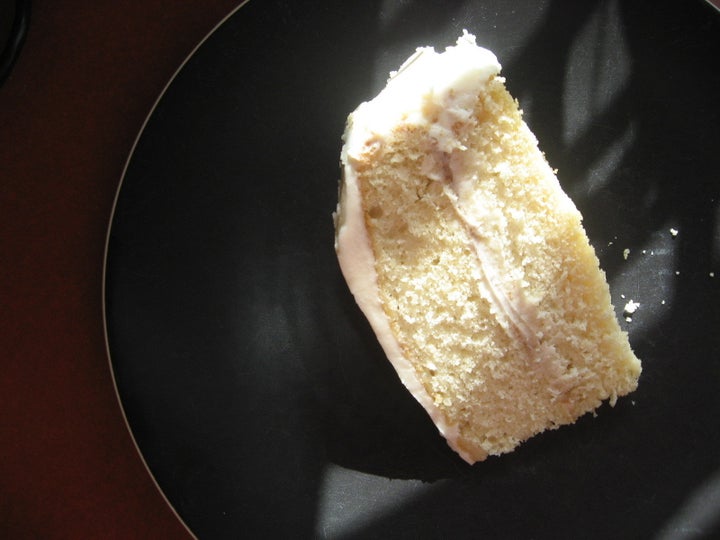 For my birthday seven years ago, I received a diagnosis of breast cancer. It wasn't the kind of present a girl wants to get -- not like a pair of earrings, or a pretty nightgown or a bouquet of fresh flowers wrapped in colored tissue. For a while after my cancer, I couldn't stand the sight of birthday cake. How could something so sweet leave such a bitter taste?
Then, one September morning five years ago, unable to sleep and anxiously awaiting a doctor's appointment later in the day, I found myself staring down at a plate full of white cake with buttercream frosting, spread to resemble the ocean's waves. The cake had called out to me the day before from the refrigerated case at the bakery -- the same case I'd walked past countless times and never once noticed its contents.
It's not as if I was going to eat the whole thing in one sitting, mind you. I cut the enormous slice of icebox-cold treat in half, placing one portion on a plate and carefully returning the rest to the refrigerator. Alone at my kitchen counter I ate slowly -- savoring every luscious bite, washing the cake down with hot black tea which I drank from a tea cup that once belonged to my grandmother. When I was done, nary a crumb remained, though my anxiety about the day ahead lingered.
The lump I'd found on my neck weeks before was still present and accounted for, serving as a constant reminder that life can be unfair. It led me to my oncologist -- a man with a kind face and tender touch despite his occupation in the dark arts -- who directed me to make an appointment with a specialist, which prompted me to walk by that bakery case in the first place. Since my original diagnosis of breast cancer, every lump and spot that surfaced anywhere on my body has been examined under a microscope. I've been biopsied and x-rayed, then generally left to stew over a long weekend awaiting the results. Each time, I told myself I couldn't affect change by worrying, and needed to press on with life. So I organized drawers and emergency contact lists, in case I needed to turn over the reins of mothering in an instant, and watched reruns of I Love Lucy till the world felt like a happy place again.
That September morning in the specialist's office, while I sat in a chair that rose and fell at the press of a button, I glanced around at the exam room. There were black streaks on the wall across from me and I imagined myself using a large art gum eraser to remove them. This was the stress-relief game I played to pass the time at physicians' offices, a sort of "I Spy" where I would find and remedy something in need of fixing but of little importance. It took my mind off the issue at hand.
The specialist walked in and introduced himself, then took his place on a whirling stool. After asking a series of questions, he looked up my nose and into my ears using tools I've seen in movies featuring blue and green aliens. As he looked, he began to speak softly, and he chose his words carefully. I watched for signs that he'd found something terrible, but try as I might, though his face was only inches from mine, it was blank as a sheet of unlined paper. I know this look, I thought -- it's the same one a stewardess has on a bumpy flight, a practiced, casual look that reassures passengers there's no need to panic when there really is. When he was done, he rolled away to remove his gloves and toss them into the trash, then rolled back towards me, looked into my eyes, and smiled. The way I did when I noticed the cake in the bakery the day before.
"It's not cancer," he said. "We can fix it."
I'm not certain I heard much after that. Nor did I ask the right questions, such as whether the pain, which had worsened over the previous weeks, would disappear. I suppose I didn't entirely care.
That evening I poured myself a glass of milk and took the other portion of my cake from the refrigerator. If this morning's half was to comfort me, tonight's was purely to celebrate. What other food can accomplish both? It's not healthy, I know. Not like tofu, or broccoli, or flaxseed. But it sure does taste good, and sometimes, regardless of the latest study, or what the doctor and your mother say, cake therapy is the best therapy.
How to Make Your Own White Cake With Buttercream Frosting
Classic White Cake Recipe
From: Gourmet Magazine (via recipecircus.com)
12 tablespoons (1 1/2 sticks) unsalted butter, softened
1 1/2 cups sugar
2 cups all purpose flour
2 teaspoons baking powder
1/4 teaspoon salt
6 large egg whites (3/4 cup)
3/4 cup milk
2 teaspoons vanilla extract
Set rack at the middle level in the oven and preheat to 350 degrees.
Butter the bottom of two 9-inch round or one 13 by 9 by 2-inch pan. Line bottom with parchment or waxed paper.
In a large bowl, beat butter and sugar for about 5 minutes, until light and fluffy. Stir together flour, baking powder and salt. Set aside. Combine egg whites, milk and vanilla extract. Add 1/3 of the flour mixture to the butter mixture then add half the milk mixture. Continue to alternate beginning and ending with flour mixture. Scape the bowl and beater often.
Pour the batter into prepared pan(s) and smooth top with metal spatula. Bake cake(s) about 25 to 30 minutes, or until a toothpick inserted in the center emerges clean.
Cool in pan on rack for 5 minutes, then turn out onto a rack, remove paper and let cool completely.
Classic Vanilla Buttercream Frosting
From: Savorysweetlife.com
Prep time: 2 mins
Cook time: 3 mins
Total time: 5 mins
Serves: 2.5 cups
Classic American Buttercream frosting. This recipe uses powdered sugar, butter, vanilla and milk. This is a great recipe for decorating and piping on cupcakes and cake.
Ingredients
o 1 cup unsalted butter (2 sticks or 1/2 pound), softened (but not melted!) Ideal texture should be like ice cream.
o 3-4 cups confectioners (powdered) sugar, SIFTED
o 1/4 teaspoon table salt
o 1 tablespoon vanilla extract
o up to 4 tablespoons milk or heavy cream
Instructions
1. Beat butter for a few minutes with a mixer with the paddle attachment on medium speed. Add 3 cups of powdered sugar and turn your mixer on the lowest speed (so the sugar doesn't blow everywhere) until the sugar has been incorporated with the butter. Increase mixer speed to medium and add vanilla extract, salt, and 2 tablespoons of milk/cream and beat for 3 minutes. If your frosting needs a more stiff consistency, add remaining sugar. If your frosting needs to be thinned out, add remaining milk 1 tablespoons at a time.
EARLIER ON THE HUFFINGTON POST: Cake Recipes: Our 18 Best Layer Cakes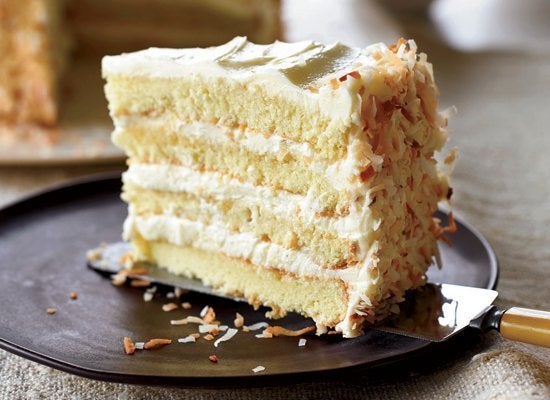 Cake Recipes
Popular in the Community