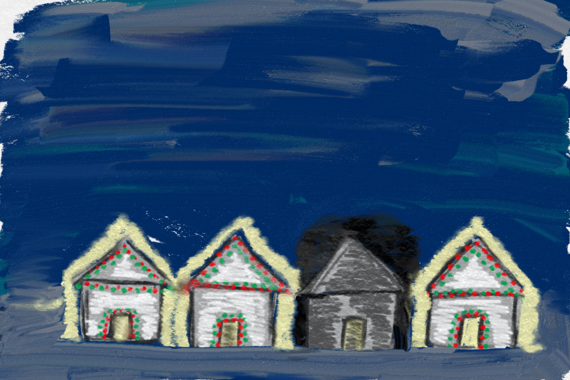 I've been fascinated with the largeness of Christmas since I was a child -- how it fills rooms, covers houses, and takes over entire streets. Back then, I was an observer, not a participator, in what is arguably the most voyeuristic of holidays.
My family is Jewish, and though we didn't actively practice our religion, we also didn't celebrate Christmas. Our house remained dark and unobtrusive each December except for an electric menorah in the window, its blue lights the only sign that we celebrated anything at all. I yearned for a tree throughout my childhood and I was fascinated with the concept of stockings. Imagine getting extra gifts stuffed into a big sock? The sheer delight of opening each tiny present was, in my mind, unfairly denied to me.
When I met my husband, his family welcomed me into Christmas in a way I'd never experienced before. I had my own stocking that my sister-in-law decorated by hand. I still use it, 19 years later. I began wrapping gifts in red and green paper and shopping for stocking stuffers for the first time. At twenty-five, I was smitten with Christmas, though my husband had long ago grown bored with the annual traditions. That didn't sway me. Christmas was finally mine.
It got even better after my daughter was born in 2001. She was seven months old in December of that year and would've been happy playing with the wrapping paper and bows, but I showered her with gifts. To say I went overboard is an understatement. My younger daughter was born three years later and, amazingly, it got even better. I had my own family now, my own holiday traditions.
I've coveted the weeks leading up to Christmas for years, feeling guilty about my overindulgences while simultaneously delighting in them. And although my older daughter was diagnosed with cancer three years ago, Christmas has never been denied to us. She was home the first year of her illness, helping us decorate the tree and waking up on Christmas morning as excited as ever. She was home the year after that and last year too, even though her disease had progressed last December, throwing us into a tailspin of worry and fear. This was alleviated via successful radiation treatment and oral chemotherapy. We were lucky. I know we were lucky.
This year everything changed. My daughter's cancer got worse. An explosion of tumors in her pelvis and abdomen grew very quickly, making their presence known the day after Thanksgiving. She'll need surgery to alleviate her pain and get her out of immediate danger -- extensive abdominal surgery that could mean she spends Christmas in the hospital for the first time since we heard the words, "Your child has cancer."
And now, for the first time in my life, I can't feel Christmas. I can't reach it, no matter how hard I try. With each day that passes that my daughter is in pain, with each wrenching conversation I have with her doctors, with each agonizing talk I have with her about death and dying, Christmas recedes a little bit more.
The tree is mine. The lights are mine. The red and green paper -- all mine, but they're on the wrong side of the looking glass and I can't reach them.
My Christmas lights don't shine as brightly as yours. The Christmas carols make me cry. I'm wrapping each gift with shaking hands, wondering how to find the joy in this simple ritual that I've always loved. Dread, dark and cold, infuses my every waking moment. My daughter has retreated into her room, into the shadows of her own mind and I am downstairs by myself staring at the glittering tree in silence.
Sometimes I wonder if this is punishment for taking ownership of a holiday that was never mine to celebrate. I know it sounds crazy, self-deprecatory, a little neurotic... but with all my love of Christmas, I never figured out how to put lights on my house. It's still the darkest house on the block. There's not even a glowing menorah in the window.
If I lose my daughter, my house will always be dark.
We're supposed to be four. There are four stockings with our names carefully drawn in fabric paint, four sets of hands to decorate our perfect tree, four sleepy sets of eyes that wake up on Christmas morning, four signatures on our holiday cards.
We're supposed to be four.
I know it's more than Christmas I covet. It's the traditions that my husband and I have created around our family that reel the kids in each year -- no matter how old they get -- creating the perfect balance of excess, generosity, gratitude and love. I'll keep trying to grab onto all of that, and hope that tomorrow when I wake up, my arms will be long enough, my hands strong enough, to reel the family in once again.