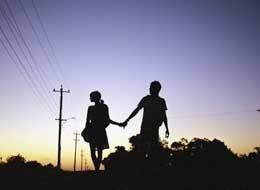 Q: Have you ever noticed that you can be dating someone for many months, but the relationship is still referred to as "casual"? Despite my best efforts, I am what most people would call a "serial casual dater." I don't want to do it, but that's how it always ends up, no matter how serious things seem to get. I don't know how to get past this stage of dating without appearing like I'm dying to get married. It's a tough balancing act but it seems to be a universal trend. What's your call on this?
A: There's 'casual dating' and then a mysterious in-between phase I like to call the "Not Exactly Casual Anymore" stage. It's the phase where the relationship is past the point of 'first few dates' yet hasn't been officially promoted to 'serious'. It's a gray, murky swimming hole where many people tread water, waiting patiently (yeah, right) for either the next stage to begin, or for the whole thing to end.
The N.E.C.A. (Not Exactly Casual Anymore) stage has the makings of a serious relationship but it's tricky and the slightest misstep can plant you permanently in Casualville, or worse yet, Singleville. It's the stage when an allegedly 'casual' couple hints at, or blatantly talks about, spending tons of time together, planning trips, or what color eyes their kids will have. You might meet someone's family and get in with their friends. You may even have a few things at each other's apartments because you spend nights or weekends together. Essentially, the relationship has distinct characteristics you thought were only associated with 'serious' relationships.
Anyone with some semblance of a dating life in their history knows this phase and it's either totally great or a serious bummer (depending upon what you're looking for) because you're still technically allowed to date other people and get away with it. N.E.C.A. people are not your significant others, they're simply "someone you're seeing" and there is comfort in such a title. But that's all dependent upon the absence of love. N.E.C.A. people are often profoundly in love but if they don't utter the words, the relationship stays put (or goes the way of the dodo) and nobody has to make big decisions.
Most people in this cool but uncertain stage spend a good bit of time doing two things: 1) analyzing the relationship, and 2) fielding questions from friends, family, etc. about where things are headed. As a result, N.E.C.A. is often the stage when people get a little nuts and either push too hard, or run for the hills.
Yep, it's a pivotal stage but it should be totally enjoyed - with a mature understanding that despite all the sex, sweet whispers, 'telling' hints, and great dates, everyone has their own ideas about the future, and those ideas may not have been openly shared yet. N.E.C.A. is like a rest stop on the relationship highway - not your ultimate destination but a good place to stop, take funny pictures, and use the facilities. Sometimes the service is good, and sometimes it has you running back to your car swearing that next time around, you'll fly instead.
Finding yourself in the N.E.C.A. stage over and over with no progression? Time to change your m.o. There is only so long you can tread water until your arms get tired. You are 100% allowed to have the "where is this going?" conversation without looking ring-hungry. And if you're accused of being so, dump 'em. Enjoy this stage for all the romance, sexiness, and "not knowing." What lies beyond is anyone's guess. But whatever it is, it's probably meant to be.

Popular in the Community