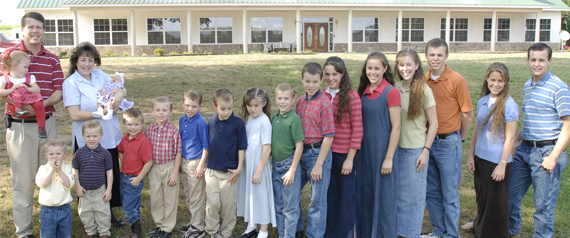 Each year, official government reports indicate that more than 62,000 children are sexually abused. The numbers are especially staggering for girls aged 14-17, of whom researchers estimate more than 17% have experienced sexual abuse. While we know sexual abuse is still underreported, there is cause for hope because child sexual abuse is preventable, and because more and more Americans are waking up to the ways to prevent it.
It would be comforting, and wholly wrong, to think that abuse happens only in certain kinds of families. But, the truth is that these children are our neighbors, our children's playmates, members of our faith communities, our friends, and perhaps even members of our own families. This reality has been driven home in the public sphere by the recent child sexual abuse revelations in the Duggar Family, stars of TLC's "19 and Counting." The larger implications of what happened to two Duggar daughters and a babysitter could be lost in all of the other ways in which this family seemed so different from most American families: famous simply for being a very large and media-savvy family, with the wealth and prominence that come with that stardom. To treat this as an unusual incident, though, misses a teachable moment for all of us about the ways in which we may be failing to protect children in our own community and what we can do to change that.
Last year, more than 315,000 children summoned the courage to walk through the doors of a Children's Advocacy Center (CAC) and disclose their abuse. Two-thirds of these cases involved child sexual abuse. Children's Advocacy Centers work with a multidisciplinary team of professionals to investigate these cases, hold offenders accountable and help children and families heal. Every day, I am so incredibly grateful to know that in 800 communities around the country, this caring and evidence-supported response will help transform the lives of these most vulnerable children. And, at the same time, I know that each child is also not only an individual suffering but also a representative of the broken promise of safety in the community in which he or she resides.
There is no reason to feel helpless or hopeless. Because of improvements in the prevention and response to child sexual abuse, researchers indicate the number of children reporting such abuse has declined dramatically over the past decade. Children's Advocacy Centers have been deeply engaged in that work, providing prevention education to 1.6 million individuals last year alone. To join forces and protect children in your own community reach out to your local CAC to request prevention training at your workplace, school, service club, or faith community. And, for those that might not have a nearby Children's Advocacy Center, learn the signs of abuse, how to report it, and practical tips to keep the children in your life safe at NCA's national prevention initiative OneWithCourage.org.
In 26 states, legislatures have passed Erin's Law and named after an adult survivor of abuse and aimed to ensure that all children learned body safety and abuse prevention in school just as they learned fire drills and other safety rules. If your State has not yet passed this commonsense measure to protect children learn how to advocate for its passage at ErinsLaw.org. And, at the national level, ask your Members of Congress to pass the Child Sexual Abuse and Prevention Act or the Federal Erin's law S. 1665/H.R. 3067) to ensure that states have the resources they need to implement these invaluable prevention programs.
Each case of child sexual abuse is a personal tragedy and a community failing. But, it is also a personal reminder to each of us about our own moral obligation to provide a circle of safety and care for the children in our lives. Through our own actions in taking responsibility for protecting children, learning the signs of abuse and how to report it, and in advocating for systemic change, let's enlarge that circle of safety to all the nation's children.
Related