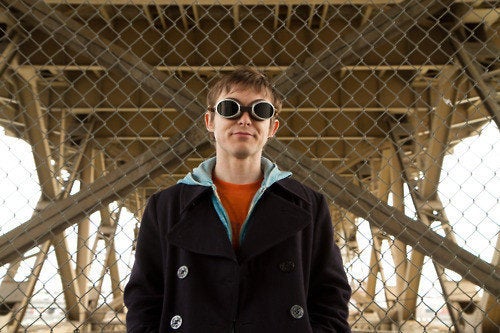 Among the heated debates provoked by presidential candidate Rick Santorum this election season was last month's pillow fight about the deleterious effect of higher education on conservative youth. "Snobs" like President Obama push college, Santorum told a Tea Party audience last month, only because they want to "remake" malleable conservative minds in their liberal image.
Obama might want to buy the Pennsylvania senator a ticket to "Blue Like Jazz," a new movie about a devout Southern Baptist from Texas who turns up at Reed College, in Portland, Ore., painted as the Vatican of radically liberal P.C.-ism. Based on the bestselling memoir by Donald Miller, "Blue Like Jazz" suggests that conservatives have nothing to fear from college. After a baptism of beer, lesbian-chic and sophomoric pranks, the evangelical hero discovers who he is and what his beliefs really mean to him, precisely because he's seen them in contrast to the secular culture.
Those who read "Blue Like Jazz" when it hit the New York Times bestseller list in 2006 -- after three years of building word-of-mouth sales following its publication -- may scratch their heads at the idea of a screen version. Miller's tenure at Reed is one of several glancingly told stories in a book that is more ruminative than narrative. But the thread concerning Reed contains the book's climax and, beefed up in the film with characters abused by priests and a new backstory for young Don concerning dorky youth pastors and church ladies behaving badly, it is most apt to draw young viewers, believing and nonbelieving, to the theater.
More importantly for religion watchers, the parts of "Blue Like Jazz" set on campus capture the real-world culture clash that evangelicals experience with increasing frequency these days -- despite Rick Santorum's warnings -- as they venture out of the Christian bubble to encounter the gods and monsters of the secular mainstream.
The secularization of American universities began not in the 1960s as most suspect, but with Woodrow Wilson's appointment as president of Princeton in 1902. The man John Maynard Keynes spoofed as the picture of a Presbyterian minister was actually responsible for chasing anti-Darwinian professors out of science departments and shifting creedal philosophers into theology schools. Conservative Christians responded by founding their own academies, from Biola to Bob Jones to Jerry Falwell's Liberty University. More recently, evangelicals have tried to change universities from within, forming Christian societies on campus to create space for faith-based thinking.
But as evangelicals have migrated into suburbia from rural redoubts and gained more confidence in secular society, Christian kids have begun to follow their neighbors to mainstream colleges, law and other professional schools, anonymously, and with no agenda beyond getting their degree. Like most immoderate claims from the political extremes, Santorum's snob comment lashes out against a fear of something already underway.
In "Blue Like Jazz," young Don's route to Reed is more circuitous and dramatic. Disgusted and hurt by his mother's adultery and a clergyman's hypocrisy, he flees to Reed, the campus "most likely not to believe in God," according to a college guide. The highlight of his year is Renn Fayre, described by a former student online as "a huge ... in some cases terrifying party" where students run around in nothing but blue body paint, risk "romantic understandings" and eat insects.
Don's first notion that he's not in Texas anymore comes on his first day, when a co-ed sidles up to the urinal next to his in the dorm bathroom and pees standing up. Soon, he's drinking alcohol and dancing and -- truer the modern Baptist parents' nightmare -- getting arrested for tree-hugging causes. The fervent intellectualism at Reed tempts him to forego his faith in favor of love and liberty.
If this were "Saved," or any of the mainstream cinematic satires of evangelicalism of the early 2000s, the movie would end there. If it were a traditional Christian entertainment-industry product, Don would realize the error of his liberal ways. But Miller, who co-wrote the movie, and director Steve Taylor, both firmly committed evangelicals, provide a subtler lesson for their Christian Candide. He learns to forgive those Christians who have hurt him even as he seeks forgiveness in the name of his church for those who have been oppressed, confused or literally abused by his fellow believers.
We're not accustomed to subtlety from evangelicals in the public sphere -- or humor, which "Blue Like Jazz" also ventures. Taylor, a musician and record-label owner as well as a filmmaker, has made a career of sending up American pieties. On his albums he has taken swings at televangelists and Rush Limbaugh and has criticize the pro-life movement for inciting violence.
Taylor is also experienced on both sides of the secular-Christian divide, having worked with mainstream blues musicians and put videos on MTV. It was Taylor's mainstream connections that led to a distribution deal with Roadside Attractions, which last year put out the decidedly non-Christian "Albert Nobbs," starring Glenn Close.
Taylor recognized "Blue Like Jazz" as a natural vehicle when he read it nearly six years ago. Subtitled "Nonreligious Thoughts on Christian Spirituality," the book's criticisms of evangelicalism are constructive, but unsparing. Miller chides his co-religionists for their air of moral superiority, which ends up projecting a conditional love antithetical to the Gospels. More damning perhaps is Miller's suggestion that faith allows for ambiguity as wells as answers. The "jazz" in the title derives from Miller's declaration that he used not to like jazz because musically it "doesn't resolve." He adds, "I used to not like God because God didn't resolve." Now, he implies, he likes both jazz and God, regardless.
After securing Miller's blessing to make the movie, Taylor found he couldn't raise enough money -- for a book that had sold more than three million copies. "I felt embarrassed," Taylor said in an interview with the two men last month. Miller, who in person gives off a comedian's pained melancholy, shrugs when asked if church disapproval of the book made fundraising more difficult. "There was a recession too," he deadpanned, "but yes."
To get across the funding finish line, Taylor turned fans of the book, appealing to them on the website Kickstarter. Hoping to raise an additional $125,000, he pulled in more than $300,000. The names of the donors roll next to the credits, a testament to the chord struck by the book's message to the church. As the number of names mount, the impression builds that they belong to young Christians who have also found themselves even as they assimilate into a world full of others.
Blue Like Jazz Trailer:
Calling all HuffPost superfans!
Sign up for membership to become a founding member and help shape HuffPost's next chapter