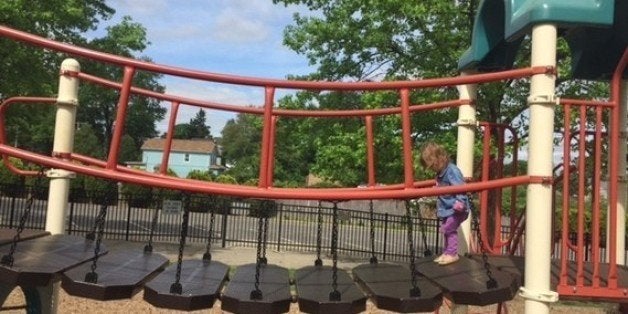 My 2-year-old daughter loves to run. She bolts ahead of me in the worst places, like grocery stores and parking lots.
"Run, run, run!" she calls to her little legs, willing them to go faster.
When I take her out in the running stroller, she always cheers me on.
"Go Mommy run," she yells to me while throwing her arms up in the air.
Given her speedy history, I was convinced that she would enjoy running in a one-mile kids race. All of her friends from the neighborhood would be there, and I thought she might actually do well. When she wants to, she can run pretty fast.
Since she is 2, and therefore a bit wary about new activities, I spent a few weeks talking about the race. I told her which kids would be there and explained that she would be able to run as fast she wanted without me telling her to slow down.
The morning of the race was cloudy, but the lingering rain storm appeared to be holding off. My daughter tossed aside the leggings I had picked out for her and instead insisted on wearing one of her sundresses. I was grateful that she agreed to put on sneakers instead of her dress up shoes.
When we arrived at the start of the race, she seemed excited, but was a bit overwhelmed by all of the people. Two-year-olds don't mix well with big crowds.
As soon as the race started, she threw herself on the ground and yelled, "I can't run, Mommy!" She wouldn't budge, despite my pleading.
She insisted that I carry her, but she wanted me to run. I did the best I could with her on my hip, but she weighs more than 25 pounds, so it was slow going. We waved to our friends as they passed us. The crowd soon became sparse.
After about 10 minutes of my daughter clinging to my hip, she agreed to get down and walk. I looked around and realized that no one was behind us.
My daughter ran the last half mile, propelled by the treats that I promised awaited her at the end of the run. People cheered as we ran past, which made us both smile. The police man behind us took his time picking up the cones that marked the race route so that we didn't feel rushed.
When we finally neared the end, my daughter's two little neighborhood friends came out to meet her and they ran across the finish line together. I nearly burst with pride. My baby girl had finished her first road race. She was supported during the entire run by our amazing community. We both got a little exercise in. I couldn't have asked for a better morning.
Coming in last place never felt so good.