Joint briefings by the International Gay and Lesbian Human Rights Commission (IGLHRC), MADRE and the Organization of Women's Freedom in Iraq (OWFI) published last week expose targeted violence against lesbian, gay, bisexual and transgender (LGBT) Iraqis.
For two years the International Gay and Lesbian Human Rights Commission (IGLHRC), jointly with Iraqi and international NGOs, has supported humanitarian assistance to vulnerable lesbian, gay, bisexual and transgender (LGBT) individuals and worked to raise awareness about their desperate plight.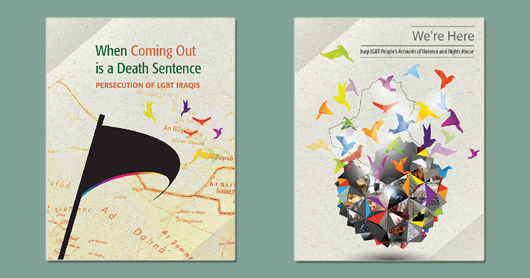 Long a persecuted group, LGBT Iraqis experience high levels of violence that is based on the stigma Iraq society places on differences in sexual orientation and gender expression, and a broad intolerance of those differences. LGBT individuals, if exposed, face unspeakable violence -- from within their own families, from their tribes and from the larger community. Government officials are openly disparaging, hostile and frequently complicit in the violence. Once exposed and targeted based on their sexual orientation or gender identity, an individual's only hope is escape to a shelter or safer area. But the recent rise of the Islamic State has blocked the main escape route to Kurdistan, making the situation even more desperate.
Iraqi LGBT people experience this violence in a climate where the security situation has grown steadily more dangerous. Reports of attacks and atrocities against women and religious and ethnic groups have been mounting in recent months due to the military advancement of the Islamic State group.
Unfortunately, however, this situation is not new. For LGBT people, post-occupation Iraq has never been a safe and welcoming environment; the 2003 U.S.-led invasion unleashed widespread violence, sectarian and ethnic clashes, and ultimately the breakdown of the rule of law.
Over the past few years, religious militias and vigilante groups, with the tacit blessing of the Iraqi security forces, have engaged in rounds of targeted killings of individuals perceived to be "sodomites." This systematic and hate-motivated violence outlined in IGLHRC's briefings has left dozens of Iraqi LGBT individuals dead. Many others have suffered torture, sexual violence and humiliation.
Today, LGBT Iraqis are caught between the inhumane treatment by the Islamic State forces, which prescribes death for homosexuality, and the hostile and violent attitude of the pro-government militias, namely the infamous Shiite militia Asaib Ahl al-Haq.
The situation is alarming, as the briefings show. Those who have come to the defense of individuals targeted based on their sexual orientation or gender identity -- our brave partners and allies inside Iraq -- deserve our profound gratitude. They risk their lives to provide material and moral support, despite grave security risks and threats against their lives.
In a conservative society where very few people fully understand the notion of sexual orientation and gender identity, the majority of the Iraqi population remains hostile to those perceived to be sexual or gender non-conformist: Families tend to disown their LGBT sons and daughters and, even worse, kill them to protect the family "honor."
Deplorably, society overall views LGBT individuals as sinful, sick people whose very existence should not be tolerated.
Against this backdrop of negative stereotypes and violence, IGLHRC and our partners MADRE and the Organization of Women's Freedom in Iraq seek to expose the grave human rights abuses and atrocities against LGBT Iraqis in two publications.
For example, the story of Mahmud, a gay man, is heart-wrenching. At age 24 he was raped by three men who then stole and published photos of him in women's clothing. When his family saw these photos, they pursued him with the intent of killing him. "I have no problem with the way I am," he said. "God created me like that. I just want to live freely."
Others express the same profound desire to live in a tolerant world where they are accepted for who they are.
"When Coming Out Is a Death Sentence" puts the violence against LGBT Iraqis in context -- as human rights abuses that must be confronted by the international community. A set of recommendations targets foreign embassies, aid groups and others with the goal of raising attention and trying to improve the situation for the community. In the short run, it is our hope is that many more people like Saad, a gay man also featured in the "We're Here" report, will find safety. Living with assistance from an NGO that supports LGBT Iraqis, Saad said, "There, I [was] treated with respect, mercy and humanity."
This is the promise that guides IGLHRC's work with LGBT people around the world for human rights for everyone, everywhere.