Brands and publishers always have a need to create more quality content for their readers, but there isn't often enough time in the day, budget or expertise to go around. At the same time, frequently released original content is what fuels the web.
Today's hyper-stimulated society demands this frequency of publishing because of a shorter attention span and the plethora of sources to choose from. If you readers aren't getting fresh, interesting content from your website, they'll likely go elsewhere.
Condé Nast publications like Details, Teen Vogue, Epicurious and Lucky are working to solve this issue by curating and publishing content from bloggers to fill the gap and further engage their audiences online.
Partnering with tech startup Tidal, these publications are utilizing this platform to easily pull content from relevant blogs for republishing on their own website.
This allows a publisher to easily curate content from various sources whether these sources are another big name publisher or a small time blogger. This model of content curation has seen a success with publications like Gawker and Buzzfeed, illustrating how well the right approach to this strategy will resonate with readers.
Details Magazine recently set up the Details Network using Tidal as a section of their website dedicated to featuring content from top men's style bloggers. The network of 150+ bloggers has been selected from Detail's existing blogger relationships, from suggestions of influencers from Tidal or if they decided to sign up for consideration.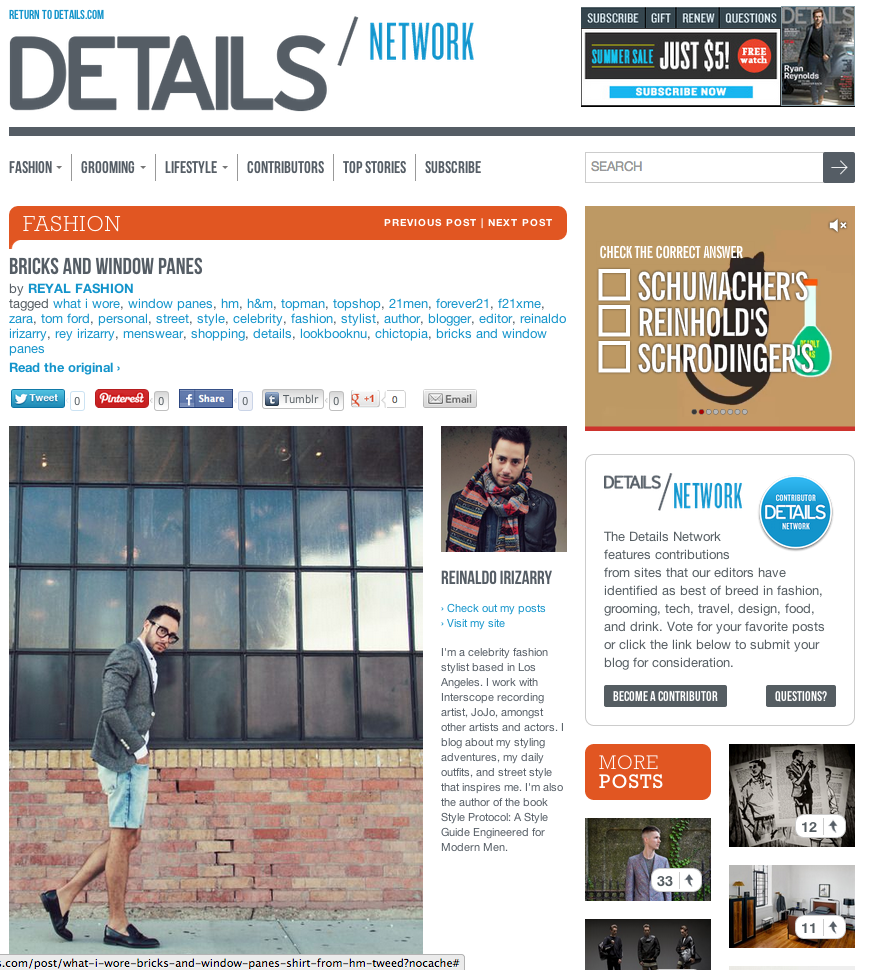 This approach is far less expensive, produces better content because it is a worldwide selection of bloggers and allows for the discovery of new bloggers that would have previously remained undiscovered, said James Cury, the Online Director at Details.
Contributors to the network aren't paid, but receive exposure in front of the Details audience at no cost.
"Our goal is to help expose the blogger, bringing traffic back to their website and continuing a long-term relationship of publishing original content from their blog," said Cury.
This partnership between Details and men's style bloggers helps to free the time it would normally take to source and pay freelance writers, editors and photo editors. Instead time is spent curating, editing and publishing 10 to 20 more pieces of content to the Details website a day from the community, as well as focusing on other editorial efforts.
"The platform allows us to have a wider reach with a slightly different kind of scope. It's not just content with a focus on ultra-luxury for men in the United States," but men's style content from Asia, Australia and all across the world, added Cury.
Cury and his team are publishing content from the Tidal dashboard that is directly submitted by a blogger or pulled right from their feed of content on their own website.
The act of curating this content from the network helps compliment Details five to seven pieces of original content released a day online, as well its monthly print magazine.
Still a new venture for the publication, the Details Network has been well-received by readers across social media, is driving traffic from the network of blogs to the publication through cross promotion and is organically building buzz that helps strengthen the ties between the magazine, bloggers and readers, said Cury.
The Details Network, Teen Vogue's Fashion Click, Epicurious' Community Table, Lucky's Style Collective and the other curated hubs of content from the Condé Nast publishers have helped strengthen relationships with other members of their communities online and most importantly, the ability to offer more engaging content to their readers from their very own peers.
Tapping into this approach to publishing helps turn the editor-in-chief into the curator-in-chief, using their traditional editorial skills to connect with readers from a whole new angle.
What are the best examples of content curation you've seen to date? Does content curated from other sources improve your experience as a reader? Let me know your thoughts in the comments below.
REAL LIFE. REAL NEWS. REAL VOICES.
Help us tell more of the stories that matter from voices that too often remain unheard.